The world of entertainment has once again been captivated by the enchanting charm of Barbie, as the newly launched Barbie movie takes center stage. With its captivating storyline and vibrant characters, the film has sparked a wave of excitement that's not only resonating on the screen but also influencing the real world. From themed menus in restaurants to special promotions in various establishments, the Barbie fever is spreading far and wide, offering an array of delightful experiences for fans of all ages. Join us as we delve into a roundup of these irresistible offerings that bring the magic of Barbie to life beyond the silver screen!
1. ROXY CINEMAS
Calling all glamourous Barbies of the UAE! Don your finest shades of pink, gather your fellow Barbie girls and embark on a luxurious journey to Barbie land at the Barbie-themed Ladies' Night at Roxy Cinemas' Boxpark location.  Prepare to be spoiled on 22nd August with a show of your choice at 8PM or 8.45PM, with pretty pink gifts, courtesy of Rituals. Sit back and relax in the iconic red Italian hand-stitched seats as you watch the Margot Robbie and Ryan Gosling-starrer within Roxy Cinemas' luxurious Platinum experience.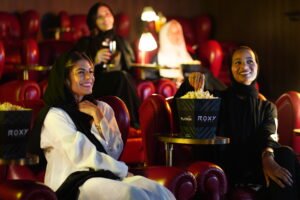 As part of the Barbie Night package, ladies will receive a luxurious goody bag from Rituals, adding an extra layer of luxury to your experience. Prior to watching the film, Barbies can relax and mingle in the VIP lounge, sipping on unlimited mocktails, setting the perfect tone for the night.  Tickets for Barbie Night at Boxpark can be booked online through theroxycinemas.com or via the Roxy Cinemas app which can be downloaded from the App Store or Google Play.  
Visit the Website for more details.
2. LA PISCINA 
Because we just can't get enough of Barbie! Whether you are a huge fan or just seeking some entertainment over the summer, La Piscina's uniquely curated Barbie-themed pool party is the perfect option to let your hair down and party like the superstar herself!
Nestled amidst the picturesque palm trees surrounding Palazzo Versace Dubai's East pool, La Piscina is all set to dive into the excitement and fanfare with a sea of pink taking over the stunning hotel. The much-anticipated pool party welcomes guests to celebrate in style between 1pm and 4pm on Saturday the 26th of August with a special dining package, inclusive of select unlimited beverages to indulge in. The spectacular afternoon will flow through with an exciting line-up of DJs, Barbie and Ken cosplay, electric dance performances, and much more!
Instagram: @lapiscinadubai
Visit the Website for more details.
3.  CAFÉ JAVA
Calling all Barbie fanatics! Café Java is excited to unveil a limited-edition desserts offering for those who love all things pink. The popular café at Novotel Dubai Al Barsha invites all Barbie enthusiasts to celebrate the launch of the most-anticipated movie of the year by tucking into a delightful selection of pink desserts from the 14th to the 20th of August. 
Café Java's Pinkalicious Delights will offer an enchanting array of tantalizing Barbie-inspired desserts, including Pink Blonde Brownies, Pink & Red Velvet Cake, Pinky Rose Cheesecake, Isphan Tart, and Pink Berry Eclairs for AED 25. Gather your girlfriends, get your best pink ensemble and don't miss this exciting opportunity to celebrate the Barbie movie in a way with the most Instagrammable experience in the city! 
Instagram: @novoteldubai
Visit the Website for more details.
4. REFORM SOCIAL & GRILL
Calling all barbie fans! Noe get ready to step into a world of pink perfection at Reform Social & Grill The Lakes, Dubai, with their limited edition Barbie-themed menu! Indulge in a symphony of flavors that's as vibrant as Barbie's world itself! They're thrilled to present their exclusive Barbie-themed menu – introducing the BARBIE-O-PLATTER! Get ready to embark on a culinary adventure where every bite is a celebration of taste and color.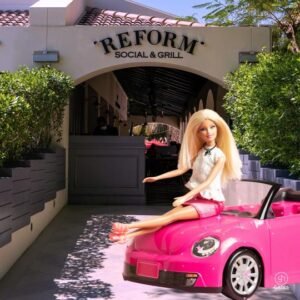 Join them in this delectable escapade that brings the magic of Barbie to your plate in the most delicious way imaginable. It's not just a meal; it's a celebration of all things pink and fabulous!
Contact Details: Call  04 454 2638 or WhatsApp to 058 647 8692.
Visit the Website for more details.
As the curtain falls on our whirlwind tour of Barbie-inspired delights, it's clear that the magic of cinema has transcended the screen and infused itself into our everyday experiences. From the delectable Barbie-O-Platter at Reform Social & Grill The Lakes to the myriad of other enchanting offers across the city, Dubai has truly embraced the spirit of Barbie in a way that's nothing short of captivating. Whether you're savoring a pink-infused feast, snapping Instagram-worthy photos, or simply basking in the enchantment that Barbie exudes, this wave of excitement serves as a reminder that the world of imagination knows no bounds. So, dear Barbie fans, let your inner child embrace the wonder that this iconic character brings and revel in a world that's as vibrant and whimsical as the movies themselves. After all, when we let imagination take the lead, the possibilities are endless, just like Barbie's adventures!