Downtown Dubai ignites with a feast for the senses as Krasota Dubai unveils the spellbinding Imaginary Art Show. Set within the elegant embrace of The Address Downtown Hotel, this dining oasis introduces a groundbreaking concept that blends artistry and gastronomy, transforming the Dubai epicurean landscape in extraordinary ways.
Imagine stepping into a world where visual art and culinary mastery collide. The Imaginary Art Show, a brainchild of the revered Chef Vladimir Mukhin in collaboration with the White Rabbit Family restaurant alliance, presents an unparalleled sensory journey. Set against the backdrop of the late 19th and early 20th century's finest artistic expressions, this eight-course culinary voyage is poised to redefine the way we perceive dining.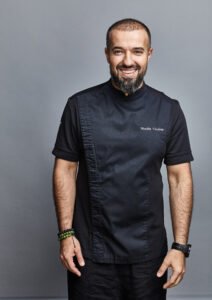 Picture yourself seated among 20 fortunate guests, enveloped in the immersive embrace of a multimedia spectacle. The auditorium's curved walls transform into canvases for eight world-renowned contemporary artists, resurrected through mesmerizing 3D projections and interactive installations. Each brushstroke and color palette come to life, their essence woven seamlessly into a culinary masterpiece.
Chef Vladimir Mukhin, renowned for his artful approach to gastronomy, curates an exquisite eight-course set menu that dances in perfect harmony with the visual symphony. Every dish becomes an integral part of the narrative, complementing the visuals and enhancing the overall experience. This is dining elevated to an unprecedented level, where the fusion of art and flavor transcends imagination.
Behind the mesmerizing art lies Anton Nenashev, a Film Director and co-owner who breathes life into the visuals. Interactive installations, 3D projections, and cutting-edge AI designs infuse the art with a dynamic spirit, merging age-old romantic masterpieces with the precision of modern pixel-perfect projections. This synthesis of eras sparks a phenomenon known as synesthesia – a symphony of the senses, where a single stimuli leads to a cascade of sensory experiences, truly making the experience unforgettable.
The Imaginary Art Show isn't just an event; it's an industry innovation that sets new standards for creativity and immersive dining. The boundaries between art and gastronomy blur, giving rise to an experience that leaves a lasting imprint on the heart and palate. As the curated menu unfolds and the visuals come to life, guests find themselves at the intersection of culture and flavor, surrounded by the echoes of history and the pulse of innovation.
In a city known for its opulence and innovation, Krasota Dubai's Imaginary Art Show adds a fresh layer of enchantment. With every bite and every brushstroke, a new chapter of sensory delight unfolds. The fusion of art and flavor is not just a trend here; it's a reimagining of what dining can be – a harmonious blend of creativity and taste that lingers long after the plates are cleared. Experience the magic, savor the flavors, and step into a world where imagination knows no bounds!
Bookings are essential, and tickets can be purchased through the Krasota Box Office at +971 4433-12-58 or via https://krasotadubai.restoplace.ws/. For further information on dates and timings, please visit https://krasota.art.