Step into a realm of artistic wonder as ME Dubai, the architectural masterpiece designed by Zaha Hadid, opens its doors to the captivating exhibition by Inloco Gallery. Prepare to be transported into mesmerizing landscapes and artworks inspired by the enchanting Mleiha Desert. This latest Cultural Connections initiative at ME Dubai showcases the extraordinary works of documentary photographer Anton Selone, contemporary Italian artist Filippo Minelli, and modern Iranian architectural designer Neda Salmanpour. The exhibition is open to the public until Monday, August 21st, offering a unique opportunity to engage with these visionary artists.
Drawing inspiration from their transformative experiences in the vast Mleiha Desert, Selone, Minelli, and Salmanpour embarked on an artistic journey that unravels the enigmatic nature of human existence and the complexities of our world. The artworks displayed at the exhibition bear the traces of their desert encounters, inviting visitors to embark on a journey of introspection. Themes explored in their pieces resonate with the essence of nomadism, the perpetual search for a place to call home, and the unique history being written by humanity.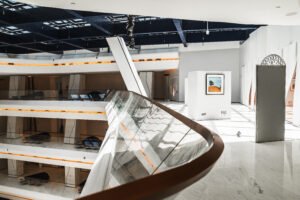 What makes this exhibition truly extraordinary is the seamless fusion of Neda Salmanpour's architectural background, Filippo Minelli's passion for reinterpreting space, and Anton Selone's self-taught expertise in both film and digital photography. Together, their artistry comes alive, creating an unparalleled fusion of art and imagination within the walls of ME Dubai. By merging artistic excellence with luxurious hospitality, ME Dubai's Cultural Connections program offers visitors a one-of-a-kind opportunity to immerse themselves in this captivating display.
Guests, visitors, and art enthusiasts are all invited to explore ME Dubai's designated gallery space, where Inloco Gallery's immersive illustrations will be showcased for a two-month residency. Prepare to be captivated by the thought-provoking creations that evoke a sense of wonder, inviting viewers to contemplate their own place in the world and the rich tapestry of human history.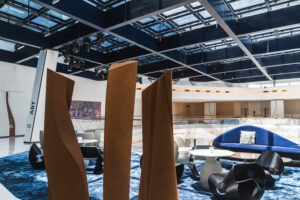 ME Dubai's commitment to nurturing creativity in the region is exemplified through the Cultural Connections initiative, which continually brings exceptional artists and their works to the forefront. By embracing Inloco Gallery and their visionary artists, ME Dubai cements its position as a cultural hub, offering a platform for artistic expression and promoting dialogue between artists and their audience.
Don't miss your chance to be part of this artistic journey. Visit ME Dubai and be transported into a world where art, imagination, and the enigmatic beauty of the Mleiha Desert converge. Discover the power of visual storytelling and embark on a personal voyage through the captivating works of Anton Selone, Filippo Minelli, and Neda Salmanpour. Let your senses be awakened, your perspectives challenged, and your spirit ignited by the transformative power of art!
Instagram: @me_by_melia
Visit the Website for more details.