As the breeze of September ushers in a new season, it brings with it the aroma of innovation and flavors that dance on the palate. Sumo Sushi & Bento, a prominent name in the world of Japanese cuisine, is thrilled to announce the much-awaited return of their annual Poke Festival – Poke Paina. From September 1st to October 19th, food enthusiasts are invited to embark on a gastronomic journey that celebrates the artistry of poke bowls, capturing the essence of freshness and culinary imagination.
This year's Poke Paina promises to be a festival of delightful surprises, where the vibrant hues of fresh ingredients blend harmoniously with inventive combinations. As you step into Sumo Sushi & Bento's world, get ready to savor two captivating new creations that will undoubtedly tantalize your taste buds and ignite your culinary curiosity.
Prepare to be dazzled by the "Fresh Catch Poke," a symphony of textures and flavors that begins with tender cuts of seared Tuna and succulent salmon. Adorned with creamy avocado, invigorating seaweed salad, crunchy radish, earthy beetroot, and crowned with Sumo's signature Poke sauce, each bite is an experience of pure delight. A garnish of Sakura greens mix adds a touch of elegance, turning this dish into a masterpiece priced at AED 65. Let the Fresh Catch Poke take you on a journey where taste meets refinement.
For those seeking a culinary adventure that fuses Sumo's all-time favorites, the "Atsui Bowl" is an invitation to indulge in a symphony of flavors. Rock n' roll shrimp and crispy fried salmon fillet dance together in perfect harmony with delectable Crabstick salad. The addition of Sumo's signature sauce and a tantalizing drizzle of Spicy Mayo elevates the dish to new heights. As avocado, seaweed salad, and green tobiko come together, a colorful and tantalizing feast for both the eyes and palate emerges. Immerse yourself in the art of fusion cuisine with the Atsui Bowl, a culinary masterpiece priced at AED 62.
In sync with the festivities, mark your calendar for "International Poke Bowl Day" on September 28th, 2023. Sumo Sushi & Bento is gearing up to celebrate this beloved dish in style, with special promotions and surprises that will make your taste buds dance with joy. Join the worldwide celebration of the poke bowl and embrace the flavors that have captured hearts around the globe.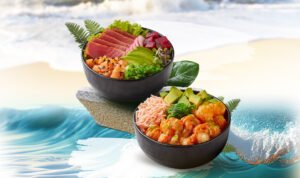 Ms. Julianne Holt-Kailihiwa, CEO of Sumo International Inc. LLC, expressed her excitement, saying, "We are thrilled to bring back the Poke Festival – Poke Paina, where we celebrate the art of crafting exquisite poke bowls that reflect our dedication to freshness and creativity. The addition of the Fresh Catch Poke and Atsui Bowl to our menu underscores our commitment to delivering unforgettable culinary experiences to our valued patrons."
For those who crave a convenient indulgence, the Sumo Mobile App offers a seamless way to earn loyalty points. Collect Kenji Coins with every order and transform them into delectable rewards, from the sumptuous offerings of Sumo Sushi & Bento. The joy of savoring exquisite flavors is made even more rewarding through this loyalty program, where every AED is a Kenji Coin, and every bite is a step closer to culinary delight.
The flavors of the Poke Paina Festival are available from 11 am to 11 pm at all Sumo Sushi & Bento outlets. For reservations and more information, visit https://sumosushibento.com, download the Sumo Sushi App, or simply call 800-7866(SUMO). Let your culinary adventure begin!