Dubai's Thai food lovers are in for a treat as The Thai Kitchen introduces its newest brunch offering – the Sawasdee Sunday Brunch. Starting from May 7th, the brunch promises to take diners on a flavorful journey to Thailand's vibrant islands and the iconic Golden Triangle, with a menu that showcases the best of Thai cuisine's signature taste elements.
The Sawasdee Sunday Brunch is a family-style brunch that incorporates sweet, sour, salty, and spicy flavors to ensure diners get an authentic experience of Thailand's cuisine. The menu features four delectable main courses, including the famous Pad Thai noodles, Steamed Sea Bass with lemongrass and ginger, Green Curry, and Mango Sticky Rice with coconut cream.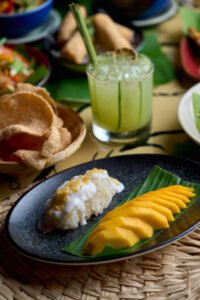 But that's not all – the brunch also includes other Thai signature dishes, such as Chicken Satay and Spicy Prawn Tom Yum soup. Guests can choose between a refreshing Som Tum green papaya salad or the spicy soup to start their meal.
What makes the Sawasdee Sunday Brunch even more special is its stunning venue. The Thai Kitchen overlooks the greenery of Park Hyatt Dubai, providing guests with breathtaking views while they indulge in the mouth-watering dishes.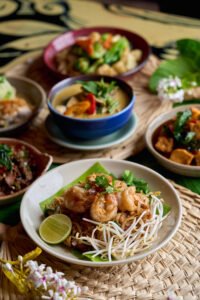 Whether you're looking for a cozy Sunday brunch with family or a sumptuous feast with friends, the warm and inviting ambiance of The Thai Kitchen combined with immaculately curated dishes will ensure the Sawasdee Sunday Brunch is a feast for the senses.So why wait? Head to The Thai Kitchen and take your taste buds on a journey to Thailand with the Sawasdee Sunday Brunch.
Date: Every Sunday
Time: 12:30pm – 4pm
Price: 220AED inclusive of soft beverages 375AED inclusive of house beverages
Contact Details : +971 4 602 1814
Visit the Website for more details.