Stepping into the INFINITI Q50 2024 is like embarking on a thrilling puzzle-solving adventure. This sophisticated masterpiece, meticulously crafted with cutting-edge technologies, promises endless possibilities and genuine pleasure for every driver. As you anticipate unlocking the key features and special secrets of this enigmatic sedan, you are eager to dive into a multifaceted experience that goes beyond the ordinary.
The INFINITI Q50 takes center stage with its potent twin-turbo V6 300HP engine and customizable drive modes. From the excitement of Sport mode to the efficiency of Eco mode, the Q50 adapts to match your preferences and the road ahead. Its acceleration and handling respond instantly to your commands, offering a puzzle to be solved with each twist of the steering wheel.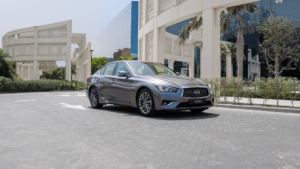 Engaging with the intuitive dual touchscreen interface unlocks a world of advanced technologies. The Intelligent Key effortlessly grants you access, while Remote Engine Start pre-cools the interior, ensuring a seamless driving experience. As you settle into the luxurious leather seats, you marvel at the flawless upholstery and elegant accents, exuding quality and refinement.
Navigating through the menus reveals a multitude of features perfectly integrated into your drive. Sync your smartphone effortlessly through Apple CarPlay or Android Auto, while voice command functionality grants access to audio, Bluetooth, and vehicle information with just a touch or a few syllables, keeping your hands on the wheel.
The Q50 offers the ability to adjust every aspect of the cabin to suit your preferences. Fine-tune the audio-visual settings to create a concert-like ambience, and customize the lighting to your exact seating position. The cabin becomes your canvas, ready for you to create the perfect driving oasis.
The INFINITI Q50 transcends the ordinary, elevating every drive into an extraordinary experience. Arabian Automobiles has provided you with a trusted performative ally, making your time inside the Q50 an adventure filled with discovery and wonder.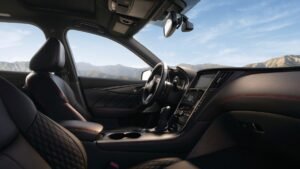 As you delve deeper into the workings of the Q50, you realize that it is not about mastering the car but discovering precisely what you need it to be. Every feature and hidden gem align with your desires, making the Q50 an enigmatic companion that evolves to meet your expectations.
The INFINITI Q50 is more than just a sweet sedan; it's a masterpiece waiting to be unraveled. With its powerful performance, seamless connectivity, and customizable features, the Q50 invites you to embark on a journey of discovery every time you step inside. Prepare to unmask the extraordinary and experience driving like never before with the enigmatic INFINITI Q50
Visit the Website for more details.