In a captivating blend of cutting-edge technology and futuristic design, OPPO has launched its latest Reno10 series, featuring three pro-level smartphones equipped with an Ultra-Clear Portrait Camera System. Complementing this stunning release, the renowned global technology brand also introduces two groundbreaking IoT products—the OPPO Pad 2 and the OPPO Enco Air3 Pro. With a focus on exceptional performance, unparalleled camera capabilities, and seamless user experiences, OPPO aims to redefine the boundaries of innovation and deliver products that enrich the lives of its customers. Let's embark on a journey through the world of OPPO's latest creations, where sophistication meets futuristic allure.
The Reno10 series boasts a sophisticated Ultra-Clear Portrait Camera System, elevating portrait imaging to professional levels within the iconic and trendy design of the OPPO Reno series. Comprising the Reno10 Pro+ 5G, Reno10 Pro 5G, and Reno10 5G, this series stands as a testament to OPPO's commitment to providing exceptional smartphone experiences. With up to 100W SUPERVOOC™ flash charging, a powerful SoC, the Dynamic Computing Engine, ColorOS 13, and a long-lasting battery, the Reno10 series delivers unrivaled all-round performance, making it a true game-changer in the smartphone market.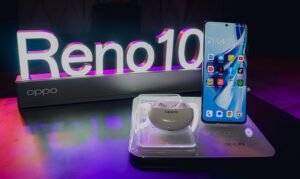 At the heart of the Reno10 Pro+ 5G lies the groundbreaking Ultra-Clear Portrait Camera System, designed to capture breathtaking professional-quality portraits. A 64MP telephoto portrait camera, complete with a large f/2.5 aperture, a 25cm minimum focus distance, and a 1/2″ camera sensor, promises an unprecedented portrait shooting experience. Additionally, the Reno10 Pro+ 5G offers an unmatched 6-times zoom with optical-quality, enabling users to capture exquisite close-up portrait shots.
This advanced camera technology is not exclusive to the Reno10 Pro+ 5G; it extends to all three models in the series. Both the Reno10 Pro 5G and the Reno10 5G feature a 32MP telephoto portrait camera, empowered by an IMX709 RGBW sensor, significantly improving light capture and signal-to-noise ratios. These models deliver flawless, high-quality portrait images with 2-times optical zoom.
OPPO raises the bar in portrait imaging with its new image processing architecture and the advanced Snapdragon® 8+ Gen 1 mobile platform. This dynamic duo takes portrait imaging power to new heights, enhancing image clarity, light, shadow, and color. RAW Domain Multi-frame Synthesis, a cutting-edge technology, further elevates image quality, improving image clarity and faithfully restoring the relationship between light and shadow for true-to-life images.
In a quest for perfection, the Reno10 series embraces a finely crafted 3D curved body, providing greater comfort and ease of grip. The 120Hz 3D Curved Screen, accompanied by ultra-narrow bezels, promises an immersive and boundless visual experience. The Reno10 Pro+ 5G takes it a step further with a 1.5K Ultra-Clear Borderless Display, reaching 1100 nits brightness and offering up to an 8-times improvement in dynamic range with ProXDR Smart Display Control. As a result, HDR images are reproduced with stunning accuracy.
OPPO's commitment to innovation extends beyond smartphones, as evidenced by the introduction of the OPPO Pad 2 and the OPPO Enco Air3 Pro. The OPPO Pad 2 boasts a remarkable 7:5 ReadFit screen, delivering an incredibly intuitive display and an exceptional reading experience. With its flagship-level screen, Dolby Vision™, Dolby Atmos®, and dual 5G communication sharing, this tablet presents an immersive visual and audio journey like no other.
The OPPO Enco Air3 Pro wireless earbuds offer an unprecedented high-quality audio experience with LDAC Hi-Res Audio, Adaptive Active Noise Cancellation, OPPO Alive Audio, and Dual-Device Connection. With a battery life of up to 30 hours and an IP55 rating for dust and water resistance, these earbuds are the perfect companion for all-day use.
OPPO's Reno10 series and IoT innovations embody a vision of the future, where technology and aesthetics harmoniously converge. With a focus on pro-level photography, seamless performance, and futuristic design, OPPO sets the bar higher for smartphone excellence. As customers explore the Reno10 series' exceptional features and embrace the IoT offerings, the future of technology unfolds in their hands, inviting them on a journey of innovation and boundless possibilities. So, gear up to experience a leap into the future with OPPO's latest creations and revel in a world where imagination becomes reality. Pre-order your Reno10 series and IoT devices today, and unlock a universe of limitless potential!
Visit the Website for more details.