Tickets are now live to see the top-rated show PAW Patrol® Live! presented by Nickelodeon and VStar Entertainment Group, right here in the UAE capital, from 8-11 June 2023
The PAW Patrol are on a roll, returning in person and LIVE on stage! Ryder and the heroic pupsare coming to Abu Dhabi this June for their latest mission!
Proactiv Entertainment has joined forces with Miral – Abu Dhabi's leading creator of destinations and experiences and the Department of Culture and Tourism – Abu Dhabi (DCT Abu Dhabi) to bring to the UAE the adventure-filled stage show PAW Patrol Live! 'Race to the Rescue!', based on the TV series created by Spin Master Entertainment and presented by Nickelodeon and VStar Entertainment Group. Etihad Arena will be configured to provide a theatre-like experience for the 6 performances from 8-11 June. Ticket prices start from AED 105 and will be sold exclusively through etihadarena.ae and platinumlist.net.
The performance is an interactive live stage show, encouraging audiences to engage through call and response and audience interaction, dance the Pup Pup Boogie and help the pups rescue Mayor Goodway and win the race! Classic theatrical scenery, along with a high-tech video wall, visually transports families to an authentic PAW Patrol environment, including locations from the TV series, like Adventure Bay, The Lookout, Seal Island, Farmer Yumi's farm and Jake's Mountain.
Since its debut in the Fall of 2016, PAW Patrol Live! has been seen by over 4.5 million people, providing fans in over 40 countries with an unforgettable Broadway-style production and exciting storylines. It's the day of the Great Adventure Bay Race between Adventure Bay's Mayor Goodway and Foggy Bottom's Mayor Humdinger, but Mayor Goodway is nowhere to be found. PAW Patrol to the rescue! Ryder summons Marshall, Chase, Skye, Rubble, Rocky, Zuma and Everest to rescue Mayor Goodway and to run the race in her place. Using their unique skills and teamwork, the pups show that "no job is too big, no pup is too small." Through a unique storyline and upbeat music, Ryder and the pups share lessons for all ages about citizenship, social skills and problem-solving as they make several heroic rescues on their race to the finish line.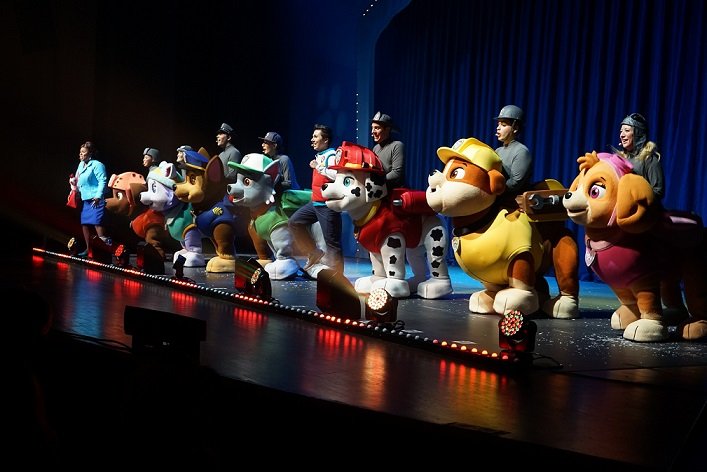 "PAW Patrol is one of the most cherished and loved shows worldwide. Millions of fans have danced and sang along to the live show, so we are definitely thrilled to bring such an exciting and interactive experience to the families here in the UAE" said Nicolas Renna, Managing Director at Proactiv Entertainment. "PAW Patrol Live! will be the perfect opportunity to create precious memories with the kids as they are introduced to the excitement of live theatre."
Look out for a PAWtastic 15% discount when purchasing 4 tickets on either Gold or Silver categories for any of the performances. A limited number of VIP (Very Important Pup) packages are available at AED 350 including first-rows premium seating and an exclusive Meet & Greet after the performance.
For news and updates fans can follow Proactiv Entertainment Middle East on Instagram and Facebook.
WHEN
Thursday 8 June – 17:30
Friday 9 June – 17:30
Saturday 10 June – 11:00 | 14:30
Sunday 11 June – 11:00 | 14:30
PRICES:
VIP: AED 350 (inclusive of a Meet & Greet after the performance)
Platinum: AED 290
Diamond: AED 270
Gold: AED 250
Silver: 175
Bronze: AED 105
POD: AED 105
When purchasing four (4) Gold or Silver tickets a 15% discount will be activated. For more information or to join the Tail Mail mailing list for presale and other exclusive offers, visit www.pawpatrollive.com. Follow PAW Patrol Live! on Facebook, Instagram, and Twitter at @pawpatrollive, and the hashtag #pawpatrollive.