Realme, the rapidly growing smartphone brand, has officially launched its revolutionary realme 11 Pro Series 5G in the UAE. The much-anticipated series includes the realme 11 Pro+ 5G and the realme 11 Pro 5G, setting a new standard for flagship camera phones. With their stunning designs and cutting-edge features, these devices promise to deliver a holistic mobile experience like never before.
Unleashing the Power of Photography: Realme's Number Series has reached an impressive milestone, achieving 50 million shipments worldwide and playing a significant role in the brand's journey to hit 100 million unit sales in record time. Leading the pack is the realme 11 Pro+ 5G, a groundbreaking camera flagship featuring the world's first 200MP SuperZoom camera in its price range. This exceptional device not only revolutionizes zoom capability and pixel count but also showcases significant improvements in design, battery life, memory, and more. realme proudly declares that the era of quality-performance ratio has begun, and they are committed to providing consumers with products that deliver exceptional performance without compromising on quality.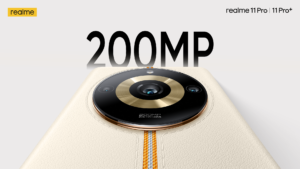 Unprecedented Photography Power: The realme 11 Pro+ 5G boasts an upgraded Samsung ISOCELL HP3 SuperZoom sensor, offering a 1/1.4-inch large sensor size and an impressive f/1.69 large aperture. Featuring 200MP direct output, every pixel contributes to the quality of the final picture. Capture stunning details and experience ultra-high-resolution photography with the device's 4x lossless zoom capability. With the addition of the Auto-zoom feature, users can simply tap on the selected area, and the phone will intelligently zoom and frame the shot perfectly. The realme 11 Pro+ 5G also comes equipped with SuperOIS, Super NightScape, Moon Mode, and Starry Mode Pro, providing users with limitless possibilities to express their creativity. With a 32MP Sony Selfie Camera, Super Group Portrait Mode, One Take Mode, and the beloved Street Photography Mode 4.0, the realme 11 Pro+ 5G invites users to explore the world of photography and capture unforgettable moments.
Luxurious Back Case Design Inspired by Gucci: realme not only focuses on camera capabilities but also elevates the aesthetic design of its smartphones. The realme 11 series showcases a stunning visual appeal inspired by leading luxury brands. Developed in collaboration with Matteo Menotto, former print and textile designer from GUCCI, the Sunrise Beige, Oasis Green, and Astral Black color variants exude high-end design and workmanship. The Sunrise Beige captures the ephemeral moment when sunlight bathes classic buildings in pale golden hues, while the luxurious craftsmanship of the lychee vegan leather combined with three-dimensional woven texture adds a stunning and trendy touch to the realme 11 Pro+ 5G.
Experience a Complete Mobile Package: Apart from exceptional camera capabilities and design, the realme 11 Pro+ 5G stands out as a powerful all-rounder. With a 100W SUPERVOOC charge and a 5000mAh battery, users can enjoy uninterrupted usage throughout the day. The device features a 120Hz Curved Vision Display with the industry's highest dimming frequency of 2160Hz and the first-ever 20,000-level automatic brightness adjustment. Its sibling, the realme 11 Pro 5G, shares the same premium display configuration, offering a 120Hz Curved Vision Display with the world's first 2160Hz PWM dimming. Both devices prioritize user comfort and safety, with TÜVRheinland eye protection certificates attesting to their dedication to ensuring a comfortable viewing experience.
The realme 11 Pro Series marks a new era of smartphone photography and a leap forward in design and performance. Priced at AED 1,099 for the realme 11 Pro and AED 1,399 for the realme 11 Pro+, these devices are now available for purchase on Noon and Amazon. Discover the future of smartphone technology with realme and embark on an extraordinary mobile journey.
Visit the Website for more details.