As September unfolds, Armani Hotel Dubai beckons both residents and visitors to experience a month filled with opulence and unforgettable moments. Nestled in the heart of Dubai, this world-class hotel offers a plethora of enticing offers that cater to every taste and desire.
From September 15th to 22nd, the Armani/Spa invites you to indulge in the ultimate relaxation and rejuvenation experience. Enjoy a complimentary 10-minute spa treatment upgrade for every treatment purchased, and don't forget to bring a friend along to access the pool and fitness facilities. After your spa session, unwind with wellness drinks and healthy snacks in the relaxation room. In-house guests are in for even more savings, with AED100 off for every treatment purchased during their stay, courtesy of vouchers provided upon check-in.
For UAE residents, Armani Hotel Dubai presents an exclusive staycation offer from August 1st to September 30th. Starting from AED 1500++ per room per night, this package includes up to four tickets per room per stay to Dubai Aquarium & Underwater Zoo, Play DXB, or Dubai Mall. Explore world-class dining at Michelin Star restaurant Armani/Ristorante and savor culinary sensations at Armani/Hashi, Armani/Amal, and Armani/Kaf. With Armani/Spa at your fingertips, let Armani Hotel Dubai cater to your every need.
Throughout September, Armani/Ristorante introduces its highly anticipated seasonal mushroom degustation menu. Priced at AED 649 per person, this culinary masterpiece redefines Italian cuisine with inventive dishes like Pioppini, Trombetta, Porcini, Risotto, and Finferli. Conclude your epicurean journey with the tempting Choccolato dessert, featuring Dulcey chocolate bavaroise and porcini ice cream.
From September 19th to 25th, Armani/Lounge presents its exclusive Fashion Afternoon Tea, inspired by Milan Fashion Week. Priced at AED199 for one or AED359 for two, this culinary experience offers a delectable menu featuring both sweet and savory treats. Delight in delights such as beetroot-cured royal salmon, tomato ciabatta bread with provencal vegetables, corn-fed chicken and avocado wraps, lobster catalina, and more. Sweet options include the Chocolate Fashion Bag, Armani white chocolate cheesecake hat, and Piemonte Shoe, along with traditional English scones paired with lemon curd, clotted cream, raspberry, and hazelnut.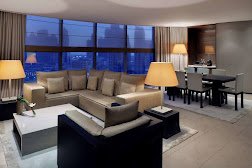 Every Sunday from 1 pm to 4 pm, Armani/Mediterraneo invites you to indulge in a Mediterranean feast during the "Savour the Armani Flavour Sunday Brunch." Enjoy a wide selection of dishes, including classics from coast to coast and signature creations from Armani/Amal, Armani/Hashi, and Armani/Ristorante. With a raw seafood and oyster bar, Arabic mezze, a carving station, customizable egg dishes, and a dedicated kids' table, this brunch promises a delightful experience for the whole family.
September at Armani Hotel Dubai is a month of indulgence and sophistication, where culinary delights, wellness, and fashion unite to create unforgettable memories. Join us for a taste of luxury and a journey through opulence that you'll cherish long after September fades into memory!
Visit the Website for more details.