Brace yourselves for an electrifying wave of innovation as TCL, the TV giant, takes the UAE by storm! At an exclusive event in Dubai, TCL wowed the crowd with their latest lineup of mind-blowing QLED TVs and smart home appliances, leaving no doubt that they are the champions of cutting-edge technology. And that's not all! TCL announced their thrilling partnership with Arsenal Football Club, bringing the world of sports and entertainment closer together, with none other than Arsenal Legend, Robert Pires, making a special appearance.
Prepare to be blown away by TCL's newest hero, the C845 Mini LED TV! It's not just a TV; it's a portal to infinite contrast dimensions and mind-blowing picture quality. Packed with more local dimming zones than ever before, the C845 takes you on a visual journey like no other. With HDR 2000 nits, AiPQ Processor 3.0, and the mesmerizing power of Dolby Vision IQ & Dolby Atmos, you'll feel like you're right in the heart of the action. Available in sizes from 55'' all the way up to 85'', the C845 is a feast for your eyes and ears!
Calling all gamers! TCL has unleashed two QLED superheroes: the C745 and C645! The C745 is a force to be reckoned with, combining QLED technology, Full Array Local Dimming, and an incredible 144Hz VRR refresh rate. Say goodbye to motion blur and hello to jaw-dropping visuals! But wait, there's more! The C645, armed with TCL's QLED prowess and certified with Dolby Vision and Dolby Atmos, guarantees an immersive gaming experience like no other. With a 120Hz Game Accelerator, it's time to level up your gaming adventures!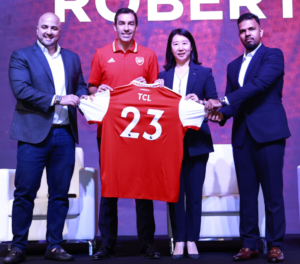 TCL isn't just redefining TV entertainment; they're revolutionizing your entire home! Say hello to the Gentle Cool series of air conditioners – the coolest way to beat the heat while flaunting a sleek and minimalist design. But that's not all! TCL has also introduced a new lineup of refrigerators and washing machines that are as smart as they are stylish. Say goodbye to everyday hassles and embrace a healthier and more convenient life, courtesy of TCL!
Get ready for a match made in heaven as TCL joins forces with Arsenal FC as their Official Regional Consumer Electronics Partner! This exciting partnership brings the world of sports and entertainment together, adding an extra layer of excitement to your viewing experience. But that's not all! TCL's love for sports doesn't stop there. With partnerships with cricket sensations such as the Abu Dhabi Knight Riders, Peshawar Zalmi, and the Pakistan Cricket Team, TCL is raising the bar in sports entertainment, ensuring fans never miss a moment of the action.
TCL's mission to inspire greatness doesn't end with their products; it's a mindset that permeates everything they do. With their mind-blowing TVs, smart home innovations, and epic sports partnerships, TCL is your gateway to an extraordinary life. So, get ready to embrace greatness, unleash your passion, and embark on a journey filled with unrivaled entertainment experiences!
To learn more about TCL's awe-inspiring lineup, visit their website at www.tcl.com. Get ready to be amazed!