Time Out Market Dubai, located in the heart of Souk Al Bahar in Downtown Dubai, is set to ignite your senses with a vibrant and tantalizing event: Pink Summer. Starting on the summer solstice, June 21st, when the sun reaches its zenith and the spirit of summer is at its peak, this culinary extravaganza promises a feast for both the eyes and taste buds.
As a unique food and cultural market, Time Out Market Dubai brings together the very best of the city's culinary scene under one roof. With 17 different food concepts curated by the city's top chefs and restaurateurs, three bars serving up refreshing libations, and a vibrant atmosphere filled with creativity and culture, it's a must-visit destination for food enthusiasts and explorers alike.
The highlight of Pink Summer is the specially crafted beverage menu, showcasing all things pink. From delightful rosé wine to refreshing rosé cider and tantalizing pink cocktails, such as the popular Gordon's Pink Gin, Sangria Rosé, and the Fizzy Rosé mocktail, there's something to suit every palate and preference. Each sip promises to transport you to a world of summer bliss.
However, the true stars of Pink Summer are the 17 unique dishes available at Time Out Market Dubai's concessions, each one curated specifically for this occasion. Get ready to embark on a culinary adventure as you indulge in a variety of vibrant pink delicacies that will leave you craving for more.
For those craving a sushi delight, Reif's Spicy Salmon Maki is a must-try. This delectable uramaki roll features spicy salmon and fresh avocado, wrapped in a coating of pink crispy rice that adds a delightful crunch to each bite. If you prefer a refreshing salad, à la grecque's Syko is the perfect choice. This salad combines local figs, barrel-aged soft feta, and a crunchy walnut salsa, all nestled amidst rocca leaves, creating a harmonious blend of flavors and textures.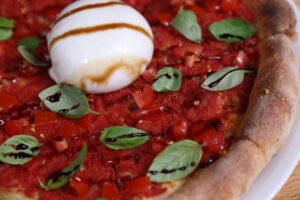 Looking for a unique flavor experience? 21 Grams presents its Baked Beetroot Carpaccio. This dish features thinly sliced beetroot served with a drizzle of tangy raspberry sauce, brown butter, roasted almonds, and a hint of tarragon, creating a symphony of flavors on your palate. And for those who crave the perfect balance of sweet and savory, Pickl's Boujee Bird is a culinary masterpiece. Sink your teeth into crispy fried chicken coated with hot honey butter, served alongside a surprising twist—a strawberry ice cream nestled in a soft potato bun—for a truly unforgettable taste sensation.
Mark your calendars and prepare yourself for an unforgettable journey through a world of vibrant pink delights at Time Out Market Dubai's Pink Summer. Whether you're a food lover, an adventurer seeking new culinary experiences, or simply someone who appreciates the finer things in life, this is an event that promises to captivate and delight all your senses.
Join them starting June 21st and immerse yourself in the vibrant ambiance of Pink Summer, where every dish and every sip is an opportunity to celebrate the joy of summer and indulge in the magic of the color pink. Let your taste buds dance, and your spirit soar, as you discover a culinary haven that's truly a feast for the eyes and a delight for the soul!
Visit the Website for more details.