A hot cup of brew, some close friends and a delectable selection of snacks – High teas are an incredible part of winter afternoons! If chai is not just a drink but an emotion for you, then these locations and high-tea spots should definitely be on your list!
1. Shamiana, Taj JLT
We would like to take you back in time to a time when friends would meet, laugh, and catch up before the online world took over. Presenting a refined and reimagined version of an age-old ritual, where chai is not a drink, but an emotion. Guests can unwind and explore our selection of savory and sweet Indian snacks is served with the finest teas, including the traditional high tea.
Time: Daily, 4pm – 7pm
Price: AED 99 per charlie for Afternoon Tea
Location: Taj Jumeirah Lakes Towers, Dubai
For reservations email reservations.jltdubai@tajhotels.com or call +971 4 574 1111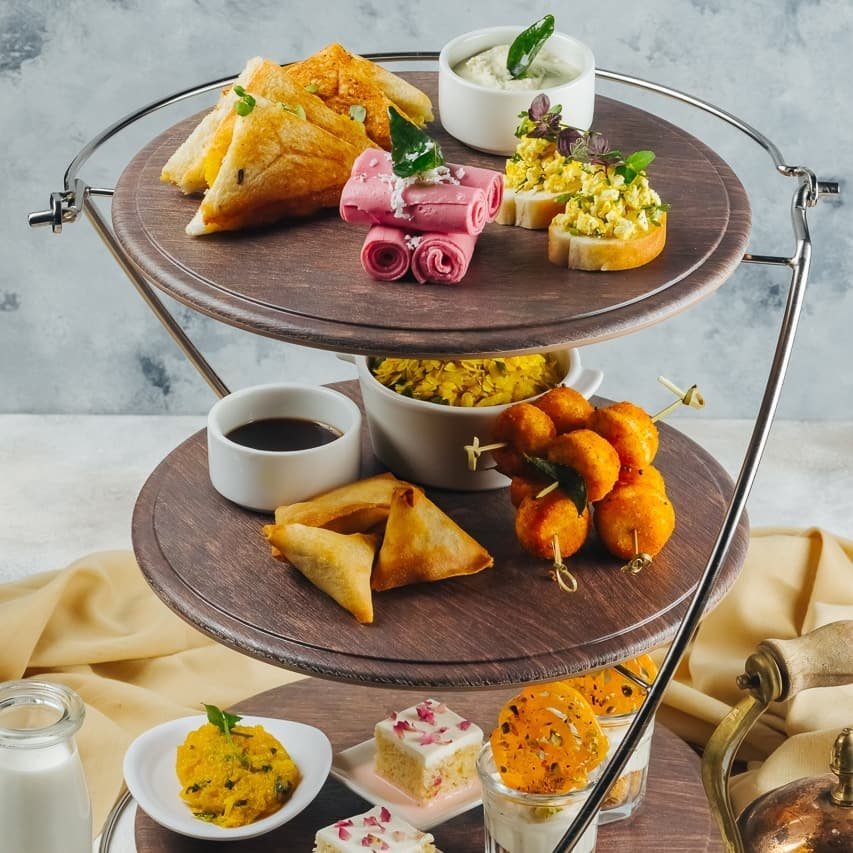 2. ME Dubai
Afternoon Tea is served in the stunning Atrium by Zaha Hadid where you can indulge in finger sandwiches, homemade scones with jam, signature cakes and much more. You can pair it with a variety of tea blends available. The afternoon tea is available from 3pm to 5pm daily for a cost of Dhs599 for two.
Time: Daily, 3pm – 5pm
Price: AED 599 for two
Location: ME Dubai, The Opus by Omniyat, Business Bay, Dubai
For reservations, please call (04) 525 2500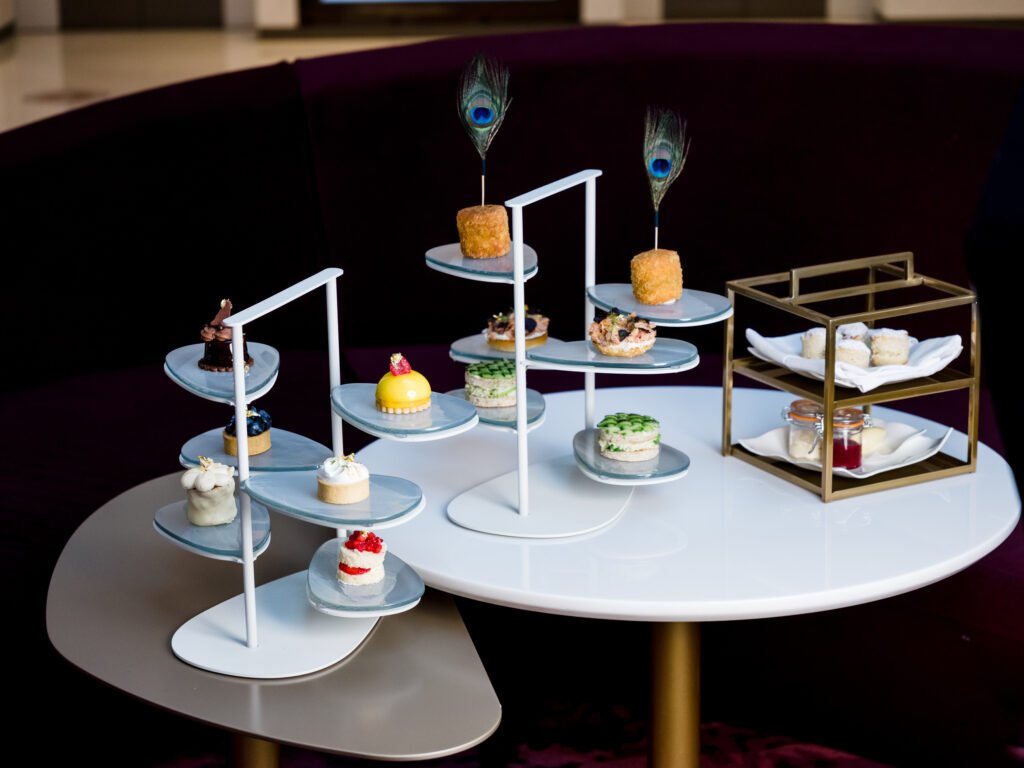 3. ARTFUL AFTERNOON TEA At T-Lounge By Dilmah
Artful High Tea is the rebirth of the occasion of afternoon tea, with fine gastronomy, mixology and elegant experience formed around the unique beauty in real tea. From different estates, its natural goodness and the expression of these in real high tea. A contemporary celebration of tea with style and substance.
The menu includes Freshly baked scones with creamed butter and fresh preserves tea infused scones raspberry jam, traditional high tea sandwiches such as cucumber and goats cheese, salmon in choux buns, brie cheese in cereal bread, BBQ chicken wrap, wild mushroom vol au vent. George keyt Art inspired moist chocolate cake, assorted mini macaroons, raspberry cake, baked cheese cake and lemon tart created by award winning executive pastry chef Dammika.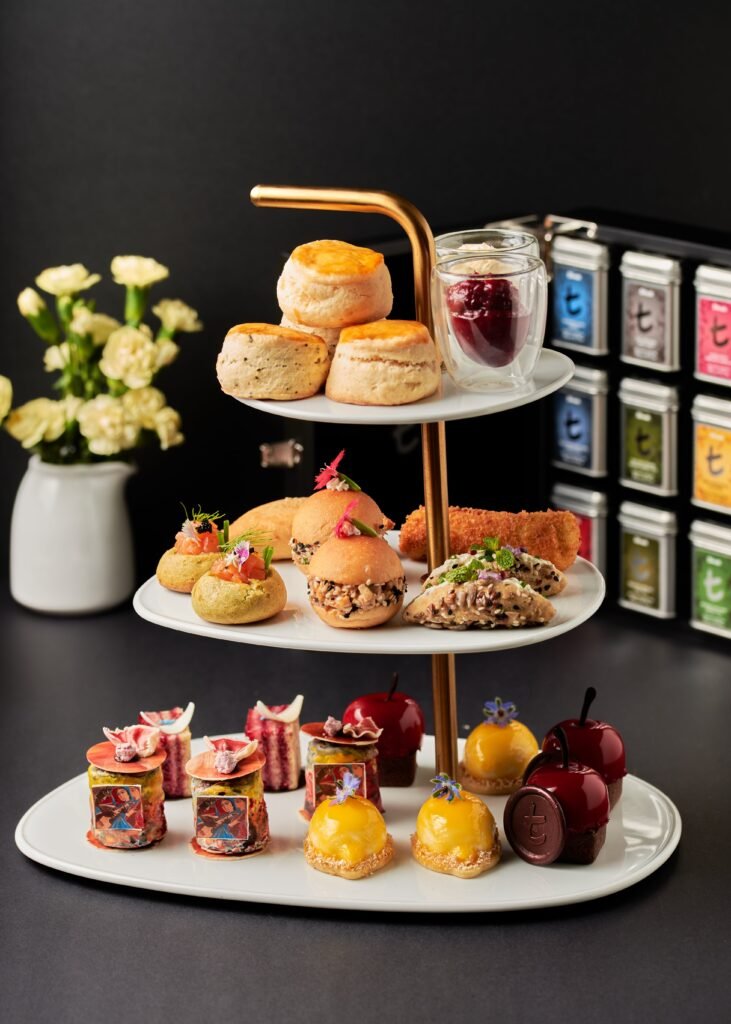 Time: Daily from 2pm to 6pm
Location: t-Lounge by Dilmah, Pullman Dubai Creek City Centre
For reservations please call +9714 294 1222 or WhatsApp +971 55 959 1018
4. Enjoy Bottomless Tea and Snacks at Marwari Restaurant Sagar Ratna
Enjoy the Unlimited Chai/ freshly brewed masala tea and some piping hot snacks for AED 25 per person. Enjoy the Hi-Tea at Sagar Ratna from 4 PM to 6 PM. You'll enjoy servings of two snacks, one plate of either Samosa, Kachori or Vada Pav, and the other one of Bhajia (plain, onion or mix), and of course unlimited Chai to sip with your loved ones.
Time: Daily from 4pm-6pm
Location: Sagar Ratna JLT and Oud Metha
Mag 214, Lake Level 3, Cluster R JLT. Contact: 044-533364
Near Lamcy Plaza, Oud Metha, Dubai. Contact: 043795493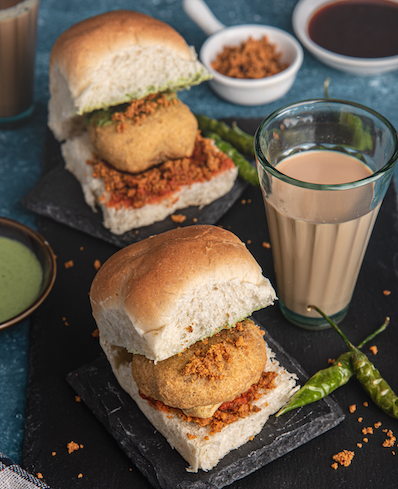 5. Gevora Highest View Lounge And Restaurant, SZR
Love views of the entire city from rooftops? Then why not go to the Highest Hotel! Make its even better with some tea at Gevora Highest View Restaurant! They have some amazing offers running for 2 people. The menu offers a variety of small bites plus some great options in beverages – both tea and coffee! Whether you have a sweet tooth or prefer savory bites with your after noon tea; their menu has several options from different cuisines.
Time: 5pm to 6.30pm
Price: AED 188 approx for 2 poeple (Offer price)
Location: Highest view restaurant, Gevora Hotel, SZR
For reservations call – 045240000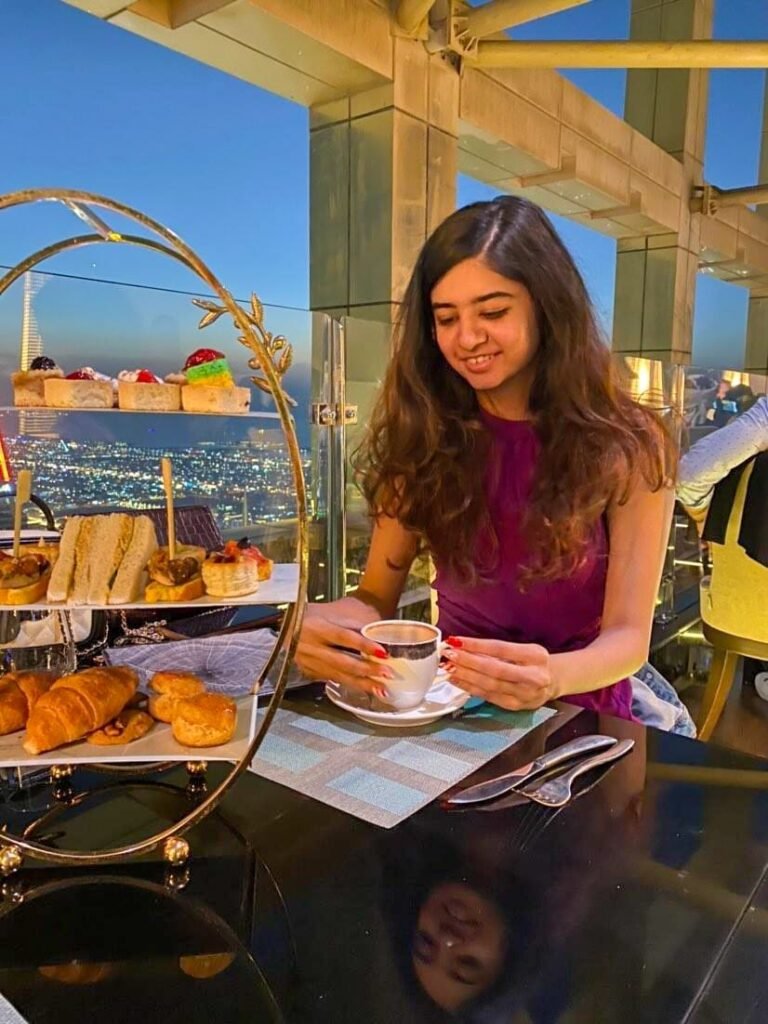 6. Unique Tea Menu At SEVA Table
Afternoons just got better at the SEVA Table. Whether you are looking to stay back and chat after you lunch, or simply a place to catch up with some friends – SEVA Table's afternoon menu is perfect for it! Enjoy small bites, starters and desserts, perfect for light eating; served 3pm onwards. If you love to try different varieties of tea, then you are sure to be spoilt for choices. From Masala Chai, Sage and Chocolate Chilli Tea to Japanese Genmaicha, Chamomile and Lavender Tea – there is something for everyone!
Time: 3pm Onwards
Location: SEVA Table Cafe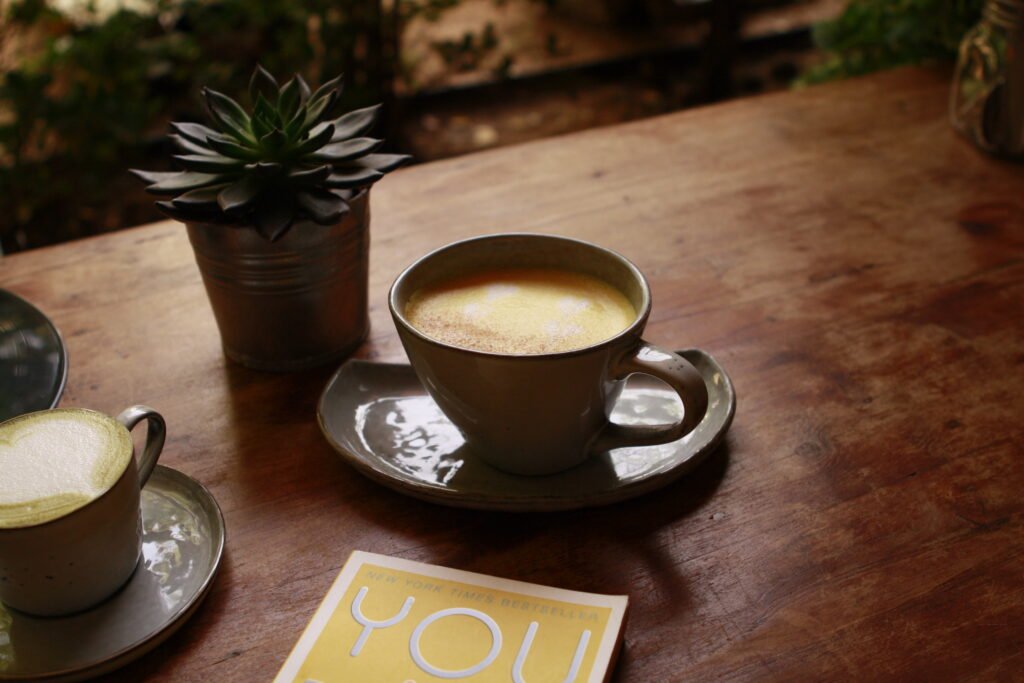 7. Pamper Yourself At Kempinski Hotel Mall of the Emirates
To kick-start the new year, SENSASIA Stories Spa and Aspen Lobby Lounge at Kempinski Hotel Mall of the Emirates is inviting ladies to pamper themselves, de-stress and relax in a blissful experience like no other. Enjoy one-of-a-kind spa experience that is devoted to holistic wellness for the body and mind followed by a relaxing afternoon tea.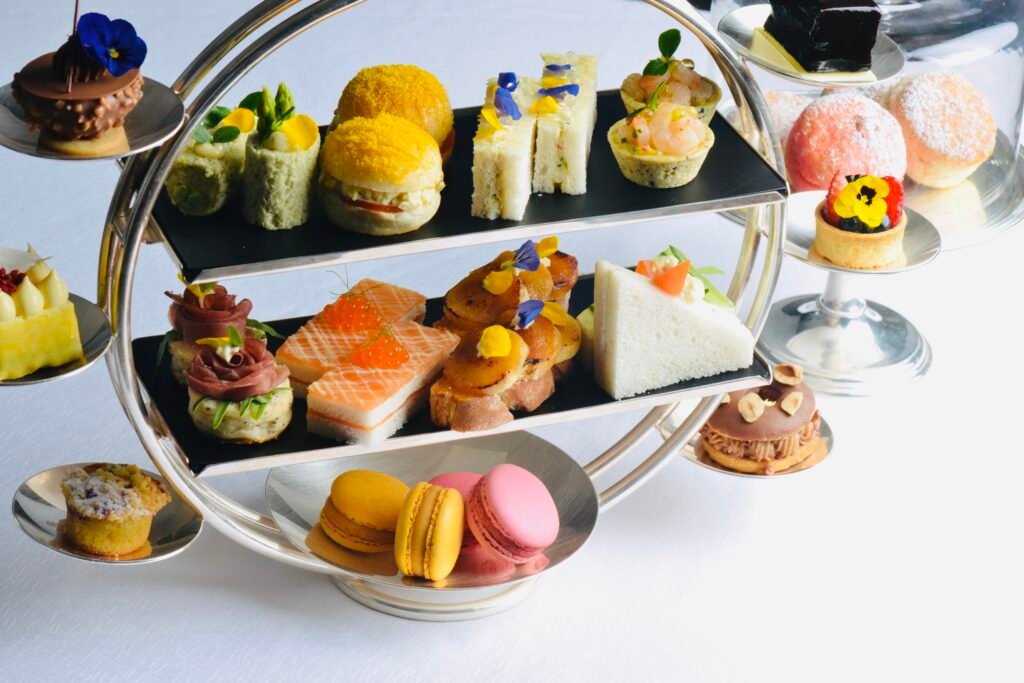 Afternoon tea at Aspen by Kempinski is the perfect treat to complete the relaxing experience, with a variety of scrumptious treats to suit every palate. The menu includes sophisticated savory sandwiches such as Baby Shrimp Tart with mango salsa, Cucumber and Sour Cream sandwich and Bresaola sandwich in chia seeds, as well as sweets and mini cakes such as Macaroons, Yuzu Cheesecake and Mini Berries Tart.
Time: Daily from 3pm to 6pm
Price: AED 295 for two (BONUS: receive a 30-minute upgrade on your next spa appointment at SENSASIA Stories)
Location: Kempinski Hotel Mall of the Emirates