Get your lederhosen and dirndls ready because Barasti Beach Bar is gearing up to host the ultimate Oktoberfest celebration. From Thursday 21st September to Sunday 1st October, the iconic beachside venue will be transformed into a Bavarian wonderland, complete with long tables, bunting, and all the beer you can handle. It's time to raise your steins and immerse yourself in the lively atmosphere of the world's most beloved beer festival.
Barasti Beach Bar is renowned for its vibrant and exhilarating events, and this year's Oktoberfest promises to be no exception. Picture yourself in a sprawling summer tent, surrounded by fellow beer enthusiasts, as traditional Oompah bands fill the air with their lively tunes. The tapping of the keg on Friday 22nd September at 7pm will mark the official start of the festivities, setting the stage for a two-week celebration like no other.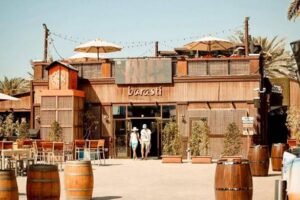 But Oktoberfest is about more than just beer. Barasti has curated a special menu inspired by iconic Bavarian dishes to indulge your taste buds. Sink your teeth into the Obatzda & Pretzel, a luscious combination of creamy cheese and homemade pretzel that will leave you craving for more. Feeling adventurous? The Currywurst is a must-try, with its tantalizing mix of roasted German bratwurst and sweet and sour tomato curry sauce.
For those seeking a heartier option, the Bratwurst or Wienerwurst will hit the spot. Enjoy grilled German sausages served with all the trimmings, including homemade bread rolls, German mustard, and grated horseradish. And no Oktoberfest celebration would be complete without the classic Apfel Strudel – indulge in the famous apple and cinnamon baked in flaky puff pastry, paired with vanilla sauce, whipped cream, or vanilla ice cream.
Of course, a true Oktoberfest experience wouldn't be complete without an extensive selection of beer. Barasti has you covered with beer towers, steins, and Jaeger bomb promotions to keep the party going all night long. And for those who prefer spirits, there will be enticing bottle promotions to ensure everyone finds their perfect libation.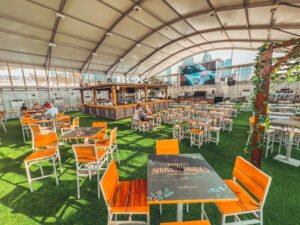 But the celebration doesn't stop at food and drinks. Austrian band Trio Megamix will have you dancing the night away with their energetic performances of all the Oktoberfest classics. Get ready to tap your feet, sing along, and immerse yourself in the infectious spirit of the festival.
Join Barasti Beach Bar for the ultimate Oktoberfest celebration, where the atmosphere is electric, the beers flow freely, and belly laughs are guaranteed. From traditional Bavarian dishes to toe-tapping music, this is an event not to be missed. So dust off your lederhosen, don your dirndls, and get ready for a beer-soaked, bratwurst-filled extravaganza at Barasti Beach Bar. Prost!
Instagram: @barastibeach
Visit the Website for more details.