Dubai's scorching summer is about to get a lot more delightful, thanks to an enchanting culinary experience offered by none other than VERO Coastal Italian. Nestled in the heart of JBR, VERO is all set to tantalize your taste buds during the upcoming Summer Restaurant Week, from the 18th to the 27th of August.
Imagine a warm summer evening, a romantic date, or a delightful gathering with friends and family, all against the stunning backdrop of Jumeirah Beach Residence. VERO's Summer Restaurant Week is here to make those dreams a reality. Offering a three-course culinary voyage for an unbeatable AED 150, this experience promises an unforgettable journey through the vibrant flavors of the Amalfi Coast.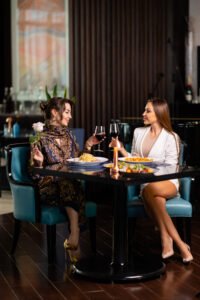 Your gastronomic journey begins with a symphony of flavors in the form of "Stracciatella Di Bufala." This exquisite appetizer, featuring Buffalo Stracciatella, Cherry Tomato, Garlic-scented Croutons, and a Basil Oil Dressing, sets the stage for the culinary delights that follow.
As the sun dips below the horizon, it's time to savor the main course. With the choice between the indulgent "Risotto Mare" and the innovative "Bistecca Vegan," VERO ensures that every palate finds its perfect match. The "Risotto Mare" dances Carnaroli Rice with a medley of Seafood Guazzetto, seasoned with Shellfish Bisque, while the "Bistecca Vegan" offers a twist, featuring a Vegan steak paired with Carrot and Celery Salsa and Extra Virgin Olive Oil-scented Mashed Potato.
A grand finale awaits in the form of "Cannolo Siciliano." Imagine Sweet Ricotta Cheese elegantly embraced by a Cannolo, served alongside a refreshing Mango Sorbet. This dessert is the embodiment of a sweet summer night.
The magic of VERO's Summer Restaurant Week extends from 6 pm to 11:30 pm, inviting you to immerse yourself in an extraordinary culinary adventure. Nestled within the Hilton Dubai Jumeirah, VERO promises not just a meal but an experience that captures the essence of the Amalfi Coast's vibrant culture and cuisine.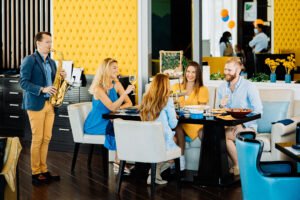 Don't let this opportunity pass you by. Mark your calendars for August 18th to 27th, 2023, and prepare to indulge in the symphony of flavors and aromas that only VERO Coastal Italian can deliver. To secure your place at this culinary extravaganza, simply call 04 318 2319 for reservations.
As the sun sets and the sea breeze envelops you, let VERO be your gateway to an unforgettable summer dining experience.
Visit the Website for more details.