Asiana Grand Hotel proudly introduces Grand Gourmet, a culinary marvel nestled in the heart of Deira, promising an unmatched gastronomic journey that redefines the culinary landscape of Dubai.
Grand Gourmet, located within the lavish confines of Asiana Grand Hotel, emerges as a beacon of culinary excellence, boasting over 200 dishes across an array of international cuisines. This culinary gem, with a seating capacity for more than 300 guests, invites diners to an extraordinary dining affair that transcends expectations.
At the helm stands Executive Chef James Kang, a distinguished figure in the hospitality industry, bringing over three decades of expertise to the table. Chef Kang's dedication and expertise shine through in the innovative menus he has meticulously crafted, catering to the diverse palates of Dubai's cosmopolitan clientele.
The culinary journey at Grand Gourmet unfolds with a myriad of offerings, including live grill stations, wood-fired pizzas, tantalizing shawarma, exquisite sushi, and aromatic tandoori delights. An eye-catching woodfire oven takes center stage, providing guests a transparent view of the culinary artistry in action.
For dessert aficionados, an interactive dessert section awaits, featuring an array of delights, from crepes and ice cream to a cascading chocolate fountain and zesty grilled pineapple. The ambiance at Grand Gourmet is a fusion of contemporary elegance, boasting high ceilings, natural light, and a cordial staff ensuring a warm and inviting atmosphere.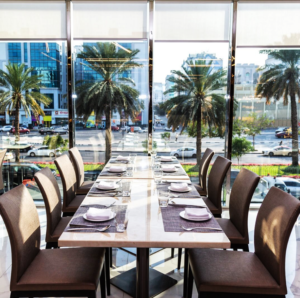 One of Grand Gourmet's standout features lies in its extensive menu of over 300 thoughtfully curated items. Led by Chef Kang's meticulous guidance, the menu showcases locally sourced ingredients and steadfast dedication to quality. Notably, the restaurant caters to dietary preferences and restrictions without compromising the five-star dining experience.
Nestled on the Mezzanine floor of Asiana Grand Hotel, Deira, Grand Gourmet opens its doors for lunch from 12PM to 3PM and for dinner from 6PM to 11PM, promising an immersive gastronomic voyage for every discerning palate.
Instagram: @grandgourmetdxb
Visit the Website for more details.