Bluewaters, an idyllic urban island getaway, has fast become a key go-to food and entertainment hub with its breadth of acclaimed restaurants and high-profile experiences. From action-packed arcade games at Brass Monkey to chic evenings at SHI, many of the island's iconic brunch scenes have turned up the heat with a series of iconic ladies' nights Sundays through Thursday. There's a whole host of brunch offers too, including an experiential journey at newly launched VAGA.
An extra draw for visitors, HALA Taxi is giving visitors 20% off on their first 6 rides using the code 'BLUE20'.
Go bananas at Brass Monkey
It's always fun and games at Brass Monkey, an adults-only playground at Bluewaters. For a hump day treat, bring the girls to test out Brass Monkey's new Ladies Night deal, which includes any two food items and four beverages from a special menu for AED120 only. Fresh guacamole dip or Korean corn dogs, margherita pizzas or caramel cheesecakes, sip, dine and play your way through an action-packed evening with a live band.
On Saturdays, lock in brunch with the whole gang to gorge on great eats, live entertainment, three hours of free arcade games (excluding VR, Crane Machines and Photo Booth) and an exclusive 50% off on bowling until 5pm.
Ladies Night
When: Wednesday, 7pm-1am
Deal: AED120 for two plates and four beverages
Brunch
When: Saturdays, 1-4pm 
Cost: Soft beverages: AED380; House beverages: AED480; Premium beverages: AED650
Book: +971 4 582 7277
Puerto 99's señors y señoras spectacular
Ladies, put a pep in your step with Monday night plans at Puerto 99. Soak in the stunning waterfront views and shimmering skyline making memories with friends over selected grape and cocktails on tap for AED175.
If that doesn't fill your craving of Chef Ivan Puc's unbeatable meat and seafood courses, come back for a full-fledged Mexican fiesta brunch on the weekend, where a live mariachi band and signature seafront views make the restaurant one of the island's liveliest food haunts.
Ladies Night
When: Sundays (9-11pm) & Mondays (10pm-Midnight)
Deal: AED175 for unlimited select drinks
Brunch
When: Saturdays and Sundays, 2-5pm
Cost: Silver99 beverages: AED330; Gold99 beverages: AED440; Platinum99: AED550
Book: +971 52 570 0490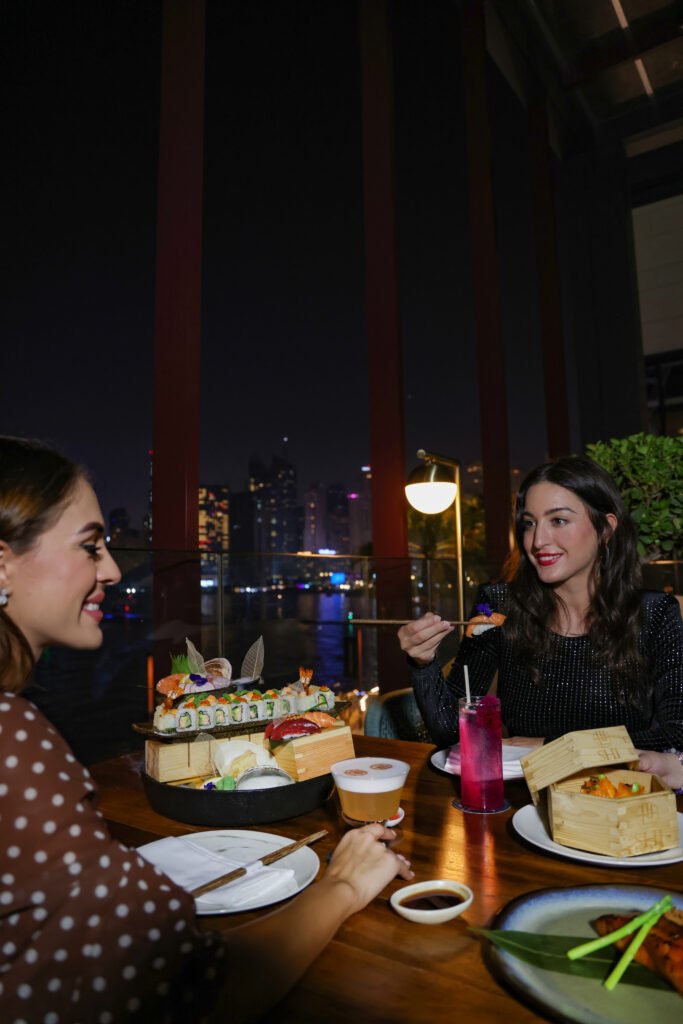 Spice up your life at Basanti & Co
Discover your inner Basanti, one of Bollywood's most iconic female characters, and the versatile flavours of India at her namesake restaurant in Bluewaters. Ladies looking to turn up the heat can enjoy a special deal at Basanti & Co on Tuesdays, which includes three select beverages and two bites for AED150.
Ladies Night
When: Tuesdays, 7-11pm
Deal: AED150 for two bites and three beverages
Book: +971 4 557 6947
Mix and mingle at SHI
Upscale Japanese joint SHI is making Tuesday nights worthwhile for all, not just ladies. Fill up on their signature sushi platter, dim sum tastings and crispy soft-shell crab with almond flakes and three selected drinks for AED249 for ladies and AED349 for men.
If you're booking for the weekend, SHI's swanky Saturday brunch includes an all-star three-course set menu, including crispy duck bao buns, grilled Chilean seabass topped with honey sauce and taro crème brulé – all served with a side of lively beats by SHI's resident music machine, DJ Joker.
Ladies Night
When: Sundays (9-11pm) & Mondays (10pm-Midnight)
Deal: AED175 for unlimited select drinks
Brunch
When: Saturdays, 1-4pm
Cost: Soft beverages: AED380; House beverages: AED480; Premium beverages: AED650
Book: +971 4 557 6947

Girls catch up at Ketchup
Looking for something casual, fulfilling and affordable? Ketchup might just be the secret sauce you need! Enjoy a relaxed catch-up with the girls on Tuesdays, tucking into a special menu for AED150 only. The restaurant is known, loved and frequented for its handcrafted burgers and casual vibes, uplifting by Instagram-ready views of JBR and the iconic Dubai Marina.
Ladies Night
When: Tuesdays, 6-9pm
Deal: AED150, set menu 
Book: +971 50 750 7424
Virgin Izakaya for fashionable friends
Still the new kid on the block at Bluewaters, Virgin Izakaya is offering up one of Dubai's most unmissable and wallet-friendly Joshi Kai Ladies Nights. Trade AED150 for five tokens which you can use on food or drinks on Wednesdays, which includes traditional robata grill-style cooking and the restaurant's signature specialities. Revel in the modern Japanese-style atmosphere, amplified by deep reds, earthy wood tones and dim lighting, while a live DJ dials up the beat.
Ladies Night
When: Wednesdays, 6-11:30pm
Deal: AED150, five tokens for food and drinks  
Book: +971 4 589 8689
Arabian nights at Sah El Nom
Sah El Nom offers an authentic Syrian culinary experience using fresh and sustainable ingredients. Tuck into hearty dishes with a modern twist at this quaint, from dishes made for sharing to home-style recipes you'll want to save all for yourself. And to sweeten the deal? Ladies can enjoy free shisha on Tuesdays from 5-8pm.
Ladies Night
When: Tuesdays, 5-8pm
Deal: Free shisha
Book: +971 58 954 5541
LAUNCHING SOON…
An experiential journey at VAGA
A new brunch adventure awaits at stunning new upscale restaurant VAGA, a vibrant lifestyle destination making waves on Bluewaters Island. Launched on 1st October, VAGA's new brunch will have you embark into a fantasy world that mellifluously melds Contemporary Arabic and Armenian cuisine. Call the restaurant for all the details!
Book: +971 56 8000 990