Brace yourselves, adventure seekers! Abu Dhabi has a thrilling new entertainment venue in town, and it's bound to push your limits and test your skills. "Cube Challenges and Board Game Café" is now open at Reem Mall, promising an array of heart-pounding challenges and a haven for board game enthusiasts.
Step into the world of Cube Challenges, a real-life gaming experience like no other. Located in the heart of Abu Dhabi at Reem Mall, this venue offers a unique, high-quality, and distinctive gaming adventure. With 32 ultimate challenges, categorized into Brain, Skills, Physical, and Horror, Cube Challenges is set to become the ultimate entertainment spot in the city.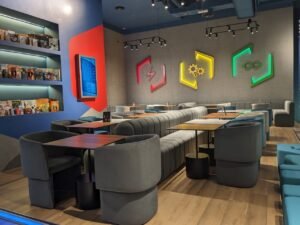 In Cube Challenges, your BRAIN, SKILLS, and PHYSICAL abilities are your greatest assets. The challenges are designed to test your speed, strength, and stamina while confronting time pressure. From Rainbow Mind to Slingshot Madness, Knockout, Ghost Hunters, and many more, each challenge will push you to your limits. The goal? To accumulate as many points as possible before time runs out. Be fast and claim victory!
But the excitement doesn't end there. Cube Challenges also features a Board Game Café with over 50 options to choose from. Whether you're a strategy aficionado or a casual gamer, there's something for everyone. Challenge your friends and family to epic board game battles or simply enjoy a leisurely game night. Plus, you can expand your own board game collection by purchasing your favorites to take home.
Cube Challenges & Board Game Café promises hours of entertainment and is the perfect destination for family get-togethers, team building outings, and birthday parties this summer. With a minimum age entry of eight years old, the venue is situated on Level 2 at Reem Mall, Al Reem Island. Each ultimate challenge accommodates from two to six players at a time, with prices starting at AED 100 per kid and AED 120 per adult. To maximize your gaming experience, comfortable clothing and sneakers.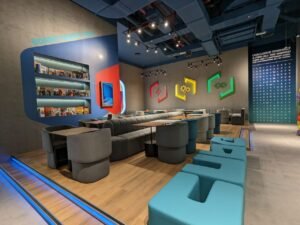 Ready to embark on these thrilling challenges and board game escapades? Advance booking is required through the website www.cubechallenges.ae. Don't miss out on the chance to push your limits, bond with friends and family, and experience the ultimate gaming adventure in Abu Dhabi.
Cube Challenges & Board Game Café is your ticket to a world of excitement and fun. Get ready to play, strategize, and conquer!
For more information, please visit Reem Mall or the social media pages on Facebook and Instagram.