Nestled in the heart of Dubai's Palm Jumeirah, Dukes The Palm, a Royal Hideaway Hotel, beckons you to experience a five-star escape like no other. With a stunning private beach, breathtaking views of the Dubai Marina skyline, and a wealth of amenities, this resort is more than just a hotel; it's a destination in itself. Let's dive into the world of Dukes The Palm and discover the luxury and excitement it has to offer.
Dukes The Palm is home to 279 lavish rooms, including 36 suites, as well as 285 studios and one-bedroom apartments, ensuring a comfortable stay for every guest. But the true star of the show is the pristine Dukes Beach. Picture yourself lounging on the golden sands, sipping a refreshing drink, while the kids have the time of their lives at the Dukesy Kids Club.
Prepare your taste buds for a culinary journey like no other. The resort boasts diverse restaurants and bars offering authentic flavors and top-notch entertainment.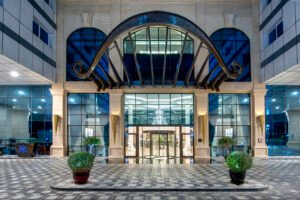 1. Great British Restaurant: At the Great British Restaurant (GBR), you're in for a treat. With its British-inspired menu and sophisticated ambiance, GBR promises an unforgettable dining experience. From traditional Arabian kebabs to succulent British roasts, the menu caters to all tastes.
– Britpop Brunch: Every Saturday from 1 pm to 4 pm, dive into the Britpop Brunch. Indulge in traditional British fare paired with beloved Britpop beats, creating the perfect recipe for a fun-filled brunch celebration.
– Ibiza White Night: On Fridays from 8 pm to 10 pm, join the Mediterranean-themed culinary journey with Ibiza White Night. Enjoy dynamic beats and delightful food.
– Theme Nights: GBR also offers Themed Nights every evening of the week. From Arabic Night to BBQ Night, there's something to suit every palate.
2. Khyber: Khyber, an award-winning Indian restaurant, takes you on a journey through North India's rich flavors. With a beautiful terrace and authentic dishes, it's a must-visit.
– Khyber Shandhya Drunch: Every Friday from 8 pm to 11 pm, savor a lively five-course menu of mouth-watering dishes, including delectable kebabs and North Indian mains.
– Khyber Summer Flavors: Enjoy a special three-course Set Menu daily from 5 pm to 11 pm, perfect for after-work gatherings and occasions.
– Bollywood Night: Every Saturday from 5 pm to 11 pm, immerse yourself in India's vibrant culture with Bollywood Night, featuring delicious Indian dishes.
3. Champagne and Tea Lounge: For a touch of British elegance, visit the Champagne and Tea Lounge.
– Afternoon Tea: Daily from 1 pm to 5 pm, savor the Classic Afternoon Tea or upgrade to include sparkling grapes or bubbly.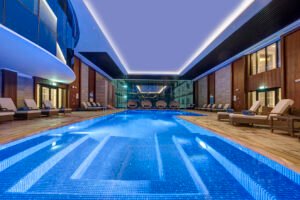 4. Dukes Bar: Dukes Bar offers exciting nightlife options.
– Eva's Night-Out: Join Ladies Night every Thursday from 8 pm to 11 pm, with special offers for ladies and gents.
– After Brunch Drinks: Keep the party going every Saturday from 4 pm to 6 pm with unlimited house beverages for ladies and gents.
– Happy Hour: Enjoy selected house beverages at affordable prices from Monday to Friday from 4:30 pm to 6:30 pm.
Dukes The Palm, a Royal Hideaway Hotel, is your ticket to a luxurious and entertaining getaway in Dubai. Whether you're lounging on the beach, savoring international cuisine, or enjoying the vibrant nightlife, there's something for everyone. Make your stay unforgettable at this iconic destination on Palm Jumeirah!
Visit the Website for more details.