Dubai, the city of luxury and glamour, has welcomed its latest addition to the world of beauty and grooming, The Lunatic Fringe. The salon, situated at Le Royal Meridien Beach Resort and Spa in Dubai Marina, promises a unique and unparalleled experience for those seeking an elevated standard of luxury and expertise in hair and beauty.
The Lunatic Fringe offers a vast array of hair, nail, facial and therapeutic beauty treatments, all delivered by a team of skilled stylists and technicians, using the finest hair and beauty products on the market. Each journey begins with an in-depth consultation process to ensure that guests are at the centre of every experience. The salon has a friendly and welcoming environment like no other, where guests can relax and indulge in a personalized luxury experience.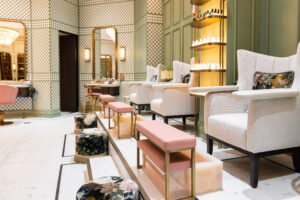 The founder of The Lunatic Fringe, Liza Harper, has brought her 25 years of hairdressing experience to Dubai, launching the salon with her husband after recognizing a gap in the market for a luxury salon that prioritizes customer service above everything else. Liza's passion for hairdressing and dedication to delivering exceptional customer service is the foundation of The Lunatic Fringe.
With an understanding of exceptional service, The Lunatic Fringe team welcomes guests to its stunning space, adorned with handmade Italian furniture, where they can enjoy bespoke beverages delivered directly to their side whilst they get pampered. The plush and luxurious VIP Gold Room provides the perfect setting for special events, all set within total peace and privacy. Featuring intricately handcrafted décor, cutting-edge facilities and an elegant, distinguished ambiance, it is truly an experience like nothing else in Dubai.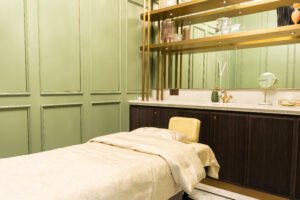 The Lunatic Fringe is also the first salon in Dubai to offer in-salon MZ Skin treatments, including the world-renowned LED mask golden facial treatment. This state-of-the-art process uses LED light to improve sun damage and scarring, treat acne and blemishes, reduce redness, ease sensitive skin and promote healing and skin repair. Founded by leading Aesthetic Doctor and Oculoplastic Surgeon Dr. Maryam Zamani, MZ Skin's focus on quality ingredients and unparalleled results perfectly complements the ethos of The Lunatic Fringe.
Liza Harper, the founder of The Lunatic Fringe, is thrilled to bring her salon to Dubai, saying, "To bring The Lunatic Fringe to Dubai is a dream come true. We offer a unique fusion of in-depth consultations, personalized service, and excellent technical expertise, all accompanied by freshly made mocktails. I'm so excited to help everyone in Dubai uncover their inner glow and natural confidence."
The Lunatic Fringe is now open and ready to provide an elegant sanctuary of beauty and artistry to its guests at Le Royal Meridien Beach Resort and Spa, Dubai from 27th April 2023.
Instagram: @lunaticfringedubai
Visit the Website for more details.