As UAE National Day draws near, the pulse of Dubai quickens with anticipation, brimming with a vibrant celebration of the nation's diverse cultural tapestry. Amidst this festive fervor, two iconic brands, Rove Hotels and Frying Pan Adventures, have joined hands to orchestrate a unique ode to the city's rich history and flavorful traditions.
Nestled in the labyrinthine alleys of Old Dubai, this collaboration beckons both locals and tourists alike to embark on an immersive journey—a rendezvous with the culinary heart of the city.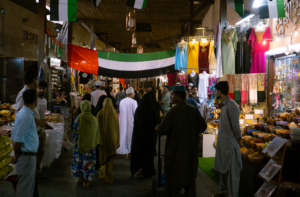 Picture this: November 30th or December 1st—a date etched for an exclusive escapade where time intertwines with tradition. Aboard the Abra, Dubai's timeless water taxis, guests sail across the historic creek, their senses enlivened with anticipation for the feast that awaits.
Led by the seasoned experts at Rove Hotels and Frying Pan Adventures, this expedition is not merely a culinary escapade; it's a tantalizing narrative woven with flavorsome anecdotes and historical nuances. The agenda? To traverse the veins of Old Dubai, to discover hidden treasures in each bite, and to immerse oneself in the timeless charm of the city's roots.
The tour unfurls an epicurean mosaic—a tapestry of flavors that transcend mere sustenance. From the allure of deep-fried street snacks to the comforting embrace of a traditional 'majlis' meal, each stop is a portal to a new culinary realm.
Imagine savoring the iconic regag bread, adorned with a unique topping found nowhere else in the city, or relishing the 'claypot almond chai' against a backdrop of coral stones steeped in history. Dive into the nostalgia of Dubai's past as you sip on the refreshing rose lemonade from the oldest cafeteria in the souk, or dare to explore the city's cherished, unusual blends.
But the experience doesn't culminate there. It crescendos with a homely Yemeni meal, shared amongst newfound companions, framed by the breathtaking vista of the creek—an invitation to forge connections and relish camaraderie amidst culinary marvels.
Rove Hotels and Frying Pan Adventures extend a warm invitation, beckoning all to partake in this historic sojourn. This isn't your conventional sightseeing tour; it's an expedition delving into Dubai's culinary heritage—a vibrant amalgamation of Iranian, Indian, Yemeni, and nostalgic Dubai treats that resonate within the soul of the souk's alleys.
Book your slot now, for this isn't just a tour; it's an immersive celebration—a tribute to the mosaic of cultures that paint Dubai's vibrant canvas. Join the rendezvous here, and let the flavors of the city enchant your senses, leaving an indelible mark on your memories.
Visit the Website for more details.