Ramadan's just around the corner! This means month-long iftar plans and spending lots of time with loved ones. To help you out, we have created the perfect list of iftar ideas! Read on to find some of the best offers, menus and activities that are perfect for iftar and Ramadan:
1. Pullman Dubai Creek City Centre celebrates the holy month of Ramadan
Pullman Dubai Creek City Centre is inviting guests to the ceremonial breaking of the fast with loved ones, in the relaxed, warm lighting and contemporary setting of Medley Restaurant. With its lavish Iftar buffet, guests will enjoy a plentiful array of Arabic specialties.
Start your meal with Arabic salads such as Hummus, Mutable, Tabbouleh, Burgol with Tomato, Olive Salad, Beetroot Mutabal, Chicken with Tahini Sauce, Cabbage Salad, Stuffed Vine Leaves Potato Hara, muhammara, labneh with garlic. In main course, Moroccan Chicken tajine, Samak tajine, Mutton biryani with classic condiments, Vegetable moussaka, Khudar couscous, Vegetable saloona to name a few.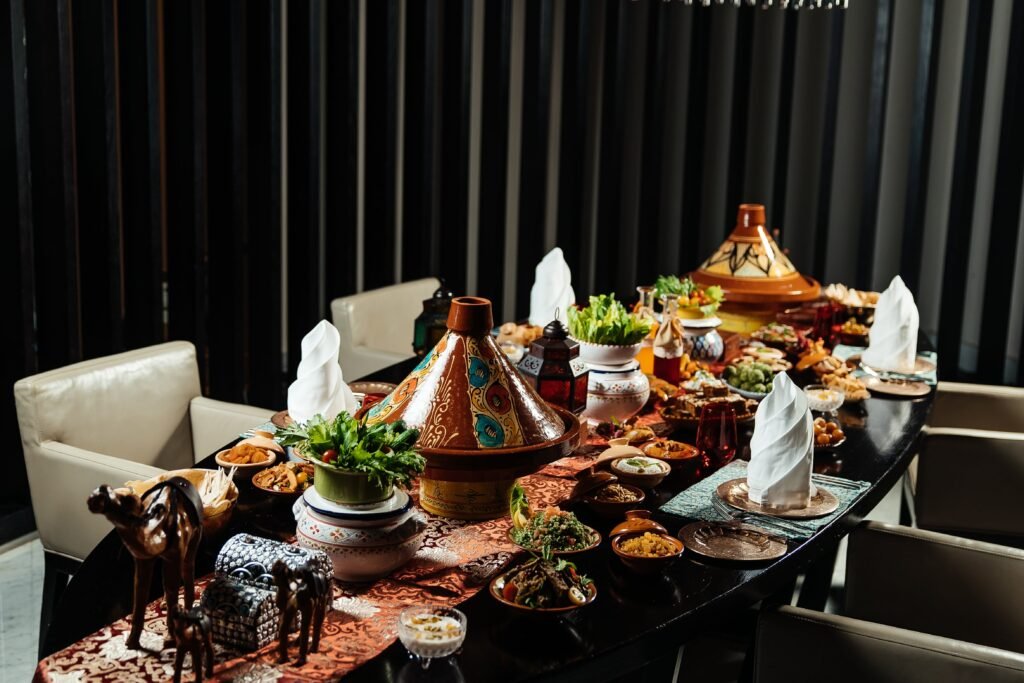 For all meat lovers, relish Chicken Shawarma with garlic sauce with Arabic pickles, Arabic Mix grill (shish taouk, beef kebab, lamb kofta). Guest can enjoy the star dish – Lamb with Oriental Rice Yogurt with Cucumber and Mint. End the meal on a sweet note with Arabic desserts such as Assorted Moroccan Sweets, Kunafa Nabulsi, Awama, Basbousa, Mixed Maamoul, Warbat Cream, Mixed Baklaw, Fateer with Cheese, Um Ali with pistachio to name a few.
Price: Iftar buffet at AED 199 per person (including soft drinks and juices), 50% OFF for Kids between 6 and 11 years old and FREE for kids below 6 years old.
Time: From Sunset until 9:00 pm (including soft drinks and juices)
2. Take Your Kids On A Spy Adventure At Mission OliOli
OliOli®, an experiential play museum based in Dubai, has launched Mission OliOli®, a spy adventure for kids aged 4 and above. Children (and parents!) are invited to join the elite OliOli® Secret Service (O.S.S) and outwit Cobra, the leader of the Very Evil Network of Mischief (V.E.N.O.M).
The action-packed adventure features interactive challenges and puzzles for O.S.S agents to solve to enter the O.S.S headquarters, where kids will have to navigate through laser beams, avoid booby-trapped floor, fix the broken server, and restore joy. Children begin the operation by registering into the O.S.S database and building their secret spy identity, as well as collecting their Mission OliOli kit. Each agent kit contains an agent ID, a classified mission file with information about Cobra and his evil scheme, and powerful gadgets to over-smart the enemy. Upon successfully completing the mission, O.S.S. agents will be celebrated and rewarded with a badge of honor for their courage, physical fitness, critical thinking/problem-solving skills, and perseverance.
Entry to Mission OliOli® is included in OliOli®'s Standard PLUS ticket priced at AED 146 for 1 Child (4 to 16 years old) + 1 Adult. Mission OliOli® runs from March 12th to June 12, 2022.
3. Iftar Set Menu At India Bistro at World Trade Center, Dubai
For AED 79 per person, the modern Indian restaurant, India Bistro will be offering dates along with the fresh cut fruit and rooh afza. The Iftar menu will further consist of Dahi Bhalla for starters; Zaatar Murgh Tikka, Lamb Seekh Kebab for grill platter; Burrata Butter Chicken, Kheema mutter, Paneer khada masala and Chicken biryani for mains and Gulab jamun for desserts.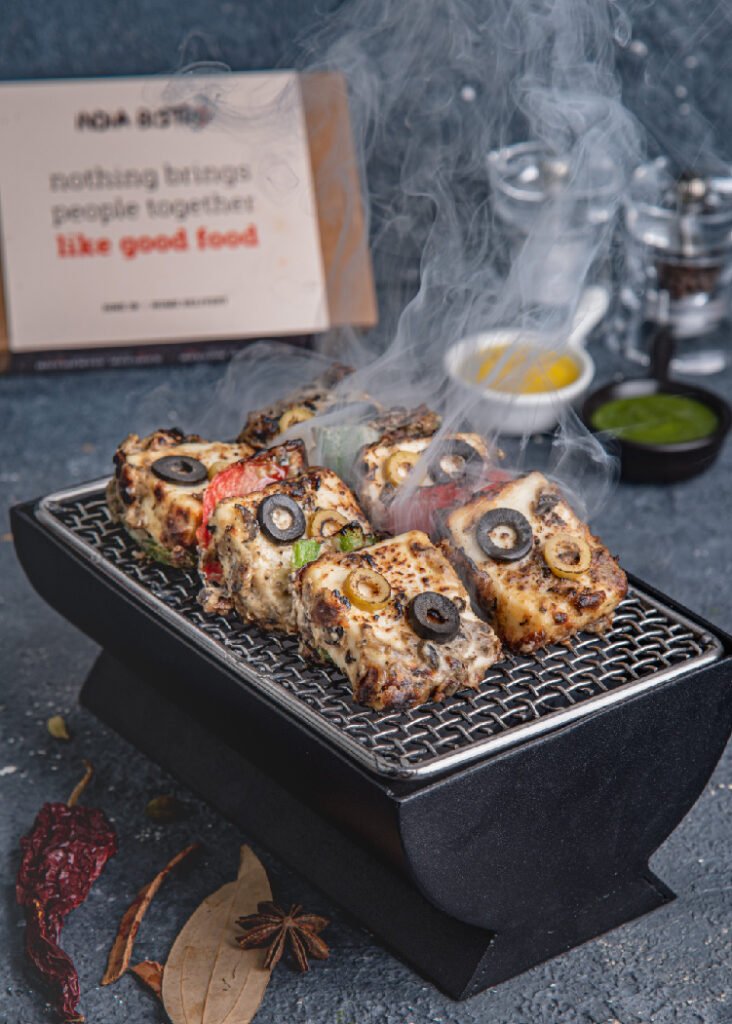 Iftar deal: AED 79 per personTimings: Evening till Midnight Location: Sheikh Saeed Hall, Sheikh Zayed Road, Trade Center AreaContact Number: 04-5488336.
4. Relish the Flavours of Modern Mughlai Cuisine At Jehangirs
A popular restaurant known for serving Modern Mughlai Cuisine, Jehangirs is all about experiencing royalty. Jehangir is all set to offer a curated Ramadan Special Iftar Menu that rotates all seven days of a week and will be served in a combination of family-style and buffet serving. Priced at AED 59 per person for Adults and AED 39 per person for Children between 5-10 years old, the iftar menu will be available from sunset till 8.30 pm.
Delve into the flavours of Ramadan Special Iftar rotating menu that includes , Water Melon, Dal Shorba, Salad, Crispy fry fish & squid, Tabbouleh, Hummus, Fattoush, Channa Chaat, Pasta, Grilled Vegetables, Aloo Chaat, Kebabs, Fish Curry, Dal Tadka, Dal Makhan, Hyderabadi Biryani, Navrattan Korma, Rasmalai, Gulab Jamun, Gajar Halwa, et., to name a few.
When: Ramadan Iftar, starting from 1st April (sunset till 8.30 pm)
What: Ramadan Special Iftar Menu that rotates all seven days of a week at AED 59 per person for Adults and AED 39 per kid.
Where: Available at Jehangirs Al Mankhool (04 5916167) and Al Jimi Mall, Al Ain, Abu Dhabi Emirates (03 7660033)
5. Read together with the little ones – Moments Of Joy
Stories are important. Stories about different cultures, different people help children build empathy and understanding. This Ramadan, Bismillah Buddies has come up with a collection of short stories about small moments that matter in its new book titled 'Moments of Joy'. It is a book that brings people, brings us, together. A book that truly connects us. Not just the beautiful end result, but the process of creating it, through collaborations with 10 authors and illustrators around the globe over the theme of 'Joy'.
Price: AED 120/-
Availability – Bismillah Buddies Website, Amazon, Mumzworld, Carrefour, Noon, Dubai Store, MENA Kart, Kinokouniya Bookworld, Virgin Megastores.
6. India Palace Royal Buffet
The award-winning authentic Indian restaurant, India Palace is serving a Royal Indian Buffet for Iftar. Priced at AED 80, the Iftar buffet offers 8-10 varieties of Salad, Five types of starters, Six types of main course dishes, two rice dishes, desserts, fruit salad, and a choice of beverages. Some of the menu highlights include; Samosa, Daal Chawal Balls, Chicken Kukurre, Nawabi Salad, Shahi Seekh Kebab, Biryani and more.
When: April 2 – End of Ramadan, From Sunset-till 10pm
Where: All 12 outlets across UAE
Dubai: 04 286 9600, Abu Dhabi: 02 644 8777, ed 06 537 4331
7. Vegetarian Ramadan Special Unlimited Thali at AED 30 at Sagar Ratna
Sagar Ratna in JLT and Oud Metha is a popular home-grown vegetarian restaurant that offers Rajasthani and Marwari cuisine. The Ramadan Special Unlimited Thali at Sagar Ratna is available at AED 30 for Diners and also available for Home Delivery (Not Unlimited). The exotic Thali includes Dhungar Paneer Tikka Masala, Smoky Dal Makhani, Makhaniya Lassi, Paneer ke Angaar, Indian bread, and more with additional delicacies like Mix Fruit Bowl, Dates, and Rose Sherbet, and the menu rotates all seven days of the week.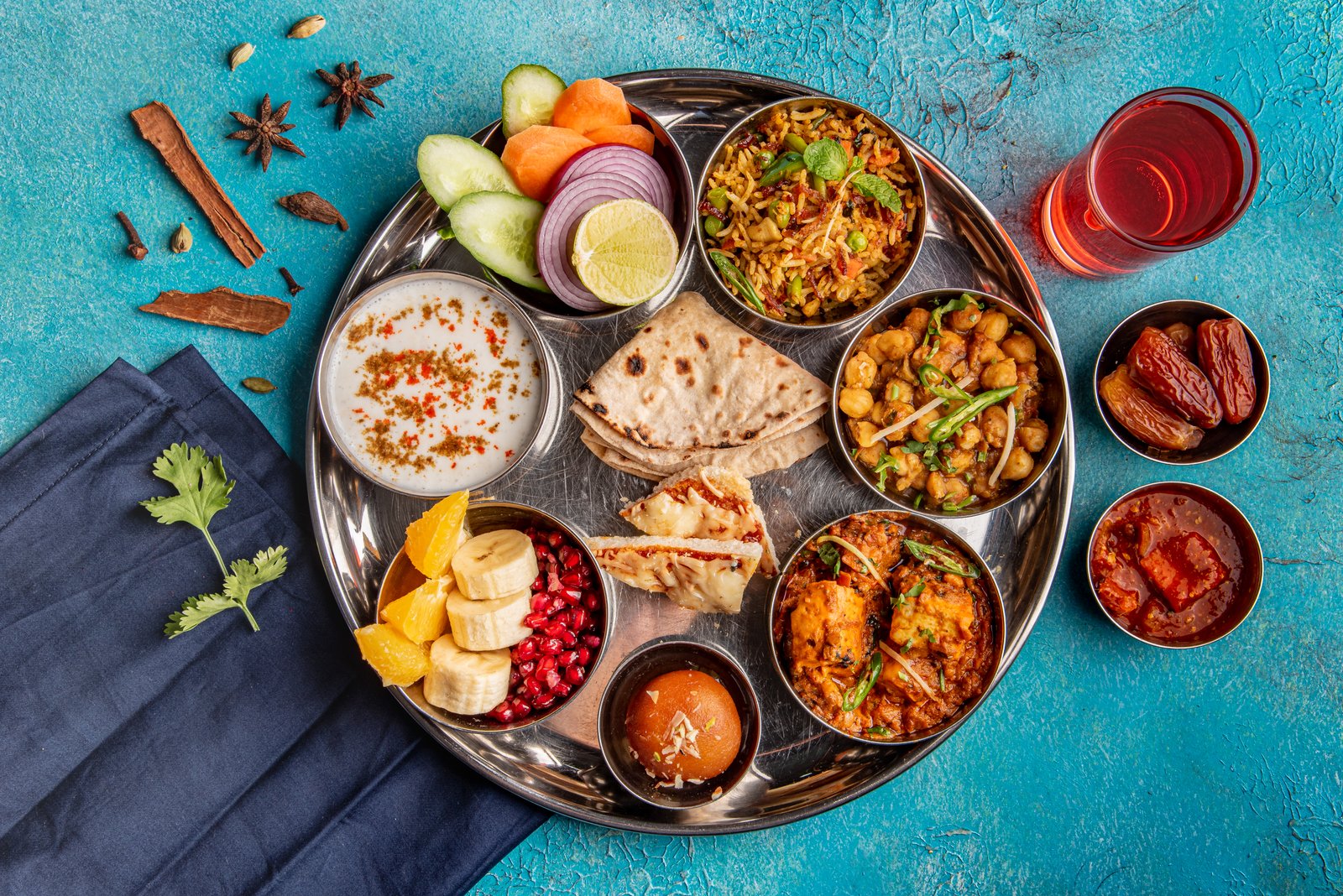 When: During Ramadan, starting from 1st April
What: Ramadan Special Thali at AED 30, Dine-in (Unlimited) and Delivery (Not Unlimited)
Where: Available at Sagar Ratna JLT (04-4533364) and Oud Metha (04-3795493)
8. Iftar Buffet at Bosporous Restaurant
With Ramadan just around the corner, Dubai's most well-known Turkish Restaurant has launched its iconic Turkish iftar buffet – with both an open buffet and a seated buffet options.
Customers can head to the various branches based on their preferences and enjoy authentic Turkish cuisine. Customers will be able to enjoy over 67 dishes, comprising of almost 27 starters, 18 main dishes, including desserts and beverages respectively. Some items on the menu include mercimek soup, mushroom soup, Bosporus salad, icle heslama kofte and Kunefe Borma.
Price: Adults can enjoy the open buffet iftar menu at AED 195. Kids (5 -12 years) AED 95. Kids under 5 years of age eat for free.
For reservations, call Dubai: 04 380 8090/ Abu Dhabi: 02 575 5777
9. Yummy Dosa Iftar Platter at AED 49
Looking at a flavourful Iftar that will offer a palate satiating experience after a long day of fasting? Yummy Dosa, a popular Mumbai Street Style Dosa brand known for serving 99 plus varieties of authentic and fusion dosas, is offering lip-smacking Ramadan Special Iftar Platter at AED 49 from 6 pm to 7.30 pm.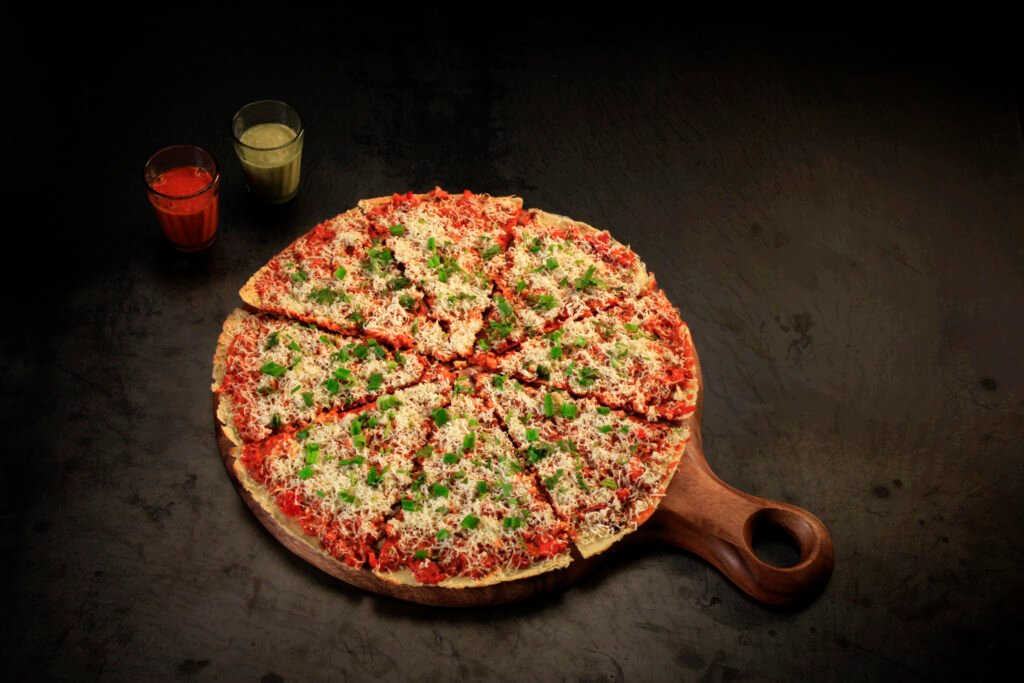 The special platter at Yummy Dosa includes one starter, one main dosa dish, one drink, one plate of pakora, a sizzling brownie, dates and water bottle. Choose your options from their expansive menu. When: Iftar, starting from 1st April (6 pm to 7.30 pm)
What: Holy Month Ramadan Special Iftar Platter at AED 49
Where: Available at Yummy Dosa Discovery Gardens (+971 4 876 7982) and Al Kamara (+971 4 342 6332)
10. Course Set Iftar Menu for AED 59 per person at Dhaba Lane
Break your fast with a lavish 4-course Ramadan Special meal at a popular home-grown Punjabi restaurant that celebrates the tradition of Indian Dhabas. Dhaba Lane is setting you in a feast for Iftar with assorted dates, RoohAfza, and Fruit platter to break your fast, followed by a four-course set menu meal that includes cold starters, hot starters, main course and desserts with dum biryani rice and assorted bread for AED 59 per person (Veg & Non-Veg) available throughout Ramadan and Eid Al Fitr from 6 pm to 9 pm.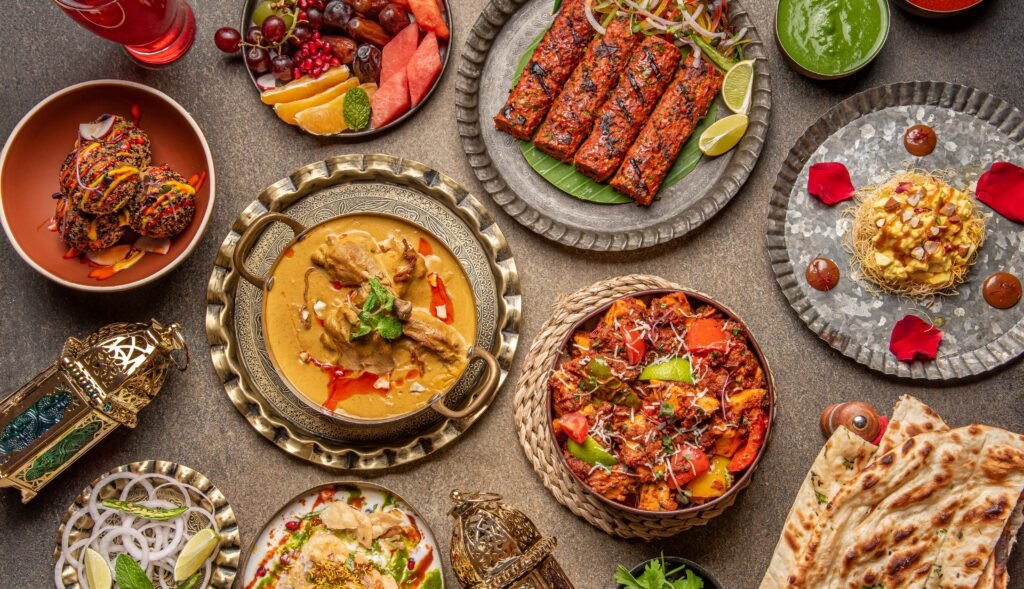 When: Ramadan and EID Al Fitr, starting from 1st April (6 pm to 9 pm)
What: 4 Course Set Menu Meal at AED 59 per person (Veg & Non-Veg)
Where: Available at Dhaba Lane Karama (043583554) and Garhoud (042237233)
11. Special Iftar Menu at Bol Gappa
A place where flavours across the globe intertwine with Filmy twist, Bol Gappa is a quirky Bollywood themed restaurant and is all set to welcome people to enjoy the Iftar Menu this Holy season. Bol Gappa is serving you a taste of authentic Indian flavours through their set Iftar Menu, available at AED 59 per person throughout Ramadan.
The special menu includes a Salad comprising Fresh Garden Salad, Papad, Pickle and Dates, a choice of Beverage from Rose Sherbet and Lemon Mint and Starters like Soya Khurana, Chicken Tikka Ala Re or Chicken Khurana. For the Main Course, you can choose from Butter Chicken or Chicken Tikka Masala, Paan Singh Tomar Masala or Paneer Khurchan, Dal Makhani or Dal Tadka, and Veg, Mutton or Chicken Biryani, and to go with these curries will be a Naan or Roti. End your Iftar meal on a sweet note and enjoy classic Indian desserts such as Gulab Jamun, Gajar Halwa or Ice Cream.
When: Ramadan Iftar, starting from 1st April (sunset till 8.30 pm)
What: Ramadan Special Iftar Menu AED 59
Where: Available at Bol Gappa Al Karama (+971 4 335 5144)
12. Enjoy the Flavour of Iftaar Menu at Vasai Local, an Indian Seafood Restaurant
Vasai Local is known to serve authentic Indian Seafood where the delicacies are prepared using a unique combination of spices and fresh ingredients. To make you relish an incredible experience, Vasai Local is offering a delicious yet pocket friendly Ramadan Set Menu of DHS 35 per person.
The menu comprises Dates and Fresh Fruits followed by appetizer, starters, mains and dessert for DHS 35 per perosn. The Iftar highlights are- Option one- Dahi Vada, Bhatti Ka Murg Tandoori Aloo, Mutton Biryani and Kheer, Option two- Samosa, Dahi Kachori, Kheema Pav, and Kheer, and Option three- Mutton Pattic, Mix Bhajiya, Mutton Rognjosh with Naan or Roti and Apple Rabri.
When: Ramadan Iftar, starting from 1st April (sunset till 8.30 pm)
What: Ramadan Special Set Iftar Menu AED 35
Where: Available at Vasai Local Al Karama Dubai (+971 4880 49 62)
13. Enjoy an Iftar at The Daily & Get Another Complimentary Iftar to Pass On
During the entire month of Ramadan, Rovers (guests) can enjoy a delicious iftar spread across all the 8 The Daily restaurants in Dubai for just AED 149 per person. In contribution to the spirit of kindness during the Holy Month, every Rover (guest) who purchases an iftar will receive a free voucher for a second iftar to 'Pass It On' to a family-member, friend, colleague, neighbour, helpful stranger or someone in need. The Iftar vouchers can be redeemed at any of The Daily restaurants across the city.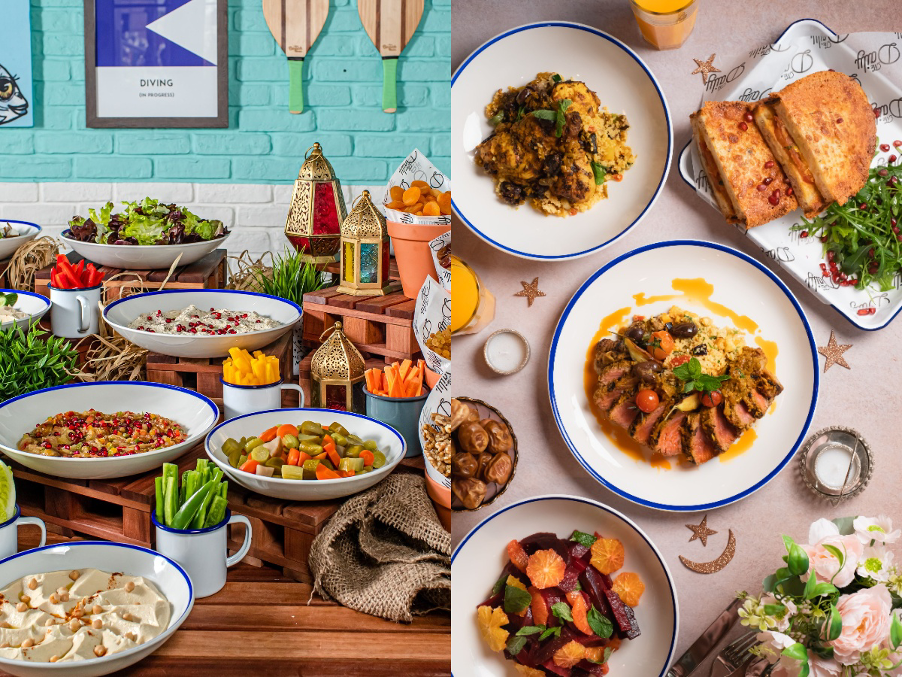 Available throughout the month of Ramadan
AED 149 per person
Purchase an Iftar and get a voucher for a complimentary second Iftar
The 'Pass It On' voucher will be valid from the day after the original purchase.
The Rove iftar will feature a cold buffet of salads, appetisers, and desserts, with Arabic and international flavours, as well as traditional delicacies of the holy month like lamb ouzi and a selection of popular Ramadan juices.
14. HAKKASAN ABU DHABI PRESENTS AN EXQUISITE IFTAR MENU
Hakkasan Abu Dhabi, the renowned dining destination at Emirates Palace, is set to celebrate the holy month of Ramadan by offering an exclusive Iftar Menu of expertly crafted Cantonese dishes. The set menu features specially curated recipes along with some of the restaurant's most popular plates.
Starting at sunset, the culinary journey begins with a selection of dim sum including the Wagyu beef truffle puff and Chilean seabass dumpling to name a few. This is followed by a delightful Roast duck lettuce wrap and Crispy beef dish that leads into the mains including Wok fry sesame walnut chicken and XO tiger prawn with pineapple. To end on a sweet note, Hakkasan Abu Dhabi shares its take on the regional favourite, Umali with decadent date ice cream.
The Iftar set menu is priced at AED 288 per person and will be served from sunset until 8.00 PM throughout the special period. Guests can book a table for their family and friends by calling +971 2 690 7739 or by emailing EPAUH-hakkasan@mohg.com.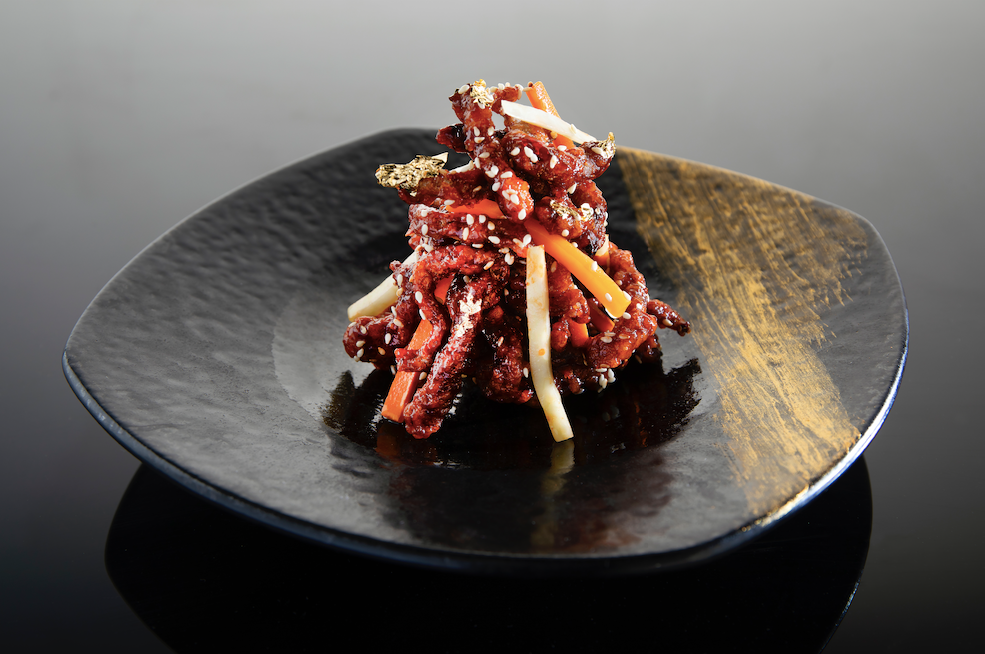 15. Aloft Dubai South Iftar menu
Aloft Dubai South invites guests to a daily Iftar of international cuisines with a local flair. The Iftar set menu for AED89 at the hotel is inspired by the diversity of the Emirates and the Dubai South district, with a starter, main, dessert and drinks. Catering to vegetarians and meat lovers, the Iftar will begin with a choice of soup and cold mezzo, followed by mains that combines Arabic, Indian and continental flavours in biryanis, pastas and burgers, ending with an assortment of sweet Arabic delights. Diners can pair this with refreshing beverages, such as dates milkshake and laban.
Where: Nook Restaurant at Aloft Dubai South
When: Daily from sunset until 10PM
Cost: AED89
16. Experience an Exclusively Curated Private Iftar or Suhoor at Nara
Celebrate the Holy Month of Ramadan this year in the Arabian desert with a tailor-made luxurious private Iftar or Suhoor amongst the sweeping dunes of Nara's luxury retreat. After the sun has set behind the dunes, the breaking-of-the-fast can begin with traditional Iftar dishes such as Green Lentil Velouté, Mejoul Dates, freshly squeezed juices, laban and fruits.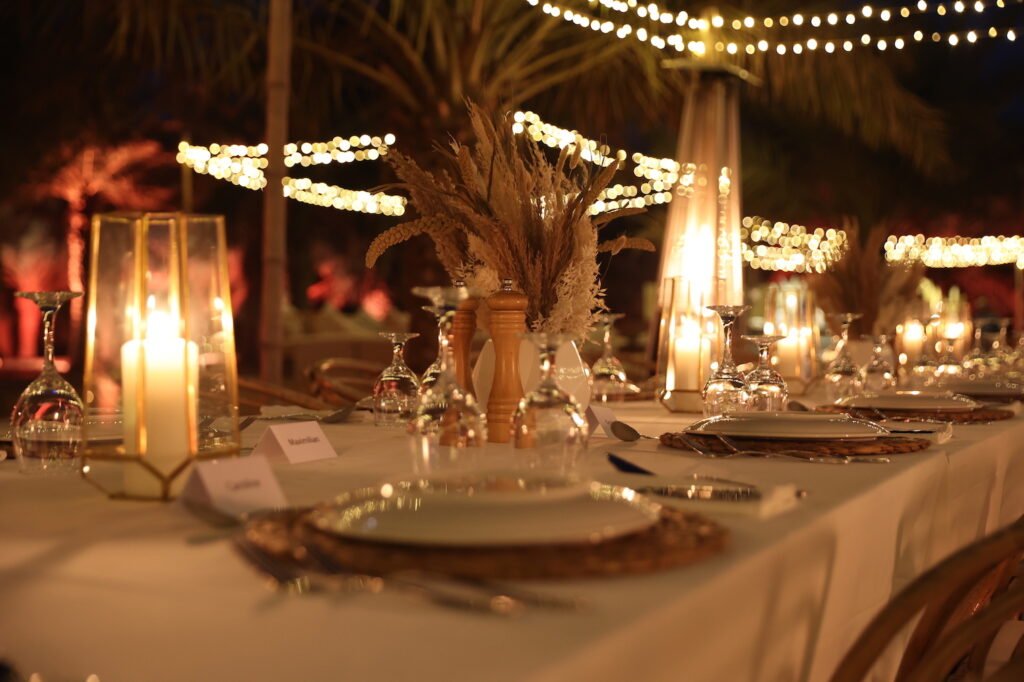 Guests will then be ready to feast on a lavish banquet from a customised menu designed exclusively by Executive Chef Franck Sanna, with endless culinary choices from Japanese fusion, to a cleverly crafted vegan menu, to the more customary Arabic menu with dishes such as Lamb Kibbeh with Pistachio Tahina Dip and succulent Marinated Chicken Thighs cooked over an open flame.
To discuss a bespoke iftar with the Nara team, please contact info@nara.ae or +971 503360397.
17. IFTAR AT YOUR DOOR WITH UMAMI BURGER & SAM'S CRISPY CHICKEN
Umami Burger invites you to amplify your cravings as you dine with your friends and family. Offering a wide selection of unique delectable options including, Mac'N'Cheese, Umami Tenders, Umami Slaw, and Umami Caeser Salad, there is no better time to experience Umami Burger's Fifth taste.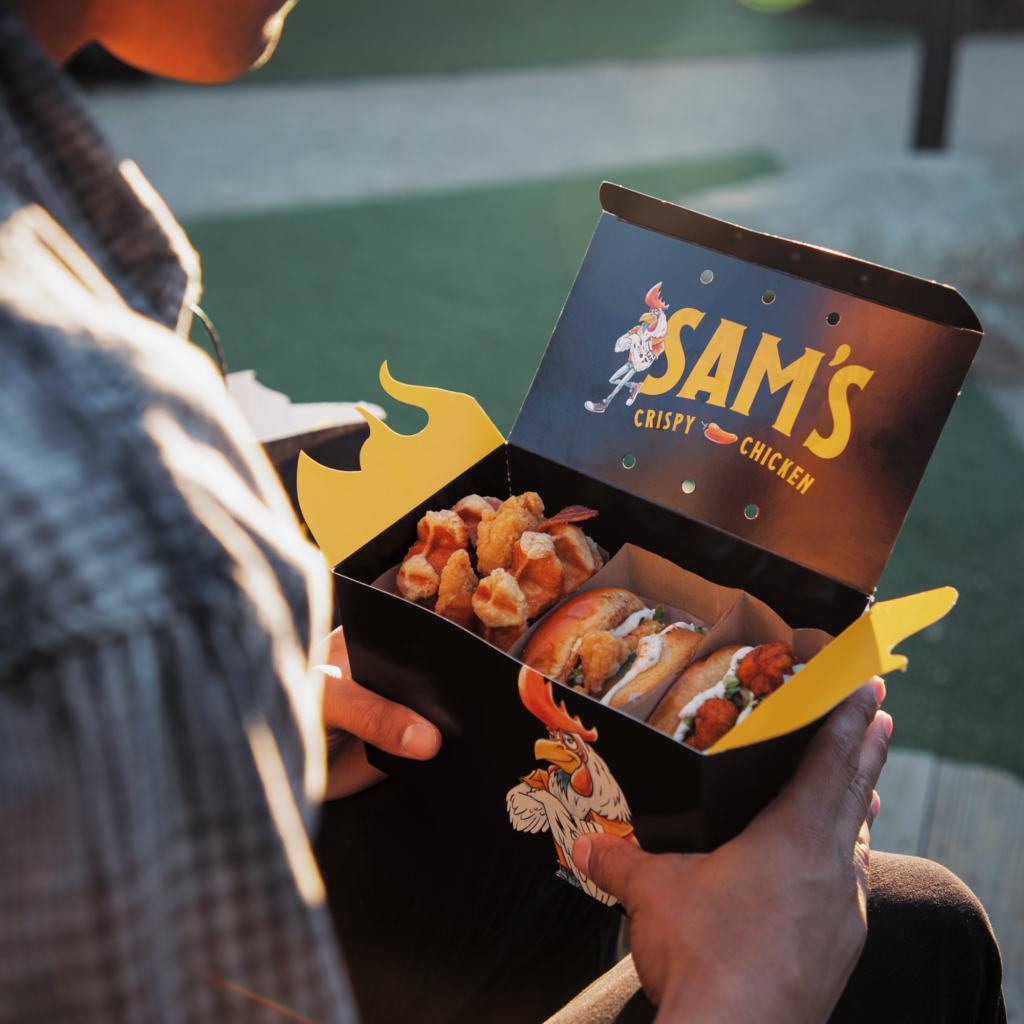 Sam's Crispy Chicken is calling all the foodies to break their fast in style from the comfort of their abode. Enjoy an exclusive buy one get one offer on April 1-2 when you place your order from Sam's Crispy. Presenting mouth-watering options including Sam's Bacon Mac N' Cheese, Sam's Buffalo Mac N Cheese, Sam's Spicy Coleslaw, Sam's Tenders, The Original Sam's Crispy Chicken Sandwich, and more, it's time to indulge those tastebuds.
All your food cravings in one delivery, don't miss out this Ramadan! Umami Burger and Sam's Crispy Chicken are available on Zomato, Talabat, and Careem.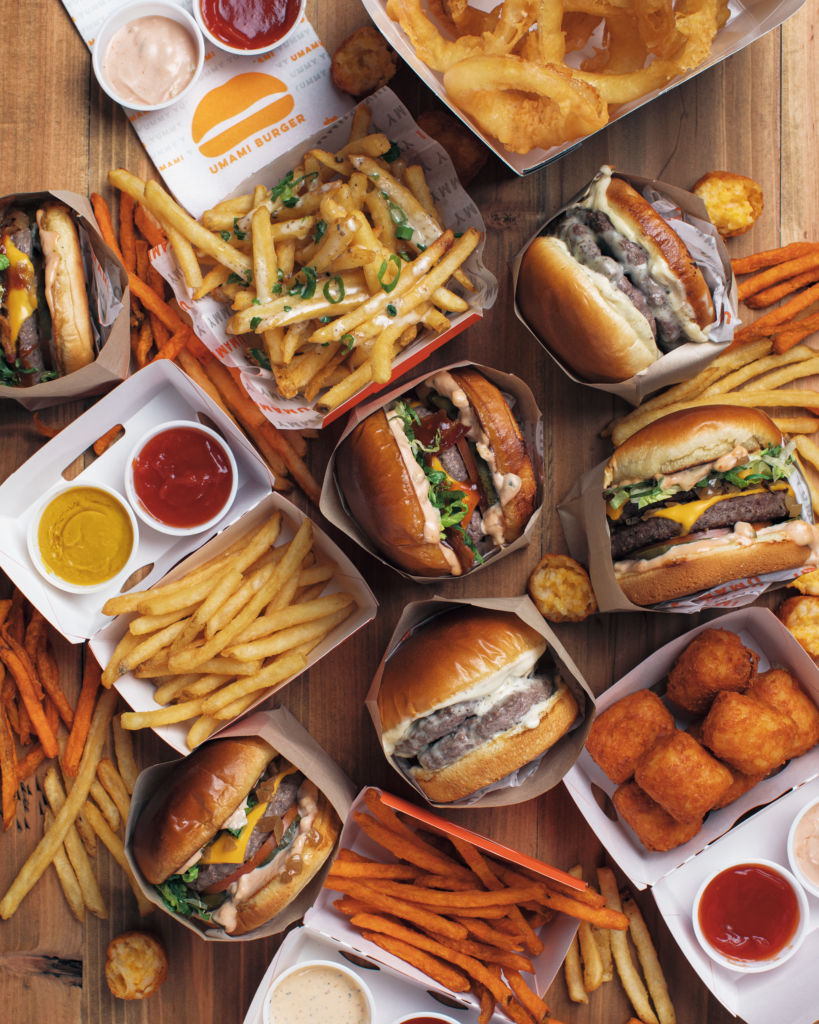 UMAMI BURGER
Offering: Iftar Combo, 20% off.
Available from: 1st – 30th April 2022.
Platform: Deliveroo
SAMS CRISPY CHICKEN
Offering: Buy one get on free *selected items apply*
Available: 1st – 2nd April 2022
Platform: Talabat
18. SEVA Table introduces a Ramadan menu to honour the Holy Month
SEVA Experience as Dubai's first and leading café aligns with the Holy Month sharing a common denominator in health consciousness by acknowledging the power and importance of fasting.
Ramadan Menu:
SEVA tweaks Ful Madame : Fava beans seasoned with ground cumin and finished with good extra virgin olive oil, lemon juice, served alongside fresh vegetables and herbs.
Apricot in Kale Salad : A bed of massaged kale with rehydrated apricots, avocado, pumpkin seeds, camu-camu, raisins, lemon juice and radish.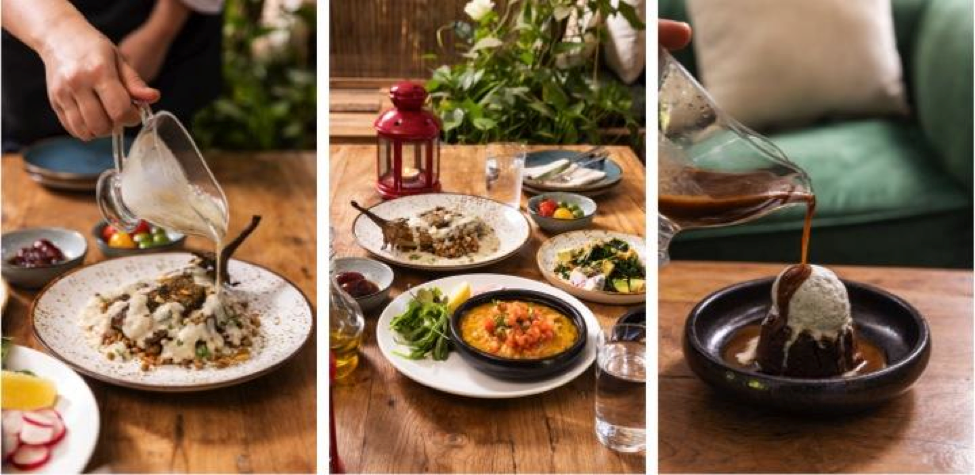 Wholehearted Aubergine : Whole aubergine, Za'atar, Olive oil with a sauce of onion, garlic, roasted pine nuts, coconut milk, saffron, salt and lemon juice.
Lava me Tender : A Vanilla Ice Cream with dates, almond milk, gluten free flour, coconut sugar and vanilla bean
The menu is priced at AED 179.
19. Rediscover Authentic Traditions and Cuisine this Ramadan with Meliã Desert Palm
Rediscover Ramadan culture, traditions and home-style dishes at Meliã Desert Palm with a private family sanctuary In-villa Iftar or Iftar and Suhoor at Epicure overlooking the shimmering waters of the infinity pool. In-villa Iftar package is designed to offer families and close friends the opportunity to share a delicious meal in a tranquil and private surrounding.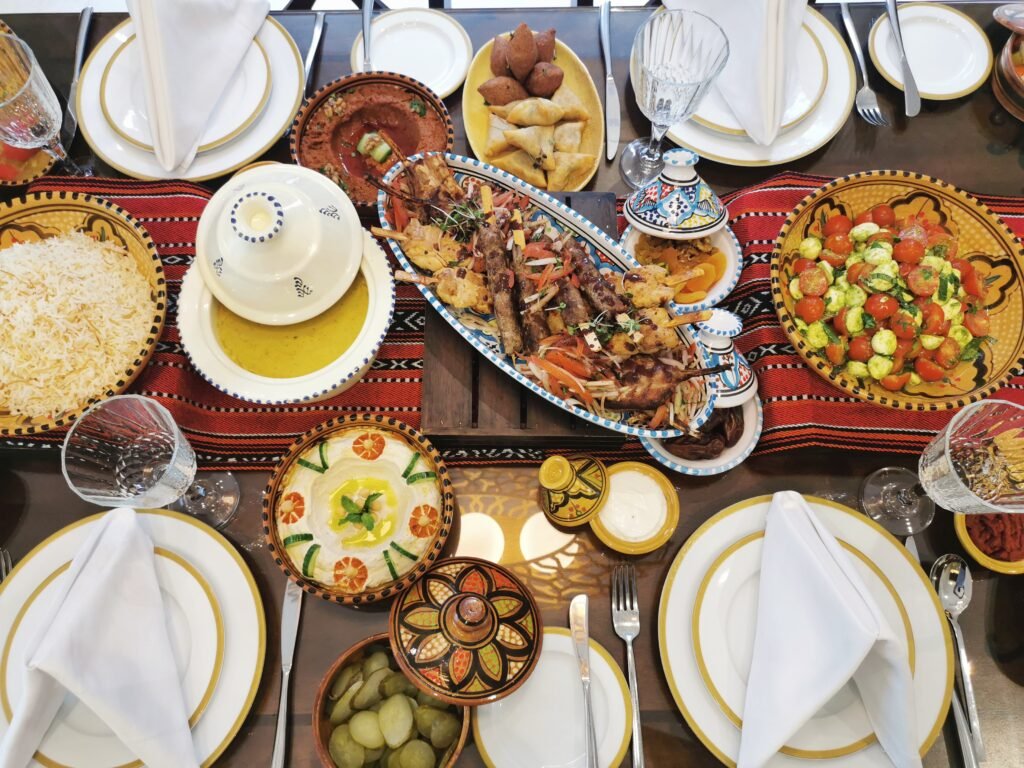 Guests can book a one-night stay at a luxurious two-bedroom private pool villa for six people to spend quality time together totally undisturbed, without the hassle of cooking and cleaning, as the resort will set up the full Iftar spread in the villa's spacious dining area. The package is priced at AED 2,888 for a booking of 6 persons and any additional person at AED 250, while the maximum number of guests for the in-villa Iftar experience is eight people.
Guests can opt to dine at Epicure restaurant and enjoy Ramadan iftar priced at 175 AED per person with the same menu of Arabic culturly inspired dishes from the famous Emirati Ouzi – roasted lamb served on a bed of rice, topped with vegetables and nuts, to other Ramadan traditions such as Fish Harra, Chicken Biryani, Chicken Molokia, and Vegetable sallouna, and Vermicelli rice. The grilled live station buffet favourites include Meat Kebab, Chicken Shish Tawook, Shrimps, Lamb Koufta, as well as hot and cold mezze dishes, including Meat Kibbeh, Cheese Sambousek, Spinach Fatayer and old-style lentil soup.
Later in the evening Suhoor can be enjoyed from the a la carte menu available from 9 pm until 1 am at Epicure Shisha Lounge. Open for individuals and families, including a selection of hot and cold Mezza and salads, with multiple choices for the main course, sides and desserts.
20. Ramadan Offers at Yas Plaza Hotels
As the new crescent moon signifies the approach of the fasting season, this Ramadan, Yas Plaza Hotels invites all from around the emirates to experience a selection of splendid appetite whetting, thirst quenching and traditional Iftar and authentic Suhoor offers.
ASSYMETRI
At Assymetri, Iftars are laden with local and international delicacies and iftar juices at their Traditional Iftar Buffet, happening from April 2nd to May 2nd with comfortable settings in a cool indoor atmosphere or the welcome warmth of the spring outdoors. Iftar Takeaways are ready for those looking to experience exceptional iftars at the comfort of their homes.
Price:
– Traditional Iftar Buffet with Ramadan juices for AED 149, Kids below 6 go free and AED 69 for 6-12 yrs
– Iftar Takeaways Meal boxes starting AED 35 net per person (minimum 30 boxes on order), 48 hours advance order required
– Ouzi Takeaways Traditional lamb ouzi with condiments (good for 6 guests) AED 499 net, 72 hours advance order required
Date & Time: 2nd April – 2nd May, sunset
For Booking: +9712 656 2000
JING ASIA
Break your fast with your family and friends and enjoy the best of Asian flavours in a lavish and authentic Far Eastern set up with the Iftar Get Together at Jing Asia.
Price: Iftar Get Together at AED 149 per person
Date & Time: 2nd April – 2nd May, 6:30 pm – 11:30 pm
Venue: Jing Asia, Crowne Plaza Hotel, Yas Island, Abu Dhabi, UAE
For booking: + 971 2 656 3000
BAROUK
Discover delicious Suhoors with authentic flavours of Lebanon at Barouk's Suhoor Get Together, offering delectable Lebanese favourites to help power you through your fast, or satisfy your love for Lebanese fare until late, starting from AED120pp.
Price: AED120 per person
Date & Time: 2nd April – 2nd May, 9:00 pm – 02:00 am
Venue: Barouk Lebanese Restaurant, Crowne Plaza Hotel, Yas Island, Abu Dhabi, UAE
For booking: + 971 2 656 3000 / 3064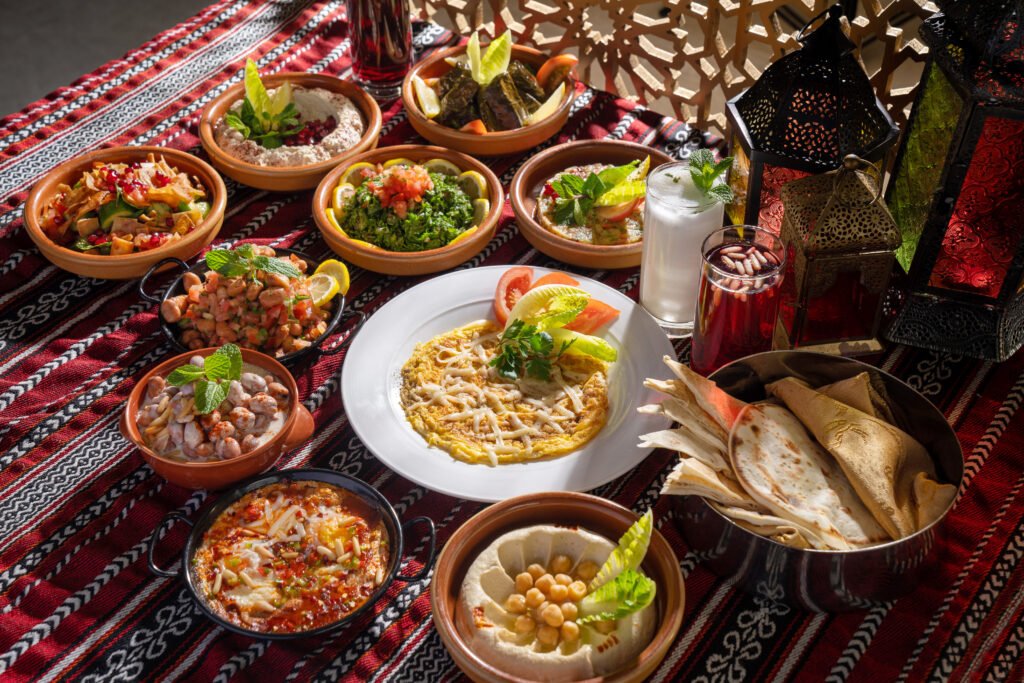 BLUE GRILL
Chef's Special meaty iftars are brought out from searing grills and onto your plates at the Blue Grill Iftar Set Menu with an assortment of delicious condiments starting from AED 175pp
Date & Time: 2nd April – 2nd May, Iftar call – 12:00 am
Venue: Blue Grill, Yas Island Rotana, Yas Island, Abu Dhabi, UAE
For booking: + 971 2 656 4000 / 4155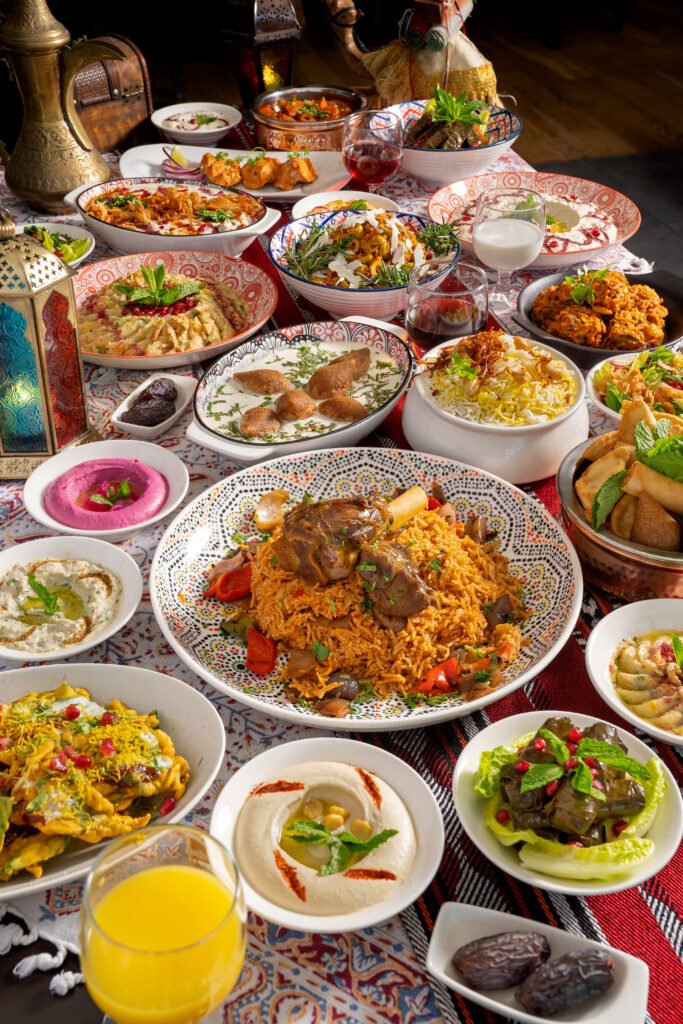 CHOICES & RANGOLI
Experience the Taste of Ramadan with iftar feasts featuring Ramadan specialities, succulent grilled meats, spicy Indian fare and refreshing Ramadan juices with your loved ones at Choices or Rangoli at AED159pp.
Date & Time: 2nd April – 2nd May, sunset – 10:00 pm
Venue: Choices Restaurant, Yas Island Rotana, Yas Island, Abu Dhabi, UAE
For booking: + 971 2 656 4000 / 4155
21. Intercontinental Hotels Dubai Offer Delightful Ramadam Experiences
InterContinental Hotels at Dubai Festival City will feature a series of delightful experiences throughout the Holy Month of Ramadan. Guests will have the opportunity to indulge in Iftar and Suhoor offerings specially curated by world-class chefs in four distinct venues.
Iftar at Anise – Taste the world this Ramadan with vistas of Dubai Creek and the iconic IMAGINE show
InterContinental Dubai Festival City's lavish Iftar at Anise, which is well-known and a favourite in Dubai, will feature the finest selection of authentic Arabian delicacies from Levantine and North Africa as well as international favourites with weekly culinary highlights. Eight interactive live cooking stations are offering Thai, Indian, Japanese, Levantine, and Arabic cuisine cooked à la minute with locally sourced ingredients putting high emphasis on organic produce.
Time: Iftar is offered from 6.30pm to 8:30pm, Shisha will be served after 7pm
Price: AED 275 per person, AED 125 for kids aged 6-12 and kids under 6 years dine complimentary
Iftar at Karam Al Bahr – Enjoy a bountiful Iftar with your loved ones
Karam Al Bahr at InterContinental Dubai Festival City offers guests to indulge in an appetizing selection of Lebanese delicacies from a curated Iftar menu and enjoy the majestic waterfront views of the Dubai Creek.
Time: Iftar is offered from sunset to 9.00pm
Price: AED 150 per person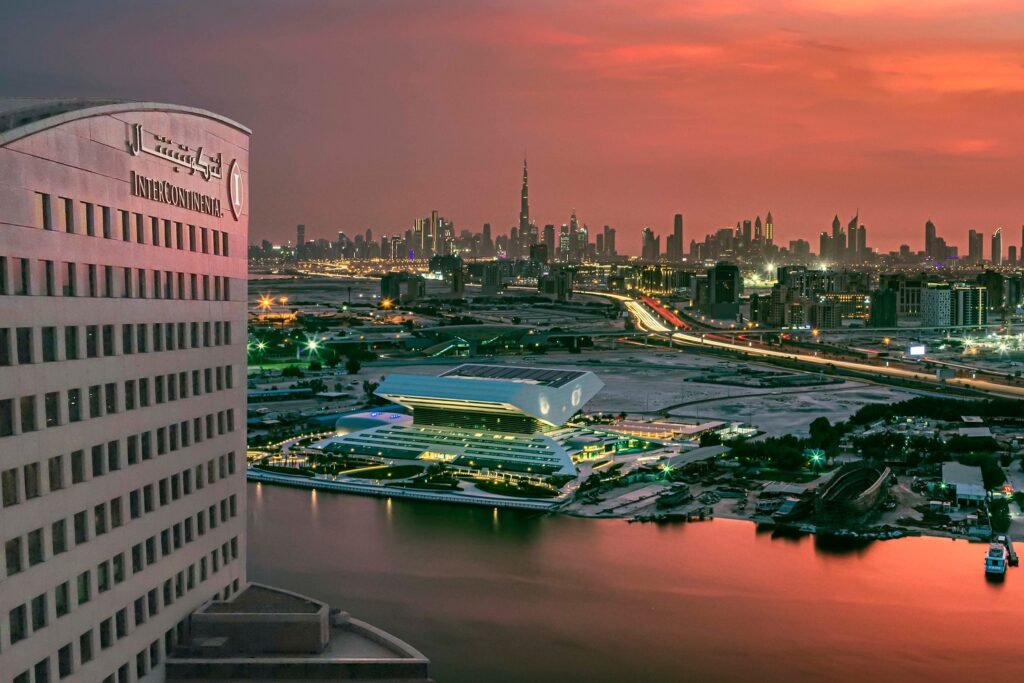 Iftar at Zaytoun – Break your fast under the stars with astonishing views of the Dubai Skyline
Zaytoun at Crowne Plaza Dubai Festival City will allow guests to share special moments this Ramadan with family and friends at the promenade deck overlooking the Dubai Creek. Guests can break fast under the stars with astonishing views of Dubai Skyline while savouring a sumptuous Iftar spread of authentic Arabian delicacies featuring Levantine favourites, and international flavours with weekly culinary highlights.
Time: Iftar is offered from 6.30 to 8.30pm, Shisha will be served after 7pm
Price: AED 195 per person, AED 85 for kids aged 6-12 and kids under 6 years dine complimentary
Iftar at Sirocco– The ultimate spot for families
Sirocco at Holiday Inn & Suites Dubai Festival City, known for its Iftar especially for families, will help guests feel the true spirit of Ramadan with their lavish Iftar buffet. Adults and kids can embrace an abundance of delicacies with a selection of international dishes and authentic Arabian flavours featuring Levantine favourites.
Time: Iftar is offered from 6.30pm to 8.30pm
Price: AED 125 per person, kids under 12 years dine complimentary
Suhoors at InterContinental Dubai Festival City Hotels
At InterContinental Dubai Festival City restaurantKaram Al Bahr guests can expect warm Mediterranean ambiance and front-row views of the city's skyline while indulging in the taste of Lebanon with an extensive menu of authentic flavours and fresh catch from the sea. Suhoor is offered à la carte from 9.00pm to midnight
Zaytoun at Crowne Plaza Dubai Festival City will offer guests an incredible ambience with uninterrupted views of Dubai Creek and the city`s skyline. A wide selection of delicious cold and warm Mezzeh with homemade bread, delicacies from the grill such as lamb skewers and mixed seafood platters can be ordered á la carte. Guests will be amazed by the authentic Ramadan dessert station with homemade Baklawa, Kunafa, Umm Ali and much more, while listening to a traditional Oud player. Suhoor is offered from 9.00pm to 2.00am
Iftar at home by InterContinental Dubai Festival City
InterContinental Dubai Festival City offers residents and visitors an Iftar experience to remember at the comfort of their home. An array of delicious Ramadan favourites such as Palestinian chicken mussakhan rolls, golden cheese sambousek with tahini sauce and the highlight being slow braised lamb shoulder with oriental rice, ouzi style as well as homemade breads and pastries will offer the perfect ending to a long day surrounded by loved ones.
Price: AED 550 per box, serves up to 6 people
Corporate Iftar and Suhoor at InterContinental Dubai Festival City – Grand and elegant settings
InterContinental Dubai Festival City offers a unique experience for corporate Iftar and Suhoor gatherings set in Al Ras and Al Baraha ballrooms with an exquisite spread of Arabic and International offerings to match the occasion.
The in-house premier planning team, renowned partners and the signature concierge service will ensure personalized attention, leaving no detail overlooked. Corporate Iftar menus range from AED 175 to AED 245 per person for a party of 50 guests and above For reservations, call +971 (0)4 701 11 27/28 or e-mail reservation.dfc@ihg.com. For more information, visit www.dubaifestivalcityhotels.com/ramadan
​