Experience the captivating artistry of Teppanyaki at Izakaya, the vibrant and authentic Japanese restaurant nestled inside the iconic JW Marriott Marquis Hotel Dubai. Izakaya invites guests to indulge in its new, immersive Teppanyaki experience, available every Wednesday evening.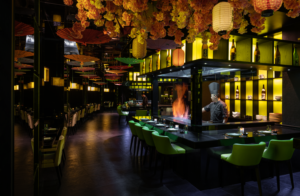 Situated within the world's tallest five-star hotel, Izakaya is known for its delightful Japanese cuisine, hand-crafted beverages, impeccable service, and lively atmosphere. Whether you're dining with friends or enjoying a family affair, Izakaya's Teppanyaki Night offers a perfect blend of entertainment and mouthwatering food.
Izakaya's head chef and his culinary team are experts in crafting exceptional Japanese cuisine that's not only delicious but also visually stunning. The Teppanyaki Night takes place every Wednesday from 6 pm to 10 pm, allowing guests to witness expert chefs turning the finest ingredients into culinary masterpieces while savoring select house beverages.
For AED 225 per person, diners can choose the food package, while the house beverage package is available for just AED 325. The Teppanyaki Night experience comprises four courses, beginning with options like Edamame, Japanese Potato Salad, Tuna Tataki, and Chicken Karaage. The second course features delights such as Salmon Carpaccio, Okonomiyaki, and Seaweed Salad. The third course presents live Teppanyaki action with a choice of Chicken, Beef, or Salmon Steak, accompanied by Buttered Vegetables and Rice. To end on a sweet note, guests can choose between Seasonal Fruits and Izakaya's Ice Cream selection.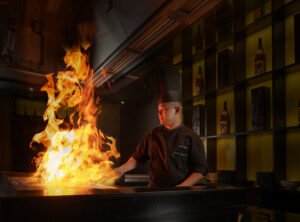 Join Izakaya for a unique Japanese cooking show that adds an entertaining element to your evening. Indulge in the vibrant flavors of Japan in a lively, casual, and edgy setting, perfect for catching up with friends or celebrating special occasions.
Teppanyaki Night Overview:
Day: Every Wednesday
Time: 6 PM till 10 PM
Price: AED 225 per person (food only) AED 325 per person (food and house beverages)
*Advance booking required
*Package is valid for two hours only
For reservations, please contact the hotel on jwmmrr@marriott.comor call 04 414 3000.
Visit the Website for more details.