Prepare to embark on a mesmerizing journey that will awaken your senses and transport you to the enchanting world of Arabian perfume making! The Ajman Department of Tourism Development (ADTD), in collaboration with the Sharjah Museums Authority, invites you to an extraordinary event that promises to tickle your olfactory senses and ignite your creativity. Get ready for the "Artisans" workshop, an immersive and fragrant adventure taking place on Tuesday, May 30, 2023, from 10:00 AM to 12:00 PM at the captivating Ajman Museum in the Heritage District of Ajman.
Calling all fragrance enthusiasts, curious minds, and culture seekers! Brace yourselves for a hands-on experience that will immerse you in the captivating art of perfume making. Delve into the secrets of ancient Emirati traditions as you learn the age-old methods of crafting perfumes that have bewitched hearts for centuries.
Picture yourself in the hallowed halls of the Ajman Museum's Old Souq Section, where the air is filled with the intoxicating scents of exotic oils and delicate floral notes. Under the expert guidance of skilled artisans from the Sharjah Heritages Museum's Handcrafting Section, you'll unlock the art of blending essential oils, creating fragrances that evoke the essence of Arabian heritage.
But wait, there's more! This workshop isn't just an educational experience; it's an adventure filled with surprises and excitement. Brace yourself for the presence of social media influencers, who will add a touch of glamour and entertainment to the proceedings. Their infectious energy and passion for all things perfume-related will ensure that you're fully engaged and enthralled throughout the workshop.
Best of all, this aromatic escapade is absolutely free! Yes, you read that right—no cost to participate in this extraordinary opportunity to dive into the captivating world of Arabian perfume making. The organizers at ADTD believe that cultural experiences should be accessible to all, and they're making sure you have a front-row seat to this captivating event.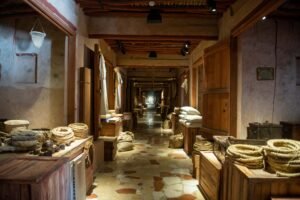 His Excellency Mahmood Khaleel Alhashmi, Director General of the Ajman Department of Tourism Development, expressed his sheer delight in bringing the "Artisans" workshop to life. He emphasized the department's unwavering commitment to preserving Ajman's rich cultural heritage while providing locals and residents with immersive experiences that leave a lasting impact.
Don't miss the chance to ignite your creativity and be part of a scented revolution! The Ajman Museum's "Artisans" workshop awaits, ready to immerse you in the intoxicating world of Arabian perfumes. Unleash your inner alchemist and craft a fragrance that captures the very essence of Emirati culture. Get ready for an aromatic extravaganza that will leave you spellbound and yearning for more. So, mark your calendars, gather your friends, and prepare to be whisked away on a fragrant adventure like no other!
Contact Details:
Phone: 067116666 ; Email: ajman@ajmantourism.com