Rev up your engines and buckle up for a wild ride with Al-Futtaim Toyota's latest sensation, the Toyota Urban Cruiser! This compact SUV is here to make a statement with its youthful and bold looks, coupled with an electrifying Neo Drive system that will have you zipping through the streets of Dubai with unmatched style and efficiency.
Picture this: you're cruising in the Urban Cruiser, turning heads left and right with its striking exterior design that complements its spacious cabin. It's not just a car; it's a lifestyle. With room for your friends, their luggage, and even a couple of souvenirs from your adventures, this compact crossover is designed to cater to the needs of today's go-getters.
But let's talk about what makes the Urban Cruiser truly unique. It's the Neo Drive Powertrain that sets it apart from the crowd. This cutting-edge technology combines a 1.5-liter, 4-cylinder gasoline engine with an Integrated Starter Generator (ISG) that pulls double duty as a generator and motor. Paired with a compact Lithium-Ion battery, this powertrain delivers an impressive performance of 102 horsepower and 138 Nm of torque. And here's the best part: it sips fuel like a hummingbird, giving you an outstanding fuel economy of 19.8 km/l. Say goodbye to frequent stops at the pump!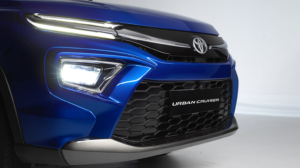 When it comes to handling, the Urban Cruiser is a champion. Its highly rigid body and suspension make every twist and turn a breeze. With a 5.4-meter turning radius, you'll conquer tight corners like a pro. The MacPherson strut-type front suspension ensures a silky-smooth ride, while the torsion beam suspension system in the rear keeps you stable even when you're pushing the pedal to the metal. Get ready to experience a ride that's as exhilarating as a roller coaster!
Now, let's talk looks. The Urban Cruiser is a head-turner, no doubt about it. Its sleek and modern design is accentuated by a crystal acrylic upper grille with premium chrome garnish. It's like wearing a piece of jewelry on wheels! And check out that wide lateral bar that flows from each Daytime Running Light, crossing through the iconic Toyota emblem. It's the epitome of cool. The trapezoidal lower grille adds a touch of toughness, while the 17-inch alloy wheels scream sophistication. This car knows how to make an entrance!
Hop inside the Urban Cruiser, and you'll find yourself in a world of comfort and convenience. The spacious cabin is designed to make every journey a joyride. With a wide instrument panel featuring soft padding, you'll feel like you're in the lap of luxury. Stay connected and entertained with the 7-inch or 9-inch multimedia screen that seamlessly integrates with Apple CarPlay® and Android AutoTM. No more tangled wires! Charge your phone wirelessly and keep the tunes flowing. Plus, with three USB ports, a powerful rear AC vent, and reclining rear seats, everyone onboard will be living the high life.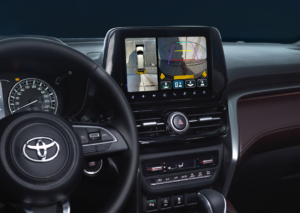 Safety is always a top priority, and the Urban Cruiser doesn't disappoint. With six SRS airbags, including side-curtain airbags, you can rest easy knowing that you're protected. The Vehicle Stability Control, Anti-lock Braking System, and other advanced safety features will have your back on every adventure.
But let's not forget the cherry on top: the Urban Cruiser comes in a range of eye-popping colors that will make you the envy of the streets. Whether you choose Pearl White, Metallic Silver, Metallic Grey, or the vibrant Pearl Red and Speedy Blue, you're sure to turn heads wherever you go. And for those who like to mix it up, dual-tone options allow you to create a personalized look that screams individuality.
So, are you ready to unleash your inner urban adventurer? Buckle up and get behind the wheel of the Toyota Urban Cruiser. It's time to make a bold statement on the roads of Dubai and embrace the electrifying driving experience that this compact SUV has to offer. Join the revolution today and be the envy of every intersection!

Visit the Website for more details.