Step into the wild side and get ready to meet some of the most amazing creatures on the planet! The Dubai Crocodile Park is finally open, and it's sure to be an experience that you'll never forget.
This unique park is home to 250 Nile crocodiles of all ages, from babies to huge adults. As soon as you enter the park, you'll be transported to an African landscape, complete with crocodile dominated river views and outdoor landscaped areas. Get up close and personal with the crocodiles as you explore the different viewing points, including underwater.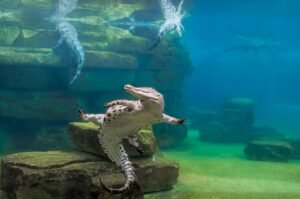 But that's not all the park has to offer! You can also visit the one-of-a-kind natural history museum and the African lake-themed aquarium. The museum is packed with fascinating information about the history and behavior of crocodiles, while the aquarium showcases a wide variety of aquatic life.
The Dubai Crocodile Park is also committed to educating visitors about the importance of conservation and protection. With educational panels displayed throughout the park and specially curated sessions for school trips, this is the perfect place to learn about these incredible creatures.Of course, you'll need to refuel after all that exploring! The park boasts multiple dining outlets, so you can sit back, relax and enjoy a delicious meal while surrounded by the unique African atmosphere.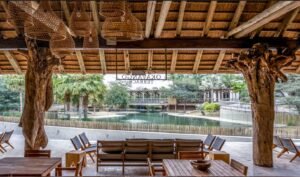 Tickets are available for purchase at the park entrance, so don't miss out on this amazing opportunity. The park is open from 10:00 AM to 10:00 PM daily, and tickets cost 95 AED for adults and 75 AED for children between three and 12 years old.
So what are you waiting for? Come and discover the incredible world of crocodiles at the Dubai Crocodile Park!