As UAE gears up to celebrate the 51st National Day, brands across the nation are churning up offers and events to make the celebration spectacular! From cozy dinners to mesmerizing fireworks, there is so much to enjoy this National Day weekend. Here are some of the best offers to sweeten up the deal for you:
1. Authentic UAE National Day Menu at Majis Al Sultan
Celebrate the UAE's 51st National Day weekend at Majlis Al Sultan with a traditional Oven Roasted Lamb Shoulder over a plate of spiced oriental rice or freekeh with nuts. The succulent dish is available for a limited period of four days during lunch only. Diners can sink their teeth into the expertly flavoured, grilled and served platter and get their money's worth in one bite! Dig in and enjoy the relaxed and welcoming environment with friends and family.
Location: Majlis Al Sultan – Al Ferdous 3, Al Wasl Road & City Center Me'aisem
Timing: November 30 to December 3, 12 PM to 5 PM
Pricing: AED 90 per personTo book, please visit @majlisalsultan or call + (971) 4 334 1888 or + (971) 4 7701451
2. Celebrate at Dubai Parks and Resorts
With UAE National Day around the corner, Dubai Parks™ and Resorts has fun activities lined up for everyone! The family-favourite destination, home to some of the most iconic theme parks and hotels in the region, will be decorated in the UAE flag colours to celebrate the occasion across all its properties. The park will become the ideal destination for family-friendly fireworks on December 2 at 7pm and 9pm.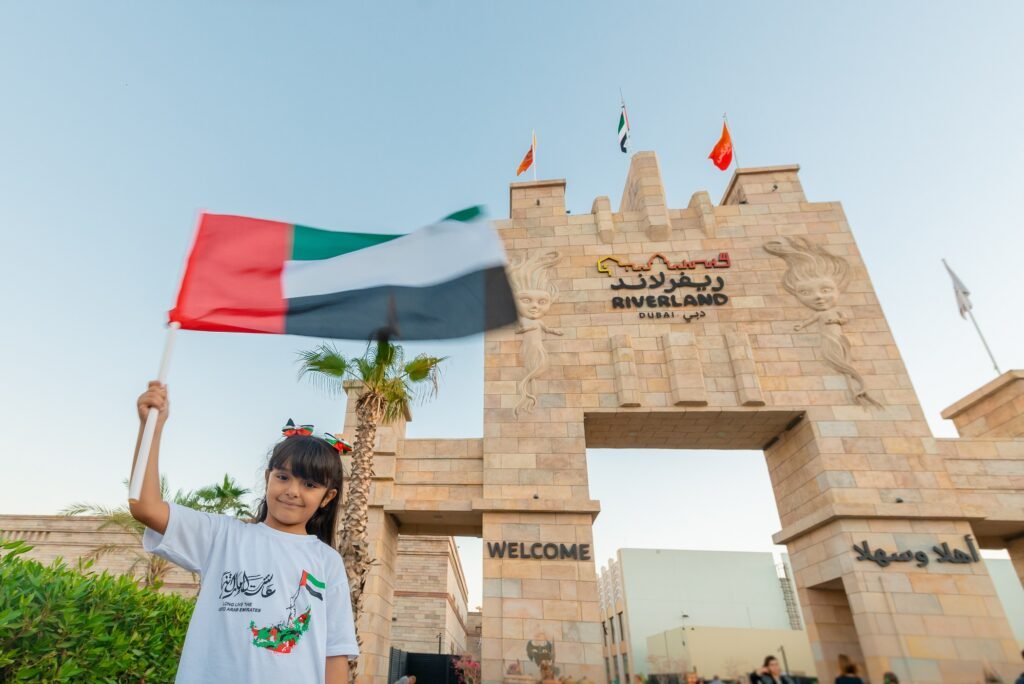 Location: Across Dubai Parks™ and Resorts
Date: December 2
Time: 7pm and 9pm
Description: Dubai Parks™ and Resorts will become the ideal destination for family-friendly fireworks on December 2 at 7pm and 9pm.
Location: Riverland™ Dubai
Date: December 1 to December 3
Time: 4pm – 10pm
Description: Pop-up tents offering Henna, delicious Luqaimat live cooking sessions, kids face painting and also interactions with the UAE's magnificent national bird, the falcon. Ayala dancers will be lining the streets alongside a performance of a traditional kids dance for Hag al Laila.
Location: LEGOLAND® Dubai Theme Park
Date:  Now to December 4 
Time: 10am – 6pm (Monday to Friday) 10am -7pm (Saturday & Sunday)
Description: A playful learning 'Parkwide Scavenger Hunt' will be hosted for youngsters to explore interesting UAE facts. Guests can build the world's largest UAE LEGO® Minifigure Flag. A UAE Salute LEGO® Model made from over 100,000 LEGO® bricks. Daily Characters' Street Parade will feature LEGO® characters dressed in their special outfits in UAE flag colours.  
Location: MOTIONGATE™  
Date: December 1 to December 4 
Time: 4pm – 10pm 
Description: Live shows entertainment, cuisine from around the world, and of course, the most exhilarating rides in the UAE.
3. Catch National Day Fireworks from A Cappella The Pointe 
Looking to catch the beautiful fireworks on The Pointe, Palm Jumeirah and watch FIFA World Cup Matches, head to the Tapa Style Bar & Kitchen, A Cappella where you can have the uninterrupted views of the fireworks and enjoy the world cup matches on a huge projector screen .
Bar & Kitchen, A Cappella offers a small yet well-rounded taste of different countries on your plate. The chefs and the mixologists work hand-in-hand in the same space to create your fine dishes and drinks tailored to your preference and taste, giving you the ultimate Live Bar & Kitchen experience.
Address: FB 08 East Wing The Pointe, Palm – Dubai – United Arab Emirates
Contact: +971 58 971 9542
Instagram: @acappelladxb
4. Indulge in Chaat Platter at Khau Galli for just AED 51!
In honour of 51st UAE National Day,  Khau Galli is inviting all chaat lovers across the UAE to indulge in a delicious offer available only from 1st-4th December. Savour a super delicious & tempting Chaat Platter and Chai for only AED 51. The platter for two includes Sev Puri, Dahi Puri, Pani Puri, Vada Pao, Jhal Muri chaat and Sukha Puri. Sit down by the lakeside at Khau Gali's JLT outlet and gulp down the chat with freshly brewed chai for only AED 51.
What: Chaat Platter and Chai for two 
When: 1st to 4 December 
Timing: All Day 
Instagram: @khaugallidubai
Contact: +971 4 589 6525
5. All you can eat Sushi & Dimsum for AED 51 at Golden Dragon
Golden Dragon, Dubai's first Chinese restaurant launches an All-You-Can-Eat Sushi & Dimsum offer for all the patrons at only AED 51 just in time for the UAE National Day Celebrations.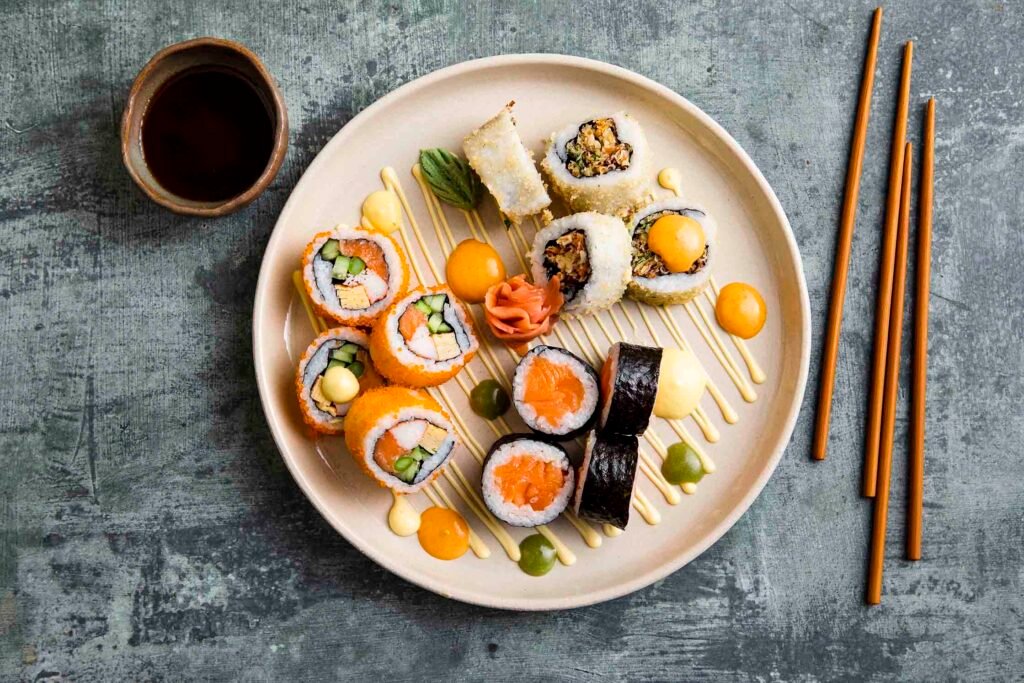 A smorgasbord of flavorful variants of Sushi & dimsum options like the Prawn Tempura Roll to Veg California Roll to Dragon Roll to Salmon California Roll to Salmon Roll to choose from. Not finished yet, go another round with dim sums with melt-in-your-mouth fillings like the Philadelphia Cheese or Edamame or the Homemade Prawn Dumplings.
Reservations: 04 357 7022
Website: www.goldendragonme.com
6. Yummy Dosa Launches Emirati Fusion Dosa on the Occasion of 51st UAE National Day
On the Occasion of the 51st UAE National Day, the popular Mumbai Street Food Spot in town, Yummy Dosa also known for serving 99 plus varieties of Dosa is all set to launch its newest addition on Emirati fusion Dosa! Yes! you heard us right. With the right balance of Za'atar, Oman Chips and Labneh flavours on top of the crunchy Dosa Base, the new Emirati Fusion Dosa is worth every bite. Priced at AED 28.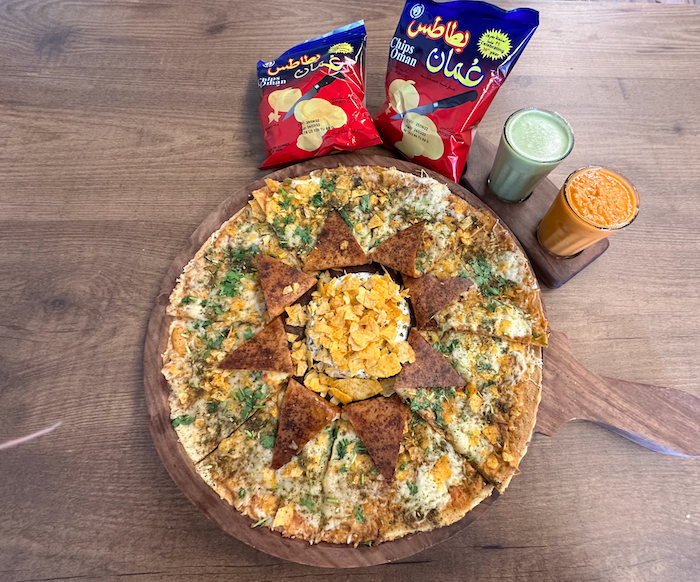 The new Dosa will be available from 1st December onwards across three outlets of Yummy Dosa in Sharjah, Karama and Discovery Gardens. 
Located in Karama, Discovery Gardens and Sharjah 
Instagram: @yummydosa
Contact Details: 048767982
7. 'Colours of the UAE' Dimsums Platter at China Bistro for AED 51

Pan Asian restaurant, China Bistro, is creating a dim sum platter in the UAE flag colours to celebrate the 51st UAE National Day. This will be available exclusively from the 1st to the 4th of December. This Dimsum platter will feature 9 pieces of Dimsum with colour of the UAE's flag and will be priced at AED 51.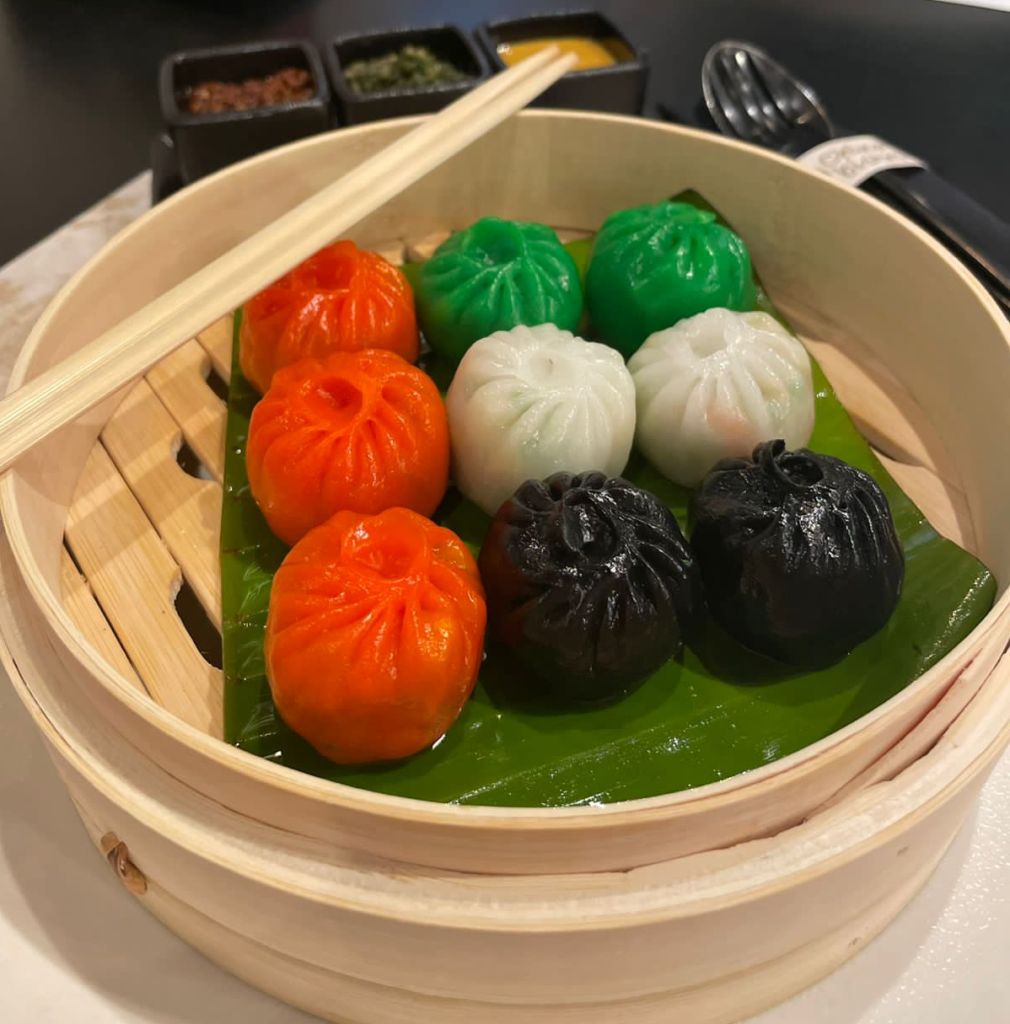 Non-Veg Dimsums Platter will include Ginger Chicken Jiaozi, Shanghai Chicken Dumplings and Chicken Basil Dumplings. Veg Dimsums Platter will have Vegetable Basil dumplings, Vegetable Crystal Dumplings and Edamame with Truffle oil.
8. Yas Island celebrates UAE's 51st National Day with a host of cultural activities and radiant fireworks display
In celebration of UAE National Day, Yas Island Abu Dhabi, the UAE's leading entertainment and leisure destination, will host a series of live entertainment and events every day from 1 – 3 December. The celebrations will include an Ayallah performance across all Yas Island destinations including Ferrari World Abu Dhabi, Yas Waterworld and Warner Bros. World™ Abu Dhabi as well as CLYMB Abu Dhabi to mark the country's 51st anniversary. In addition, visitors can look forward to spectacular fireworks displays as part of the destination's celebrations on 2nd December at 9pm.
In honor of National Day, Ferrari World Abu Dhabi will feature a large UAE Flag for visitors to use as a background for photo opportunities, while Yas Waterworld is inviting guests to enjoy an interactive journey to learn more about the Emirati culture with a number of activities and live entertainment, including falcon handlers, oud players and rababh performers, as well as henna & face painting.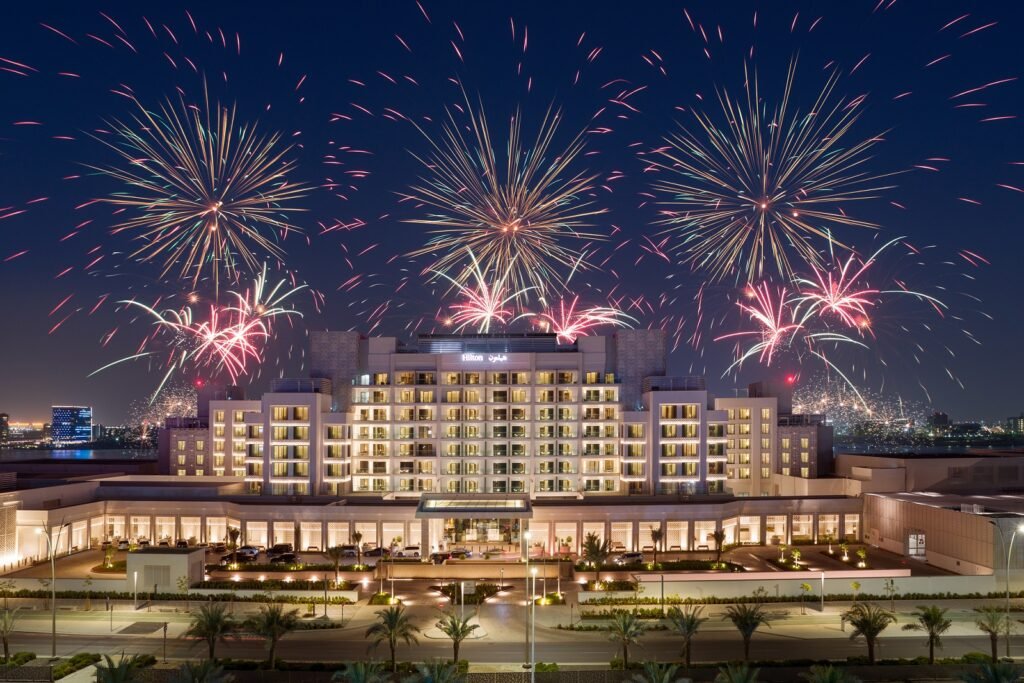 In addition, guests can celebrate the UAE National Day with Yas Island's Stay and Play* package offering for a truly memorable holiday. Staycationers booking the exceptional offer will enjoy a stay at one of the destination's world-class hotels and receive access to one of the three award-winning theme parks for every day booked. For more information, bookings, and terms and condition, please visit: www.yasisland.ae
9. Global Village announces spectacular celebrations for National Day
Global Village, the UAE and wider region's leading multicultural family destination for culture, shopping, and entertainment, is gearing up for the 51st UAE National Day with guests able to enjoy spectacular musical performances, along with themed activities and entertainment, starting from December 1 to December 4.
Global Village guests will be able to enjoy a special orchestra made up of 33 talented musicians who will be performing a selection of traditional songs on the main stage, including the national anthem Ishy Bilady. A violinist and harpist will also be performing a selection of popular Emirati songs to commemorate the UAE National Day celebrations. Alongside these performances and showcasing the spirit of tolerance of the UAE, the main stage will host a range of cultural shows from the 27 pavilions represented at Global Village.
Celebrating National Day under the theme "Brighter Together" Global Village will be adorned in the colours of the UAE flag, Celebration Walk's arches will be decorated with the verses of the national anthem and the main entrance gates and the Carnaval lit up with a special National Day light display. Each evening at 9pm a spectacular fireworks display will also light up the Dubai skies with the colours of the UAE flag.
Guests can also pick up National Day memorabilia from the UAE, Al Sana'a and Khalifa Foundation pavilions as well as dine at the traditional food outlets across Global Village, which is a great place for families to enjoy the long weekend celebrations in style.
10. Celebrate 51 Years of the UAE with AED 51 deals at INK Hotel
To celebrate the UAE's 51st National Day weekend, INK Hotel's in-house Bistro has curated two exciting and budget-friendly F&B offers priced at AED 51. Guests can enjoy mouthwatering burgers and a flavorful lineup of dishes in their exclusive lunch menu, combined with great views of the Dubai Creek, culminating in a perfect meal for the National Day festivities.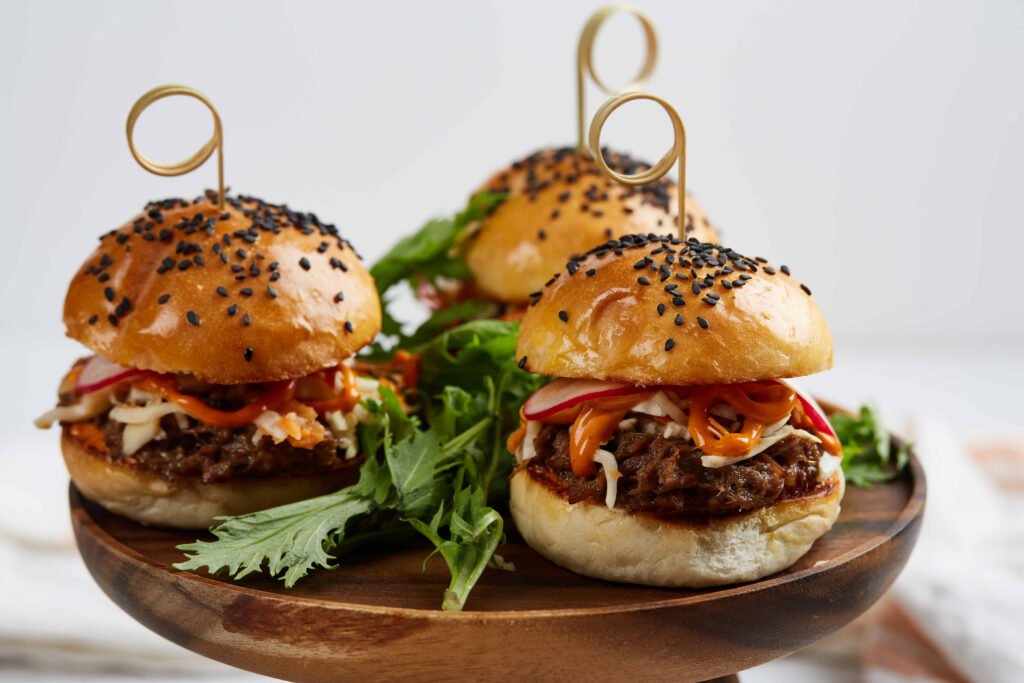 Burger and Soft drink for AED 51
Indulge in a mouth-watering burger and refreshing soft drink for only AED 51 per person and relish savory sensations this National Day! Valid from 12-4 PM
Day: 1st – 4th December 2022
Timing: 12 – 4 PM
Price / Offer: Enjoy one burger and soft drink for only AED 51 per person
Lunch set menu for AED 51
Enjoy a special UAE National Day Lunch with a main course, coffee and a dessert for AED 51 per person. For the main course, guests can opt for either Penne Arrabiata, Chicken Skewers, Cheeseburger or Goulash. Guests also have a choice of coffee between Espresso, Americano, Cappuccino or Cafe Latte and the meal is completed by a delectable carrot cake.
Day: 1st – 4th December 2022
Timing: 12 – 4 PM
Price / Offer: Enjoy one main course, carrot cake and coffee for only AED 51 per person
11. Celebrate the 51st UAE National Day Weekend with 51% Online Discount from Wingstop
Celebrate the UAE's 51st National Day weekend and feast in flavor with Wingstop's exclusive 51% discount for online orders. Customers can receive 51% off on all orders above AED 40 placed through Wingstop's mobile application and website. The maximum discount is capped at AED 25, and the promotion will run from 1st – 4th December 2022.
As global flavor experts and chicken wing connoisseurs Wingstop, have extended the offer to last the entire National Day weekend and ensure customers don't miss out on indulging fresh, never-faked wings doused in 10 iconic flavours. Wing lovers can devour wings flavored with zesty dry rubs like Lemon Pepper, rich wet sauces like Hickory Smoked BBQ, tangy-sweet blends like Hawaiian and fiery options such as Atomic (not for the faint-hearted!).
Having served flavored chicken wings for over 27 years globally, and for 7 years in the UAE, Wingstop's UAE National Day promotion delivers excellent value. It is also the perfect chance to enjoy a fun and flavorful get-together with family and friends or a satisfying solo meal while enjoying the local festivities.
Customers can avail of cooked-to-order wings, hand-seasoned fries, Big Flavor Burgers, and more on the website here, App store here and Play Store here.
12. Complimentary dessert an Mondoux
No visit to Mondoux is complete without getting a taste of their freshly baked scrumptious dessert and this National Day, restaurant guests will get a chance to try it on the house. It honour of the nation's 51st anniversary, Mondoux's pastry chefs are creating a giant flag mosaic out of custom crafted cream and berry cakes. Don't miss your chance to grab a slice! The offer is valid at both of the restaurant's locations, Mondoux Dubai Creek Harbour and The Beach JBR, over the UAE National Day long weekend, starting Thursday, 1 December, until Sunday, 4 December.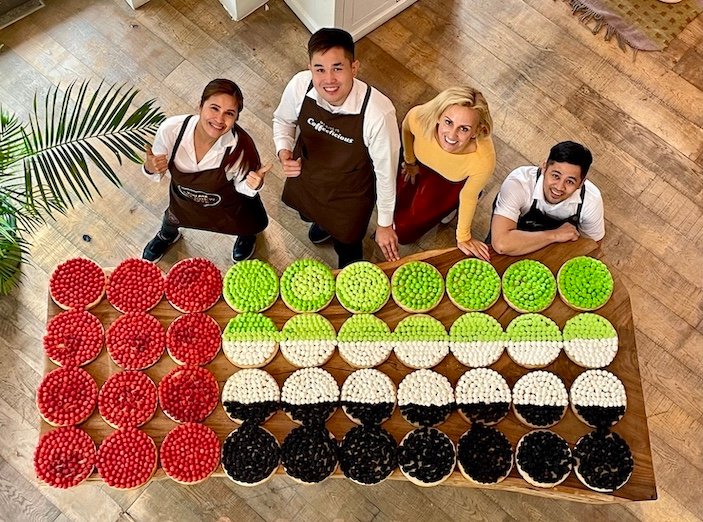 Guests visiting for dinner will also have an opportunity to catch the JBR fireworks at Mondoux The Beach JBR, or perhaps watch the stunning light display at the Burj Khalifa, while enjoying the beautiful panoramic view of the city's skyline from Mondoux's lush green terrace at Dubai Creek Harbour.
For more information, follow Mondoux on Instagram or contact Mondoux The Beach, JBR, on +971 50 9857380 and Mondoux Dubai Creek Harbour on +971 50 1189401.