Brace yourself, coffee enthusiasts of the UAE, because Nespresso is about to take your coffee game to a whole new level of excitement! Hold onto your mugs as Nespresso, the pioneers of sustainable coffee production, proudly announces the launch of not one, not two, but three sizzling-hot Nano boutiques! Get ready to have your taste buds tickled and your coffee-loving hearts aflutter at Sahara Centre, Al Ain Mall, and Abu Dhabi Marina Mall.
Remember the sensation that swept the city when Nespresso's first Nano boutique wowed us all in Dalma Mall last year? Well, prepare for the ultimate encore! These new Nano boutiques bring a captivating retail concept that will have you buzzing with anticipation. It's more than just coffee; it's an experience that will whisk you away on a mesmerizing journey beyond your coffee dreams!
Get lost in the magic of the latest collections from Nespresso, boasting cutting-edge coffee machines that are straight out of a coffee lover's fairy tale. But wait, there's more! Brace yourself for an exquisite range of coffee flavors that will dance on your taste buds like a euphoric melody, and oh, those stylish accessories! They'll elevate your coffee corner to chic sophistication.
The party has already started at Sahara Centre and Al Ain Mall Nano boutiques, where coffee aficionados are flocking to indulge in the art of coffee exploration. It's like stepping into a coffee wonderland, where each cup tells a story of passion, precision, and perfection. But hold your excitement for just a bit longer, because the legendary Nespresso boutique at Abu Dhabi Marina Mall is getting a jaw-dropping makeover! On August 1st, it will rise like a coffee phoenix, transformed into an epic Nano boutique that promises an extraordinary experience like no other.
You thought the Nespresso boutiques were already fantastic? Well, think again! The Nano boutique concept takes customer engagement to stratospheric levels. Picture this: a dedicated recycling corner for capsule collection, surrounded by the iconic Nespresso sleeve wall. It's like they've thought of everything to make your coffee journey smooth and eco-friendly.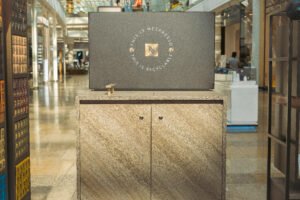 But wait, there's more magic brewing behind the scenes! Nespresso's commitment to sustainability and a circular economy will leave you in awe. They're using 100% responsibly sourced wood from reforestation programs, taking a stand for the environment while crafting your dream coffee haven. The future is here, and it tastes fantastic!
Get ready to embark on a coffee adventure like no other. With these new Nano boutiques, Nespresso is making its mark, showcasing their dedication to the coffee-loving souls of the UAE. It's a caffeine-fueled frenzy that'll leave you thirsting for more. Step into the world of Nespresso Nano boutiques and indulge in the magic, the flavor, and the journey of a lifetime. So, what are you waiting for? Grab your coffee pals, and let's get brewing!
Visit the Website for more details.