Picture this: a home where the air you breathe is clean, fresh, and free from harmful viruses. QNET, the global lifestyle and wellness products direct-selling company, is turning this vision into a reality with the grand launch of the HomePure Zayn 6-Stage Antiviral Air Purifier. Say goodbye to worries about indoor air pollution and embrace a new era of protection and well-being.
In 2020, QNET introduced the world to its cutting-edge 5-Stage Purification technology with the HomePure Zayn air purifiers. Now, the journey continues with the HomePure Zayn Antiviral Air Purifier, proudly incorporating a groundbreaking 6th Purification Stage – an enhanced antiviral HPP+ filter cartridge. Scientifically proven, this marvel is designed to remove an impressive 99.94% of viral particles, including the notorious COVID-19 Omicron variant.
As we spend the majority of our time indoors, the quality of the air we breathe becomes a crucial factor affecting our health and well-being. With toxic particles from cleaning chemicals, dust mites, mold, and various building materials lurking in the air, it's time to take charge. According to the US Environmental Protection Agency, an air purifier is an effective solution to tackle indoor air pollution, ensuring cleaner and safer air for everyone.
The pandemic has heightened our awareness of clean air, making it a top priority for many. HomePure Zayn Antiviral Air Purifier brings the power of cleaner air to homes, businesses, and workplaces alike. Beyond viruses, it combats PM2.5 ultrafine particles, allergens, bacteria, harmful gases, and humidity, all of which are notorious culprits in causing respiratory issues like asthma and allergic rhinitis.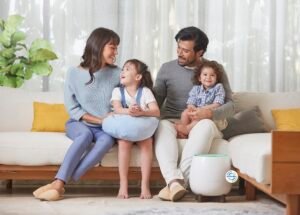 Developed in Switzerland and meticulously crafted in South Korea, the Zayn is armed with an Ultraviolet light and Ultra-Plasma Ion Filter, working in harmony to neutralize airborne viruses and bacteria. The Activated Carbon Filter takes charge of eliminating unpleasant odors and harmful gases. The best part? It's user-friendly! Equipped with air quality sensors, filter change alerts, child-safe lock features, and a soothing night mode, HomePure Zayn is designed to fit seamlessly into your life.
Ease of maintenance is a key feature of the HomePure Zayn. Keeping it spotless is a breeze – simply wipe it clean when you change the filter. No hassle, just pure convenience for a worry-free experience.
Take a breath, and smile, for the HomePure Zayn is your shield, your fortress of purity. Empower yourself and your loved ones with the gift of cleaner air and better health. Say hello to a new level of protection, where viruses are vanquished, and serenity reigns.
Ready to experience the HomePure Zayn difference? Visit www.qnet.net or www.homepure.com/homepure_zayn to uncover the exclusive 6-Stage Purification technology. It's time to embrace a life filled with clean, fresh air, and join the mission to safeguard our homes and hearts. Don't just breathe, thrive with HomePure Zayn!