Buckle up for an unforgettable summer as Deerfields Mall takes you on a journey of style, savings, and sensational prizes with their captivating 'Summer of Style' and 'A Summer to Win' campaigns. Prepare to be amazed by unbeatable offers, incredible discounts, and the chance to drive home a brand-new GMC Yukon SLE 2023, all in one exhilarating package.
The 'Summer of Style' campaign, igniting from June 23rd to September 10th, 2023, promises to be a shopaholic's paradise. Explore a plethora of your favorite brands, all adorned with discounts of up to a jaw-dropping 90% OFF. From trendy apparel to cutting-edge gadgets and home essentials, Deerfields Mall is transforming your shopping experience into a voyage of savings.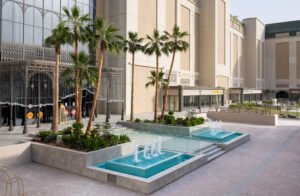 Dive into the world of fashion with outlets like Adidas Outlet, H&M, and Beverly Hills Polo Club, or explore charming options for your little ones at Mothercare and Toys R Us. Pamper yourself with scents and self-care from Bath & Body Works, step into comfort with Crocs and Skechers, or elevate your living space with Homes R Us and Home Box. And that's just the beginning – the list of participating brands is as extensive as your shopping desires.
Hold on to your shopping bags because the 'A Summer to Win' campaign, running from June 27th to September 10th, 2023, is your ticket to thrilling prizes. Picture yourself behind the wheel of a magnificent GMC Yukon SLE 2023, the epitome of style and performance. All you need to do is spend AED 200 at any store or AED 400 at Carrefour to enter the race for this luxurious masterpiece.
But wait, it gets even better. Enjoy a triple dose of luck when you indulge in delectable dining experiences at the mall's array of restaurants and cafes. With each purchase, you amplify your chances of securing the grand prize – a brand-new GMC Yukon SLE 2023, a true testament to your impeccable taste.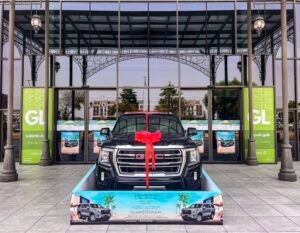 Deerfields Mall understands that the pursuit of fashion, bargains, and prizes knows no bounds. To cater to your insatiable appetite for shopping, the mall is extending its operating hours. From now until September 10th, 2023, you have until 11pm on weekdays and a midnight rendezvous on weekends (with doors opening at 10am daily). This extra time ensures that you have ample hours to immerse yourself in the vibrant ambiance and exceptional offerings of Deerfields Mall.
Mr. Nabil Essakouti, the passionate General Manager of Deerfields Mall, shares his excitement: "We are thrilled to bring the 'A Summer to Win' Campaign to our beloved shoppers. This initiative is our way of showing gratitude to our loyal customers, who continue to make Deerfields Mall their preferred shopping destination. We are excited to see the delight on the face of the lucky winner as they drive away in a brand-new GMC Yukon SLE 2023."
Deerfields Mall is not just a shopping destination; it's a realm of experiences. With a dedication to providing a comprehensive family-friendly environment, the mall is committed to offering more than just products – it's about crafting memories. Whether it's exploring the latest trends, savoring delectable cuisines, or discovering entertainment for all ages, Deerfields Mall invites you to be part of their narrative.
Get ready to immerse yourself in a summer like no other. Mark your calendars, rally your shopping companions, and make your way to Deerfields Mall for the 'Summer of Style' and 'A Summer to Win' campaigns. Unleash your inner fashionista, relish unbeatable deals, and stand a chance to redefine your driving experience with a GMC Yukon SLE 2023. Your summer adventure awaits at Deerfields Mall – where style, savings, and splendid prizes converge in one spectacular destination.
Contact Details: Tel. +971 2 501 0826, +971 2 501 0827 or Email info@deerfieldsmall.com
Visit the Website for more details.