Abu Dhabi's pristine shores have just become a haven for daydreamers seeking a taste of luxury and relaxation. Rixos Premium Saadiyat Island invites you to step into a realm of leisure and indulgence with their captivating all-inclusive day pass experience. It's time to let your daycation dreams come true.
Imagine waking up to the soft caress of sea breeze, the gentle murmur of the waves, and the promise of an extraordinary day ahead. Rixos Premium Saadiyat Island beckons you to begin your daycation by tantalizing your taste buds with a scrumptious breakfast buffet at the elegant Turquoise Restaurant. As you savor delectable dishes meticulously crafted by culinary artisans, your eyes will feast upon the breathtaking sea views that stretch to the horizon.
But that's just the beginning. The allure of the private beach awaits, where powdery sands and azure waters create an enchanting backdrop for your day of escape. Feel the sun's warmth on your skin as you unwind on the beach or take a refreshing dip in the temperature-controlled pool, ensuring that every moment is one of pure bliss.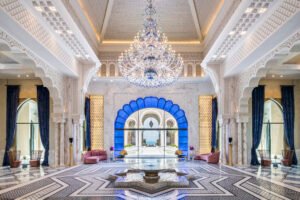 The journey of indulgence continues at People's Restaurant, where an appetizing lunch is elevated to an art form. Imagine savoring delectable creations while being mesmerized by panoramic sea views – a feast for the senses that transcends the ordinary.
And let's not forget the all-inclusive beverage package that adds a delightful twist to your culinary voyage. Immerse yourself in a symphony of refreshing beverages and expertly crafted cocktails, each sip complementing the flavors of your meal and adding a touch of sophistication to your experience.
The all-inclusive day-use experience at Rixos Premium Saadiyat Island goes beyond culinary delights. Your access extends to a world of world-class facilities designed to enrich your daycation. For fitness enthusiasts, a state-of-the-art gym awaits, allowing you to maintain your wellness routine while surrounded by luxury.
Families are embraced wholeheartedly as well. The Rixy Kids Club offers a safe haven for your little ones to unleash their imagination, play, and create cherished memories in a secure environment.
Luxury and leisure await you, and Rixos Premium Saadiyat Island is ready to make your daycation dream come true. The all-inclusive day-use package is available on both weekdays and weekends, with special pricing for adults and children. Weekdays offer a serene escape at AED695 per adult, while weekends indulge you at AED895 per adult. Children aged four to eleven receive a fifty percent discount, and children aged three years and below enjoy complimentary access.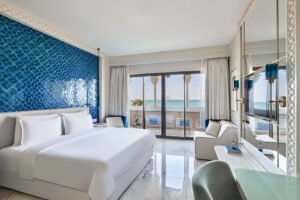 Your day of escape unfolds from 09:00 to 18:00, offering you a precious window to immerse yourself in opulence and relaxation. To ensure your seamless experience, remember to book in advance, as availability is subject to the enchanting allure of this luxurious oasis.
Terms and conditions apply, as is customary, but they're just a gentle reminder of the exceptional journey that awaits. A valid ID or passport will usher you into a world of wonder, where a day pass wristband will be your key to unlocking a day of pure indulgence.
The invitation has been extended, the stage set, and the sunlit shores of Rixos Premium Saadiyat Island await your presence. Immerse yourself in a symphony of flavors, vistas, and experiences that redefine luxury daycations. Your daycation dreams are about to become an unforgettable reality.
Book now to unlock this all-inclusive day pass experience at Rixos Premium Saadiyat Island. For bookings and inquiries, contact +971 2 492 2222 or email reservation.saadiyat@rixos.com.
Instagram: @rixospremiumsaadiyat
Visit the Website for more details.