In a world where innovative technologies and style converge, the 2023 Renault Koleos stands tall as a frontrunner in its class. This remarkable SUV seamlessly blends cutting-edge engineering with captivating aesthetics, setting a new standard for fuel efficiency and driving pleasure. Join us as we embark on a journey to explore the harmonious fusion of style and efficiency that defines the trailblazing Renault Koleos.
At the heart of the Renault Koleos lies a sophisticated 2.5L petrol engine, a testament to the brand's commitment to optimizing fuel consumption. With both 4×2 and 4×4 options, this versatile SUV caters to diverse driving preferences. Harnessing advanced engineering techniques, the Koleos delivers exceptional mileage, ensuring a more economical and eco-friendly drive. Whether you're navigating city streets or venturing off the beaten path, the Koleos confidently takes you further with every drop of fuel.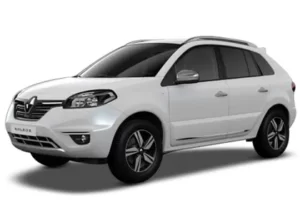 Complementing the fuel-smart engine is a thoughtfully designed powertrain, exemplified by the X-Tronic CVT transmission. In the 4×4 variant, this transmission seamlessly switches between 2WD mode, Auto, and 4×4 (lock) mode, offering the ideal balance of torque distribution between the wheels for optimal grip in any situation. Refined gear ratios and smooth shifting capabilities propel the SUV to the sweet spot, promising a smooth and exhilarating ride for drivers and passengers alike.
To further enhance gas mileage, the Renault Koleos introduces its intelligent Eco Mode. By adapting various vehicle settings, such as throttle response and air conditioning, the Eco Mode prioritizes effectiveness, enabling drivers to make the most of every drop of fuel. This thoughtful integration of technology empowers eco-conscious driving without compromising on performance.
Beyond its remarkable powertrain, the Renault Koleos boasts an enchanting exterior design that blends style with efficiency. Every element, meticulously crafted from the elegantly sculpted front grille to the sleek sides, contributes to reduced air resistance. Embracing the benefits of better aerodynamics, the Koleos glides gracefully through the air, effortlessly extending your driving range while keeping your wallet happy.
As the trailblazing Renault Koleos graces the showrooms of Renault of Arabian Automobiles in Dubai, Sharjah, and the Northern Emirates, it proudly presents its triple marvel to the world. Embodying fuel-saving prowess, eco-consciousness, and undeniable style, the Koleos serves as a resounding testament to the rewards of embracing an energy-efficient and forward-thinking driving experience.
Step into the world of the 2023 Renault Koleos and witness the seamless blend of style and efficiency in an SUV like no other. Unleash the power of the fuel-smart engine, embrace the sophistication of the propulsion tech, and bask in the benefits of an aerodynamic design. Experience the ultimate triple marvel that defines the Renault Koleos, where every journey becomes a captivating adventure in style and innovation. Embrace the future of driving with the Renault Koleos – your gateway to a harmonious blend of style and efficiency.
Visit the Website for more details.