The enchanting ambiance of The Deck Restaurant in voco Dubai The Palm Hotel just got a lot more exciting! Prepare to put your knowledge to the test and embark on a thrilling journey of questions, laughter, and prizes as The Deck introduces its brand new Quiz Night, hosted by none other than local celebrity and partner at The Deck, Big Rossi. Nestled in an elegant atmosphere, The Deck sets the stage for unforgettable evenings filled with camaraderie and cherished memories with your loved ones.
Every Thursday, from 8pm to 10pm, The Deck transforms into the hub of intellectual competition as Big Rossi takes the reins and hosts a challenging and compelling Quiz Night. The best part? Entry is absolutely free for all, so gather your team, ignite your competitive spirit, and get ready for an evening that promises laughter, camaraderie, and exhilarating prizes that will keep you on the edge of your seat.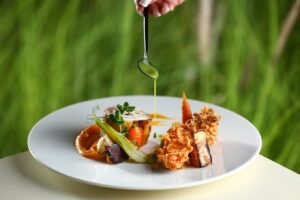 Each week, Quiz Night features five rounds of ten questions spanning a diverse range of categories. From current affairs to entertainment, sports, and general knowledge, there's something for everyone. And that's not all—add a touch of music and mystery to the mix, and you've got a recipe for endless fun. Quizmaster Big Rossi will be your guide through this captivating journey, ensuring you stay engaged and entertained from the first question to the last.
Think you have what it takes to emerge victorious? The Deck offers some fantastic incentives for your knowledge prowess. The winning team walks away with AED 500 in dinner vouchers, while the second-place team pockets AED 250. Even the third-place winners don't go home empty-handed, as they get to enjoy four drinks. And here's a bonus—there's a chance to snag a bucket of beverages as an extra prize.
Beyond the quiz excitement, The Deck offers the ideal setting to relax, connect, and socialize with family and friends. Share delectable dishes and savor an eclectic selection of beverages crafted by The Deck's talented Mixologist. It's more than just a Quiz Night; it's a place where good food and good vibes come together to create memorable moments!
Visit the Website for more details.