In the bustling city of Dubai, where cultures seamlessly blend, a new culinary gem has emerged, promising to take you on an unforgettable gastronomic journey. Eva's Fusion, a contemporary Indian restaurant and cafe located within Millenium Place in Barsha Heights, is set to redefine your dining experience.
The narrative of Eva's Fusion is not just a business venture but a dream brought to life, a dream of crafting memories through the medium of food. As soon as you step through its doors, you are immediately entranced by its charm. The establishment offers both indoor and outdoor seating, each providing breathtaking views of the Dubai skyline. What sets Eva's Fusion apart is its dual identity as both a restaurant and a cafe. It caters to a wide range of occasions – be it a family dinner, an intimate evening, a formal business meeting, or a casual gathering with friends. Live music and sports screenings add an extra layer of entertainment.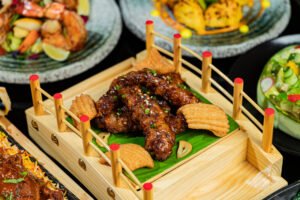 The menu at Eva's Fusion is an artwork, meticulously crafted by a team of passionate chefs and culinary experts. It's a harmonious fusion of international and modern Indian flavors, each dish prepared with love and precision to guarantee an unforgettable dining experience.
Delve into the menu, and you'll discover a world of culinary delights. From mouthwatering appetizers to hearty main courses, tempting desserts to a myriad of Shisha options, there's something for everyone. Traditional Indian dishes receive a modern twist, exemplified by creations like Dumpukht Chicken Korma, Signature Tandoori Lobster, Rosemary Chicken Tikka, and Gajar Halwa Tart Pistachio Mousse. If your palate craves international flavors, you can savor dishes like Gambas Al Ajillo with Grilled Vegetables, Mesquite Smoked Salmon with Grilled Vegetables, and Whole Peri Peri Grilled Chicken with Fries.
For Shisha enthusiasts, Eva's Fusion has an extensive menu with over 40 flavors to cater to every taste. From classic options like spring water to exotic choices such as Hawaii, bombay pan, and unique Indian flavors, it's a paradise for those who appreciate the art of Shisha.
To complement your meal, indulge in a variety of drinks and milkshakes. From tantalizing choices like Banana Crunchy and Cafe Mocha to classic tea and coffee, Eva's Fusion caters to a diverse range of tastes.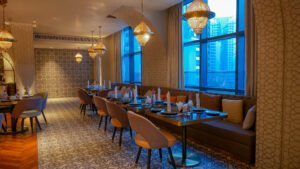 For those who prefer the convenience of dining at home, Eva's Fusion offers a seamless online ordering experience. It's a user-friendly process with customizable options and swift delivery. Whether you choose to dine in or order online, Eva's Fusion ensures a memorable culinary adventure.
The heart and soul of Eva's Fusion lie in its name, inspired by the owner's daughter, Eva. Just as the name encapsulates love and care, every facet of Eva's Fusion reflects meticulous attention to detail. It's a fusion of two culinary worlds, creating a dining space that's genuinely one-of-a-kind.
Whether you seek a modern Indian twist, an international culinary journey, or a delightful Shisha experience, Eva's Fusion is your destination. Come and embark on a gastronomic adventure in the heart of Dubai, where unforgettable moments are crafted through food, culture, and the love that goes into every dish.
Instagram: @evasfusiondubai