It's that time of the year when we raise a toast to the superheroes in our lives—our dads! Get ready for a Father's Day extravaganza that will leave you craving a scrumptious feast. Mr Toad's, in collaboration with Premier Inn hotels in Dubai and Abu Dhabi, is serving up a double Sunday roast that will have you and your dad dancing with delight. Brace yourself for a fun-filled celebration packed with flavor, good times, and a chance to win a free family meal. Let's dive into the excitement!
On Sunday, June 18th, treat your dad to a regal feast fit for a king. At an incredible price of AED99 per person, Mr Toad's is serving up a double Sunday roast that will make your taste buds sing. Imagine sinking your teeth into succulent beef and juicy chicken, accompanied by a medley of delectable trimmings.
From crispy Yorkshire pudding to golden roast potatoes, creamy cauliflower cheese to a colorful assortment of perfectly cooked veggies, every bite is a dance of flavors that will have you shouting for an encore. And to keep the party going, quench your thirst with famous Dutch draft hops, flowing at a wallet-friendly AED20 per pint. Cheers to celebrating dad in style!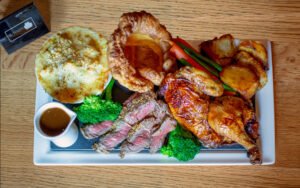 We all know our dads deserve the world, so let's shout it from the rooftops! Mr Toad's and Premier Inn invite you to spread the love on social media. Tag your dad on @premierinngulf and @mrtoadsme, and let the world know why your dad is the best of the best. Express your gratitude, share funny anecdotes, or showcase his incredible dance moves—the choice is yours! By participating, you enter the running for a chance to win a free roast for a family of four, courtesy of Premier Inn and Mr Toad's. It's time to make your dad the star of the show and celebrate him in the most delicious way possible!
The Father's Day festivities kick off at 12 noon and continue until 1 am at Mr Toad's outlets in Dubai and Neuvo restaurants in Abu Dhabi. The extravaganza awaits at Premier Inn locations including Al Jaddaf, Dubai Silicon Oasis, Dubai Investments Park, Dubai Airport, Ibn Battuta Mall, Barsha Heights, Dragon Mart*, Abu Dhabi Airport, and Abu Dhabi Capital Centre. Get ready to elevate the celebration and embark on a culinary adventure your dad will cherish!
This Father's Day, join Mr Toad's and Premier Inn on a journey of flavor, laughter, and love. Embrace the roast revolution and treat your dad to an unforgettable double Sunday feast that will make his taste buds tango with joy. From the mouthwatering meats to the divine sides, every element of the meal is designed to bring smiles and create lasting memories. And don't forget to share your dad's awesomeness with the world by participating in the social media contest. Let your love and appreciation shine bright as you celebrate the extraordinary bond you share. Get ready to groove, raise a glass, and make this Father's Day a truly epic celebration with Mr Toad's!
Visit the Website for more details.