As the vibrant city of Dubai embraces the crisp breeze of September, it's time for a gastronomic celebration like no other. Get ready to satiate your cravings and ignite your taste buds, as the highly anticipated Iconic Restaurant Month returns to the luxurious JW Marriott Marquis Hotel Dubai. This year's edition promises an array of irresistible culinary offers, starting at just AED 125, at the hotel's esteemed award-winning restaurants throughout the entire month.
From September 1st to 30th, the JW Marriott Marquis' Restaurant Month unveils a world of epicurean delights, inviting you to savor exquisite flavors and revel in the art of dining. With a line-up of nine distinguished restaurants including Rang Mahal, Tong Thai, Prime68, Izakaya, Positano, La Farine, and Kitchen6, prepare to embark on a remarkable journey through diverse cuisines that span the globe.
For those who crave a dash of elegance, the participating restaurants offer exclusive dining experiences priced at AED 245. At Prime68, Dubai's dazzling skyline provides the backdrop as you indulge in a sumptuous three-course menu. From French Onion Soup to Roasted Loch Duarte Salmon, the options are a culinary dream. Meanwhile, Rang Mahal tempts with a five-course Indian feast, a symphony of flavors that includes Tandoori Smoked Fish and Chicken Tikka Masala.
Tong Thai, an oasis of authentic Asian cuisine, presents a four-course extravaganza that tantalizes your palate with starters like Grilled Chicken Satay and flavorful soups such as Tom Kha Gai. With selections like Green Chicken Curry and tantalizing desserts, every bite is a voyage to the heart of Thailand. As the sun sets, Izakaya elevates the experience with a lavish sushi and sashimi combo, crowned with a delectable Yuzu Cheesecake.
For a more relaxed affair at AED 125, Bridgewater Tavern and Lush Burger beckon with hearty delights. Savor the Big Boy Burger with a hoppy accompaniment or enjoy a Double Meal Combo at Lush Burger, complete with burgers, fries, and a refreshing froyo. European flavors take center stage at La Farine, offering a three-course feast where Roasted Beets & Goat Cheese Salad and Truffle Mushroom Gnocchi vie for your attention.
In the heart of the hotel, Positano and Kitchen6 invite you to revel in diverse offerings. Positano entices with bottomless Spaghetti Bolognese and gourmet pizzas adorned with Gelato or Tiramisu. Kitchen6 stands as a symphony of international flavors, with a buffet that boasts starters, salads, and desserts, all in a vibrant atmosphere.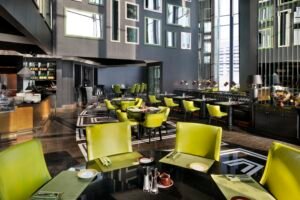 As Restaurant Month unveils its culinary splendors, don't miss the chance to explore not only the hotel's offerings but also the tantalizing journey offered by More Cravings by Marriott BonvoyTM. Delight in a symphony of fine dining and casual restaurants, all part of Marriott Bonvoy in the UAE.
Whether you're an epicurean explorer or simply seeking a delightful evening out, JW Marriott Marquis Hotel Dubai's Restaurant Month promises an extraordinary culinary voyage from September 1st to 30th. Let your taste buds rejoice and embark on an unforgettable journey through flavors, textures, and aromas that define Dubai's dining scene!
Contact Details: Call 04 414 3000
Instagram: @jwmarriottmarquisdubai
Visit the Website for more details.