Get ready for a summer like no other as Sofitel Dubai Downtown invites you to experience the pinnacle of luxury in the heart of Dubai. From 1st June to 15th September 2023, they are rolling out the red carpet with their exclusive Summer Bliss package, promising a getaway filled with indulgence, relaxation, and cherished memories.
Step into a world of elegance and sophistication as you enter your spacious and meticulously designed room. Every corner exudes French modern luxury, ensuring your utmost comfort throughout your stay. With the Summer Bliss package, you and your loved one will wake up to a mouthwatering gastronomic buffet breakfast for two, tantalizing your taste buds with a symphony of flavors.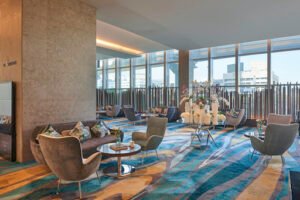 But that's not all – prepare to be pampered and rejuvenated at the renowned Sofitel Spa. As part of the package, you'll receive a voucher worth AED 200, allowing you to indulge in a blissful spa treatment of your choice. Let the expert therapists melt away your stress and restore your inner harmony.
Calling all food enthusiasts! L'Apero, Les Cuisines, La Patisserie, and the Sofitel Pool and Lounge beckon you to embark on a culinary journey like no other. Savor the finest delicacies and immerse yourself in a world of culinary delights. And the best part? You'll enjoy up to AED 100 off your bill, adding an extra dash of satisfaction to your dining experience.
For those seeking an extraordinary view, why not upgrade to a Junior Suite with Burj Khalifa View*? Imagine waking up to the mesmerizing sight of Dubai's iconic skyline, capturing moments that will leave you in awe. Plus, as a guest of the suite, you'll have complimentary access to the exclusive Club Millesime, where impeccable service and privileges await you.
At Sofitel Dubai Downtown, they understand the importance of a seamless stay. They offer guaranteed early check-in at 12 noon, allowing you to start your vacation right away. And when it's time to say goodbye, enjoy a leisurely check-out at 2 pm, making the most of your final moments in Dubai. To add to your convenience, a complimentary shuttle bus service is available, whisking you away to the most stunning and popular beaches in town.
If you're planning an extended stay, Sofitel Dubai Downtown has you covered with their luxurious studio, one-bedroom, and two-bedroom apartments. Immerse yourself in French elegance, surrounded by world-class amenities and personalized service. Experience the true meaning of comfort and sophistication.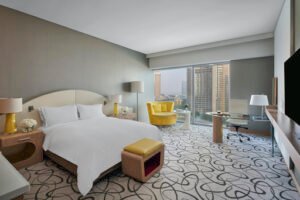 But that's not all – with the extended stay package, the perks keep coming. Enjoy a 50% discount on laundry services, ensuring you look your best throughout your stay. Keep up with your fitness routine at the Techno Gym Fitness facilities, and treat yourself to a 25% discount on delectable food and drinks at L'Apero, Les Cuisines, La Patisserie, and the Sofitel Pool and Lounge. Indulge in a 20% discount at Sofitel Spa and Mia Dolce Salon, where relaxation and rejuvenation await. Plus, take advantage of convenient parking, a fully equipped kitchen, a fridge, a washing machine, a microwave, and complimentary WiFi – everything you need for a hassle-free stay.
Please note that long-stay rates are applicable for a minimum of 30 nights. To reserve your unforgettable summer retreat, contact Sofitel Dubai Downtown at +971 4 503 6666 or email beinspired@sofitel.com.

Long Stay: https://www.sofitel-dubai-downtown.com/offers/attractive-long-stay-offer-at-sofitel-dubai-downtown/
Summer Bliss: https://www.sofitel-dubai-downtown.com/offers/downtown-summer-bliss/
Visit the Website for more details.