With its year-round sunshine, luxurious amenities, and world-class hospitality, the UAE has become a sought-after destination for travelers seeking a lavish escape. However, this summer, with international travel still facing restrictions, the UAE's hotels are rolling out enticing staycation packages for locals and residents to enjoy. From sleek skyscraper hotels in Dubai to sprawling beachfront resorts in Abu Dhabi, the UAE's hotels offer a diverse range of options for those looking to indulge in a summer staycation. Whether you're seeking a relaxing retreat or an action-packed adventure, the UAE's hotels have something for everyone!
1. IntercityHotel Waterfront Al Jaddaf
For those seeking a budget-friendly way to spend the summer in Dubai, IntercityHotel Waterfront Al Jaddaf has two new offers for guests to enjoy; a staycation offer and a daycation offer. The hotel offers a serene waterfront location and exclusive offers, allowing guests to indulge in a relaxing getaway without overspending. With rates starting from AED 225 per room per night for a Superior Room, including all taxes and the Tourism Dirham fee, as well as buffet breakfast for two people, the hotel provides great value for money.
In addition to the affordable room rates, IntercityHotel Waterfront Al Jaddaf is also offering a special Daycation package with family-friendly rates from AED 75. Guests can unwind by the pool, enjoy delectable breakfast, savour delicious mocktails, and enjoy the breathtaking views of the waterfront!
When: Until 20th June 2023
Price: AED 75 per person |AED 50 for children aged between 5-11 years | Children under 5 years are free.
Reservation Contact: Reservations.dubai-jaddaf@intercityhotel.com or
Call: 04 574 3900
Visit the Website for more details.
2. Rosewood Abu Dhabi
As temperatures rise and the sun shines, discover the cool and refreshing packages offered by Rosewood Abu Dhabi this summer season. Running from May to September, the lethargic and long summer days are saved with these fabulous deals. Rosewood Abu Dhabi offers its guests a calming oasis in the buzzing city. Enjoy a relaxing stay in one of the beautifully decorated hotel rooms, venture on an adventure to the beach, be entertained at one of the hotel's renowned brunches or immerse yourself in the luxurious Sense, A Rosewood Spa®, all for a special price.
Summer Beach Escape
Enjoy the best of both – guests can now take in the breathtaking beauty of Saadiyat Island as well as the stunning lifestyle destination, Maryah Island for the ultimate getaway. The Beach Package entails beach access to the pristine Saadiyat Beach Club for each person, everyday of their stay at Rosewood Abu Dhabi. When booking the Beach Package you'll receive a price deduction on rooms, as well breakfast every morning and an additional offer of 20% off hotel F&B, 20% off beach club F&B and 20% off hotel Spa.
When: 1st May – 30th September 2023
Rates: Starting from AED 750
Promo code: DISBEACH
Link to book.
Brunch & Bask In Style
Get the most out of summer fun and unwind for a weekend getaway at Rosewood Abu Dhabi with the Brunch Package. This package includes your choice of brunch where guests can choose between the Hot Pot Brunch, Yum Cha Brunch, The Garden Brunch, or The Roast Brunch. The brunch includes soft drinks which guests can upgrade to the House Package for AED 125. The Brunch package also offers 20% off hotel F&B and 20% off hotel Spa
When: 1st May – 30th September 2023. Only available on weekends (Friday, Saturday and Sunday).
Rates: Starting from AED 750
Promo code: DISBRUNCH
Link to book.
Luxe Wellness Retreat
Step into a sanctuary and unwind in a moment of tranquillity at Sense, A Rosewood Spa® with the Spa Package. Visitors can discover signature offerings that integrate local healing traditions and an array of nurturing treatments. Guests are offered a free massage, with choice of head & shoulders or foot massage along with 20% off hotel Spa and 20% off hotel F&B.
When: 1st May – 30th September 2023
Rates: Starting from AED 950
Promo code: DISSPA
Link to book.
Visit the Website for more details.
3. InterContinental Residences Abu Dhabi
InterContinental Residences Abu Dhabi – the newest hotel residences in town that's perfect for families! Located in the affluent neighbourhood of Al-Bateen district, the property is just a stone's throw from some of the central business and leisure facilities in Abu Dhabi, including several government buildings, Marina Mall, and Corniche Beach.
With a range of facilities like pools, beach access, spa, and fun activities for kids, InterContinental Residences Abu Dhabi is the perfect destination for an unforgettable family vacation. This summer, the superb hotel is giving you the perfect excuse to book your next getaway with the entire family. With the launch of its new Half-Board Staycation Package for families, everyone will be able to find the perfect deal that suits them.
Contact Details: WhatsApp +971 50 623 3249 or Email: reservations.icabudhabi@ihg.com
Visit the Website for more details.
4. St. Regis Saadiyat Island Resort
As summer approaches in the UAE capital, The St. Regis Saadiyat Island Resort is inviting guests to enjoy a whole range of exciting new dining experiences and pampering spa retreats. From the electric Suntory Evening Brunch at Buddha-Bar Beach Abu Dhabi, to artistic, New York-inspired cocktails at Manhattan Lounge and relaxing and purifying spa treatments at Iridium Spa, there's something to delight everyone at the stunning resort on the Saadiyat Island this May.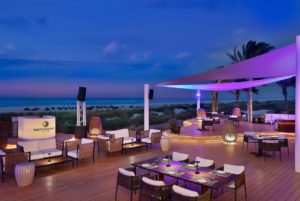 Contact Details: +971 2 498 8443 or +971 2 498 8888
Instagram: @saadiyatae
Visit the Website for more details.
5. Vida Beach Resort Umm Al Quwain
Experience ultimate relaxation at Vida Beach Resort Umm Al Quwain this summer, a luxurious beachfront retreat located on the picturesque shores of the Arabian Gulf. With direct access to the beach, this boutique hotel offers a perfect escape for travellers seeking tranquility and convenience just a short distance away from Dubai.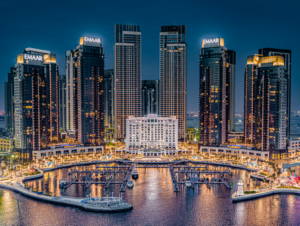 With the summer fast upon us, guests can look forward to savouring an unforgettable stay while taking in breathtaking sea views at this resort like no other. Whether you want to recharge your batteries or disconnect from the hustle and bustle of city life, Vida Beach Resort is the perfect destination for a memorable summer getaway.
Contact Details: +971 6 706 5000 ; Email: hithere.uaq@vidahotels.com
Visit the Website for more details.
6. Côte d'Azur Monaco
Côte d'Azur Monaco, the upscale five-star adults-only retreat located on The Heart of Europe Island, a part of The World Islands off the coast of Dubai, is welcomes you to the ultimate getaway. You can now plunge into the property's Grand Azur Pool, one of the largest pools in the Middle East, in a place where sunkissed surroundings and guilty pleasures await with open arms. Get set for an unrivalled experience that boasts the chicest vibes, picturesque views, and an unmissable party ambience.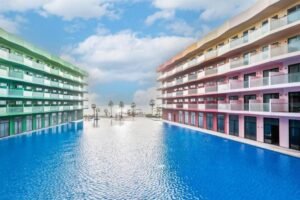 With an AED300 day pass that can be fully redeemed on flavoursome foods and tantalising drinks, guests will arrive on location on the resort's own private yachts, making for a truly unforgettable and grand experience from the very start. Get decked out in French flair as this is the perfect setting for jet setters, partygoers, music and sun seekers alike. This paradise on earth looks to transport you to the sun and sand soirees of the French coastline without the hassle of booking a flight and packing a bag. 

Contact Details: Call/WhatsApp +971 55 226 9353 or
Email: Restaurants.Monaco@thoe-hotels.com
Instagram: @cotedazurthoe
Visit the Website for more details.
7. Hilton London Metropole
As summer draws near, the iconic Hilton London Metropole city hotel is set to welcome guests from the Middle East following a comprehensive multi-million pound renovation.As the largest Hilton outside of the United States, the property's stunning transformation firmly cements its place as a home-from-home travel desintation for GCC tourists, perfectly positioned with access to all of London's best sights.The range of stunning suites are already a firm favourite with guests from the Middle East.
The property has launched four brand new iconic restaurants and bars with elevated drinking and dining concepts – including a street-food destination and all-day British brasserie – with nods to popular sites like Borough Market and Covent Garden. Catering to all guests' palates, Halal options are available and special Middle Eastern dishes are served on the breakfast buffet during the summer months.
Venue Details:
Address: 225 Edgware Road, Paddington, London W2 1JU
Instagram: @hiltonlondonmet
Visit the Website for more details.
8. Desaru Coast
Positioned on the south-eastern shoreline of Malaysia and set between lush rainforests and the South China Sea, One&Only Desaru Coast expands across acres of unspoilt flora and pristine stretches of white sanded beach. Easily accessible from Singapore and Johor's Senai Airport, this ultra-luxury tropical escape offers guests curated experiences they will never forget.
Relax and unwind in an expansive two-bedroom suite, complete with a private plunge pool, while enjoying countless daily activities, including nature walks, sports and curated experiences for all age. Guests will also receive RM 300 credit to enjoy at one of the mouth-watering restaurants or the rejuvenating Chenot Spa. A space that kids can call their own, KidsOnly invites younger guests to dive into an extensive array of action-packed activities and experiences designed to exhilarate and engage them with the destination. From learning about the local eco-system at the EcoLab to unleashing their inner Picasso at the Creative Studio, there are countless activities to engage and entertain children all day long.
Visit the Website for more details.
9. Emerald Zanzibar
Parched on the coastline of Muyuni Beach in Matemwe, the newly opened Emerald Zanzibar Resort & Spa offers guests a 5-star Deluxe All-Inclusive resort is perfect for families looking to unwind and build lifelong memories together. Situated on the shores of a turquoise lagoon and set within 10 hectares of land that leads to the sea, Emerald Zanzibar effortlessly blends the exotic natural environment with the elegance of contempered and timeless tropical elegance.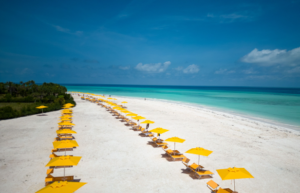 Emerald Zanzibar Resort & Spa is the destination of choice for family vacations, paying special attention to younger guests while ensuring parents enjoy every moment of their stay. While exploring the Zanzibarian environment, children from 3 to 12 years of age can enjoy stimulating creative and educational activities under the careful guidance of the expert team at The Dolphin Kids Club. Suitable for kids of all ages, the resort is also home to tennis, padel and soccer courts, games consoles and foosball tables for families to enjoy together.
Visit the Website for more details.
10. Zulal Discovery
At Zulal Discovery, guests are invited to engage in fun and educational activities that inspire imagination, mindfulness, exploration, movement and connecting with nature under the guidance of dedicated child development and family specialists. Children are edutained with age-appropriate activities, including outdoor pursuits, arts, crafts, sports, and games, while parents enjoy the tranquillity of massage and healing.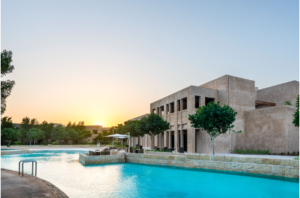 Additional nights and additional children can be accommodated. Kids on Us rates start from 3,302 QAR in Deluxe Lagoon View room per night based on double occupancy.
Visit the Website for more details.
11. Royal Mirage
One&Only Royal Mirage is the perfect destination to enjoy some time off with those who matter most. Resting on a private beach overlooking The Palm and nestled within 65-acres of lush, landscaped gardens, the legendary One&Only Royal Mirage conjures stylish Arabian hospitality juxtaposed with the modern backdrop of the spectacular Dubai Marina skyline, effortlessly encompassing the traditional with the contemporary.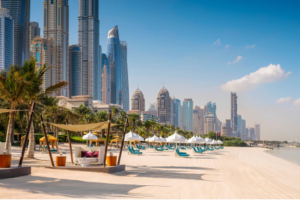 Designed for families, One&Only Royal Mirage's Family Travelling in Style offer promises 50% off a second children's room for two-bedroom family stays, complete with exciting activities, including a day at the World's Greatest Aquaventure Waterpark. Additionally, guests will enjoy a complimentary breakfast at one of the resort's all-day dining restaurants and use fitness facilities, including tennis and padel courts.
Visit the Website for more details.
12. Raffles the Palm Dubai
Raffles the Palm Dubai, the iconic beach palace located on the west crescent of Palm Jumeirah, has revealed enticing new offers for both summer and Eid Al Adha. The opulent five-star resort, which rests on 500m of white sandy beach, boasts an array of diverse dining venues, blissful spa experiences and a host of recreational activities suitable for all ages, making it the ideal location to create everlasting memories with loved ones.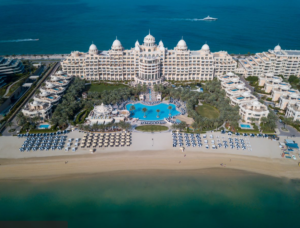 With an abundance of unique accommodation types to choose from, each room, suite and villa type showcases distinctive palatial architecture and features, with touches of gold leaf, shimmering chandeliers, and extravagant furnishings throughout. The 220 sqm Premier Jacuzzi Suite is a private oasis offering the most idyllic ocean views from its spacious balcony, which also features an impressive jacuzzi. Guests can feel like royalty with their very own Raffles butler, who will take care of every need, ensuring each stay is extraordinary. Thoughtful and discreet, Raffles butlers are famous around the world for their warm and graceful service that saves your time and elevates every hotel experience.
Contact Details:  +971 4 248 8888
Visit the Website for more details.
It's time to make the most of the summer season with unbeatable staycation deals and offers in your own backyard. Whether you're seeking a tranquil retreat, thrilling adventures, or a blend of both, the options are endless. From luxurious resorts to budget-friendly accommodations, the UAE has a wide array of choices to suit every preference and budget. Take advantage of exclusive discounts, complimentary amenities, and exciting activities tailored to enhance your summer staycation experience.