Lights, camera, action! The world's biggest celebration of Indian cinema, the IIFA Awards, is back and ready to dazzle audiences with its 23rd edition. Set against the stunning backdrop of Yas Island in Abu Dhabi, IIFA 2023 promises a weekend filled with glamour, music, and star-studded performances. But that's not all – here's your chance to get up close and personal with Bollywood icons Salman Khan, Vicky Kaushal, and Nora Fatehi. Book your tickets before May 20th, enter the lucky draw, and you could be one of the 10 lucky winners to meet these superstars. Get ready for an unforgettable experience!
The IIFA Awards have established themselves as the epitome of glitz and glamour, celebrating the very best of Indian cinema. With a legacy spanning over two decades, IIFA continues to bring together music, entertainment, and the crème de la crème of the film industry. This year, the Etihad Arena on Yas Island will host the star-studded event, ensuring an unforgettable experience for all attendees.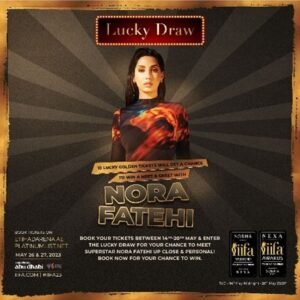 Imagine standing face-to-face with your favorite Bollywood icons – Salman Khan, Vicky Kaushal, and Nora Fatehi. Thanks to the lucky draw, this dream can become a reality. By purchasing your tickets for IIFA Rocks or IIFA Awards 2023 from eithadarena.ae or platinumlist.uae, you automatically qualify for entry into the draw. Will you be one of the fortunate few to meet these beloved stars? Don't miss out on this golden opportunity!
The IIFA weekend is not just about the awards ceremony; it's a celebration of Indian cinema in all its glory. From the glamorous green carpet to the electrifying live performances, every moment is designed to captivate and enthrall. This year, Vicky Kaushal and Abhishek Bachchan will take the stage as hosts, adding their charm and wit to the festivities. And with powerhouse performances by Salman Khan, Varun Dhawan, Ayushmann Khurrana, Kriti Sanon, Jacqueline Fernandez, Nora Fatehi, and Rakul Preet Singh, the entertainment quotient is guaranteed to be sky-high.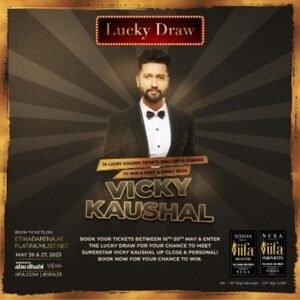 IIFA wouldn't be complete without the creative minds that make it all happen. This year, the iconic Farah Khan returns with her irrepressible wit, joined by the talented Rajkummar Rao as co-host. And when it comes to music, the stage will come alive with performances by the sensational Amit Trivedi, rap sensation Badshah, the melodious Sunidhi Chauhan, Nuchelya, Mika, and the ever-energetic Sukhbir Singh. Prepare to be enchanted by their magical melodies.
The clock is ticking, and your chance to be a part of IIFA 2023 and meet Bollywood's biggest stars is slipping away. Book your tickets now at etihadarena.ae and immerse yourself in a weekend full of glitz, glamour, and unforgettable memories. Don't miss out on this golden opportunity to experience the grandeur of IIFA and create memories that will last a lifetime. Get ready to be star-struck at IIFA 2023, the event that celebrates the magic of Indian cinema like no other!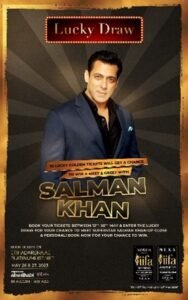 Book your tickets now for a weekend full of glitz and glamour of IIFA 2023!