Attention all food aficionados and summer enthusiasts! Get ready to be transported to a realm of mouthwatering ecstasy as Parlour Boutique unveils its latest sensation: the unmissable "Parisian Summer High Tea" experience. Prepare to embark on a journey that will tantalize your taste buds, uplift your spirits, and leave you craving for more. With a playful combination of delectable treats, refreshing bubbly drinks, and an enchanting ambiance, Parlour Boutique has crafted the ultimate summer escapade.
Let your palate dance with joy as you delve into the symphony of flavors presented by the "Parisian Summer High Tea" experience. Brace yourself for a platter bursting with 15 meticulously crafted items that capture the essence of summer. From tantalizing bites that ignite your senses to heavenly sweet indulgences that transport you to paradise, every morsel is an explosion of taste and creativity. Prepare to be amazed by the innovative fusions and vibrant seasonal delights that Parlour Boutique has in store for you.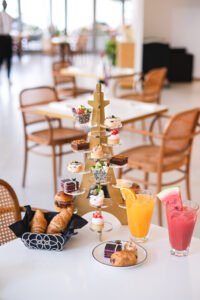 No summer celebration is complete without a touch of effervescence! Sip on two refreshing, fruity, and non-alcoholic bubbly drinks that will tickle your taste buds and quench your thirst for excitement. As the bubbles tickle your nose and the flavors dance on your tongue, raise your glass and toast to unforgettable moments shared with loved ones. The "Parisian Summer High Tea" experience is not just a feast for your taste buds, but a celebration of life's simple pleasures and the joy of summer.
Parlour Boutique wants to make this experience even more special for the vibrant community of One Central. As a token of appreciation, all employees of One Central offices will enjoy an exclusive 20% discount on the "Parisian Summer High Tea" experience. It's a testament to the shared enjoyment and the bond that brings us together. Indulge in this generous offer and savor the summer delights that Parlour Boutique has lovingly prepared for you.
Don't miss out on this exquisite summer adventure! The "Parisian Summer High Tea" experience is available every day, beckoning you to escape the ordinary and enter a world of bliss at Parlour Boutique. With meticulous attention to detail, impeccable service, and a commitment to culinary excellence, this is an opportunity to treat yourself to an extraordinary high tea experience that perfectly encapsulates the essence of summer.
For reservations or further information, call +971 50 626 9977 and get ready to embark on a scrumptious journey that will leave you craving for more. Summer has never tasted so good!
Instagram: @parlour_boutique
Visit the Website for more details.