In the heart of Dubai, the iconic Mall of the Emirates witnessed a spectacular event as the all-new Psycho Bunny store opened its doors last month. This flagship project under Majid Al Futtaim Lifestyle not only showcased the brand's unique character but also brought a vibrant and creative atmosphere to this renowned shopping destination.
The grand opening, inaugurated by Majid Al Futtaim Lifestyle CEO, Fahed Ghanim, and Khalifa Bin Braik, CEO of Majid Al Futtaim Asset Management, featured the pulsating beats of a renowned DJ, setting the stage for an unforgettable experience. Adding an urban chic flair, live graffiti artists from Alienz Crew, a celebrated Dubai-based graffiti collective, transformed the occasion into an artful celebration.
Psycho Bunny, a brand that redefines classics with a daringly-unique twist, made a bold entrance into the Middle East. Fahed Ghanim expressed his excitement, stating, "Psycho Bunny's combination of edgy and timeless designs will resonate well with the discerning tastes of our shoppers in the region." The brand's commitment to delivering unique and disruptive fashion experiences aligns seamlessly with Majid Al Futtaim Lifestyle's vision.
Featuring a logo that captures the essence of playful irreverence, Psycho Bunny offers a meticulously curated selection of clothing and accessories. This grand opening marks a significant moment in the evolving fashion landscape of the Middle East, reflecting the region's growing appetite for independent, niche brands.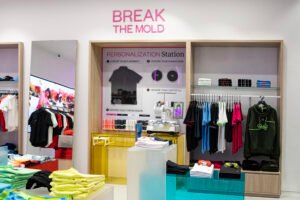 Fahed Ghanim emphasized the strategic partnership, stating, "Psycho Bunny's decision to open a flagship store in Dubai exemplifies the confidence in our ecosystem to support and elevate internationally renowned brands." The collaboration with THAT Concept Store and the grand success of the Psycho Bunny store opening affirm Majid Al Futtaim Lifestyle's commitment to staying at the forefront of retail innovation.
The Psycho Bunny store at Mall of the Emirates is more than just a retail space; it's a testament to the evolving fashion scene in the Middle East. Majid Al Futtaim Lifestyle continues to redefine retail innovation, offering customers exceptional experiences and bringing the latest trends from independent, authentic brands to the region. The grand opening of Psycho Bunny at Mall of the Emirates marks the beginning of a new era in men's fashion, where timeless elegance meets daring individuality.
Visit the Website for more details.