In the heart of the bustling city of Dubai, amidst the towering skyscrapers, there's a tranquil sanctuary that promises to redefine your self-care experience this October. Ciel Spa, located on the 69th floor of SLS Dubai, has introduced two enticing offers that will leave you feeling pampered and revitalized.
Imagine starting your week on a positive note with "Self Care Monday." Throughout the entire month of October, Ciel Spa is extending an invitation to embark on a journey of self-care. It's as simple as booking any 60-minute treatment, which in turn rewards you with a complimentary day pass for access to both the spa and gym facilities. This isn't just about relaxation; it's about consciously tending to your physical and mental well-being.
Visualize stepping into the serene ambiance of the spa, where the stresses of daily life seem to effortlessly melt away. Alternatively, you can choose to break a sweat in the state-of-the-art fitness center, providing a refreshing start to your week. It's also an opportunity to escape from the inevitable pressures of the week ahead. The choice is entirely yours, and it's all about prioritizing your own health and happiness.
As October unfolds, the doors of Ciel Spa at SLS Dubai are swung open wide to offer you these exclusive self-care experiences. It's an invitation to embark on a journey of wellness and relaxation like never before. Every Monday from the 1st of October to the 31st of October, this offer stands. You simply need to book any 60-minute treatment to secure your day pass for free access to both the spa and gym facilities.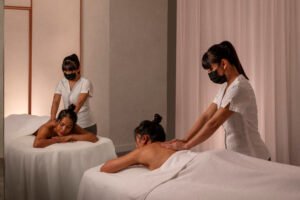 Please note that this offer is subject to availability and cannot be combined with any other ongoing promotions. Prior reservations are a must, and the rates do not apply to group bookings. It's essential to be aware that this offer is not valid on blackout dates, which include public holidays.
This October, seize the unique opportunity to place self-care and well-being at the forefront of your priorities. Head over to Ciel Spa at SLS Dubai and immerse yourself in their exclusive offerings. It's a chance to care for yourself in a style that matches the luxurious setting!
Visit the Website for more details.