Dubai residents, get ready to experience the future of medical fitness services with Smart Salem's brand new state-of-the-art center! Smart Salem recently launched it's a cutting-edge third medical fitness and residence visa processing center at Dubai Knowledge Park, catering to the residents of the surrounding neighborhoods. The facility, inaugurated by the Director-General of the Dubai Health Authority and the CEO of Dubai Academic Health Corporation, promises to deliver exceptional customer service and the fastest medical fitness results in Dubai.
The state-of-the-art center features advanced robotics that help enhance efficiency, as well as a smart check-in system, six private blood collection rooms, two x-ray rooms, and an on-site laboratory. The x-ray rooms are fitted with digital machines that produce high-quality images with minimal retakes and emit less radiation compared to traditional x-ray machines. The facility can serve up to 500 customers per day, with an average waiting time of five minutes for visa renewals and less than 10 minutes for new visa issuance. Medical fitness results are also delivered within 30 minutes, making it the fastest medical fitness service in Dubai.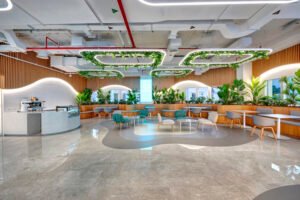 The new Smart Salem center uses the latest medical technologies to improve efficiencies, enhance convenience, and provide specialized medical services of the highest quality. The seamless digital journey includes a digital kiosk to verify customer details and a digital queuing system to ensure a hassle-free experience. Visitors can even stay hydrated with the help of a friendly water-serving robot butler named 'Mozo.'
Smart Salem's new center at Dubai Knowledge Park is easily accessible to adjacent residential neighborhoods, including the Palm, Emirates Hills, Dubai Marina, and the south of Dubai. The launch of the center is a testament to Dubai's commitment to providing its residents with the highest levels of customer care excellence and streamlined services.
Overall, the new Smart Salem center at Dubai Knowledge Park is a remarkable milestone in medical fitness and visa processing services in Dubai. The facility's integration with the Dubai Government and Dubai Academic Health Corporation systems ensures an instant, paper-free exchange of health records and medical testing results. With its advanced technologies and innovative services, Smart Salem is dedicated to providing a comfortable, efficient, and easily accessible experience for all customers.
Visit the Website for more details.