As we prepare to bid farewell to another year, Dubai's premier entertainment destination, Atlantis, The Palm, is gearing up for an unforgettable New Year's Eve Gala Dinner. Following the success of previous star-studded events featuring the likes of Robbie Williams and Kylie Minogue, the stage is now set for an iconic performance by none other than Sting on December 31, 2023.
Nestled in the heart of the United Arab Emirates, Atlantis, The Palm has earned a reputation for delivering world-class entertainment, and this New Year's Eve promises to be a standout. Sting, a living legend with 17 Grammy awards under his belt, will be taking the spotlight to welcome the new year in style. With a career spanning decades and fans worldwide, Sting's performance is poised to be a once-in-a-lifetime experience.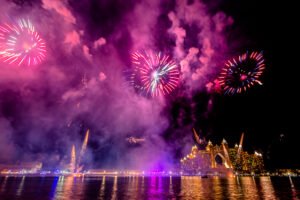 Sting is renowned for his distinct voice, poetic songwriting, and captivating stage presence. During this eagerly awaited evening, he will serenade the audience with a medley of his greatest hits, including classics like "Every Breath You Take," "Englishman in New York," and "Desert Rose." His unique fusion of rock, pop, jazz, and reggae influences guarantees a night to remember.
What sets this event apart is the exclusive Gala Dinner experience. Only those fortunate enough to secure a spot at the Gala Dinner will have the privilege of witnessing Sting's spellbinding live performance. Following the show, guests will be treated to one of Dubai's most expansive and breathtaking fireworks displays, stretching from Atlantis, The Palm to the ultra-luxurious Atlantis The Royal.
Timothy Kelly, the Executive Vice President and Managing Director of Atlantis Dubai, expressed his excitement about Sting headlining the event. He shared, "With Sting, a global icon, gracing our stage, we are thrilled to welcome him as our headline act this year. Our New Year's Eve Gala Dinners have earned a stellar reputation in the region, and with Sting joining the ranks of Robbie Williams and Kylie Minogue, we anticipate another remarkable milestone in 2023. We eagerly await the opportunity to provide our guests with one of the most memorable evenings of their lives as we usher in the new year."
This year's Gala Dinner embraces a masquerade ball theme, promising to be Dubai's most glamorous celebration. Set on a specially constructed deck beneath the starry sky, with views of Palm Island and the sparkling city skyline, the festivities begin at 7:30 pm. Guests can savor canapés and welcome drinks before moving to an exquisite outdoor area, where a 30-piece live band, free-flowing Champagne, and unlimited premium beverages await.
Throughout the evening, guests will embark on a culinary journey, relishing a sumptuous buffet featuring delicacies such as lobster and caviar, complemented by live cooking stations and an exquisite array of handcrafted desserts, cakes, and petit fours. It's a feast fit for a night of unforgettable celebration.
Families attending the event can rest assured that children will have their own special celebration in the Asateer Tent. The kids' festivities include an enormous slide, bouncy castle, outdoor cinema, game stalls, arts and crafts, and much more.
Mark your calendars and be a part of the enchantment at Atlantis, The Palm, as Sting headlines the New Year's Eve Gala Dinner on December 31, 2023. Stay tuned for additional New Year's Eve celebration options at Atlantis Dubai, promising even more ways to ring in the new year with style and excitement.
This New Year's Eve Gala Dinner promises a night where music, luxury, and celebration converge beneath the Dubai sky. Don't miss your chance to be part of this extraordinary experience at Atlantis, The Palm!
Contact Details: Call 971 4 426 2626.
Visit the Website for more details.