Dry Goods Refillery is New Jersey's first, dedicated plastic and package-free grocery. Their mission is simple – to build a healthy tomorrow, one reusable container at a time. An Iconic step towards a sustainable future, Rachel Garcia was motivated to start Dry Goods Refillery to reduce the piling trash and plastic.
Born and raised in New Jersey, Rachel is a mom to her husband Daniel's, two boys -Tyler and Ellis. Dry Goods Refillery was started in February of 2020 after Rachel wanted to provide food and groceries for her family without all of the packaging and waste. "I had seen this way of shopping around the world and through some fortunate travels overseas, and I just really wanted to see if something that I wanted in my community would be something that other people wanted to. "
In terms of products, the bulk of the business is beans and grains, olive oil. You can find almost all kind of pantry staples, like dried pasta, spices, nut butters and coffee beans. Dry Goods has also expanded into what is a real sustainable grocery. They do everything from eggs and milk and cheese to freshly baked breads that's delivered every day, organic and local source of produce, as well as carbon neutrally supplied produce. That's not all! They also have now moved into a home category, doing things like dish and laundry detergent, really just trying to find every way to reduce waste in homes.
The Entrepreneurial Spirit That Guided Dry Good Refillery
Rachel Garcia was brought up in a home with a family business. Having watched her mum run the business and taking part in it herself during the time her kids were young had already ignited the entrepreneurial spirit within her. At 21, she was thrown into this very entrepreneurial type of job following a program she did. "
"It was all about running a segment of their department store and really taught me a lot of things that I use today, like vendor management and just general merchandising sales, and just gave me that entrepreneurial bug. It felt like I was running a business under the umbrella of a big company and it was fun and motivating and a part of work that I wanted to carry into every other job after that. I worked at a couple of startups and even GroupOn a long time ago. When had kids, took a step back and worked for the family business. Once my kids were older, I felt like I was able to take on something more challenging and of my own and start my new career path."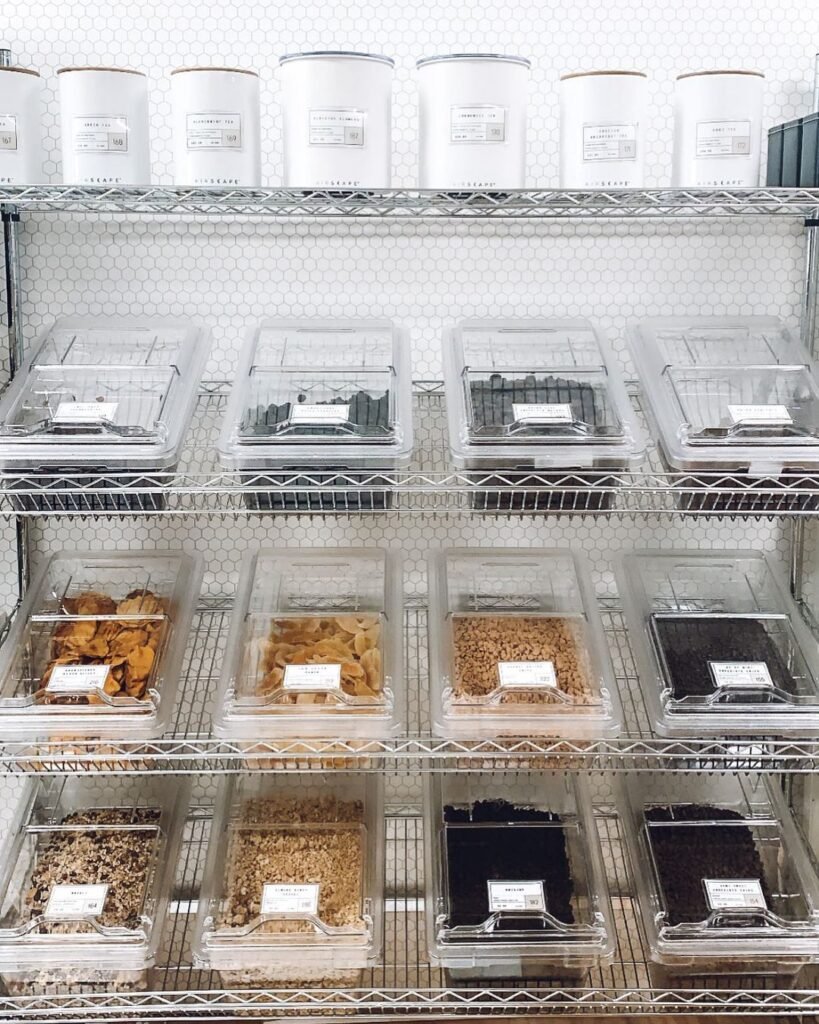 Starting right before the COVID-19 Pandemic and Battling Lockdown
Starting a few weeks before the pandemic actually worked in their favor as they had a different supply chain than traditional grocery stores, and were in stock on staples like flour or beans that people were looking for.
Describing her experience through the lockdown, Rachhel says, "Yeah, so our business changed a couple of times during the pandemic into different ideas and models. We created a website in about 24 and 48 hours with inventory and stock and photos to try and accommodate more of a curbside pickup model for a while. Then we moved into kind of, you know, a pre bag situation. Didn't bring your own container for a while. I mean, we were still supporting that supply chain, but it was challenging and then eventually opened our doors back up and really got to see it for real in the way we envisioned it, which was bringing your own container and all of that.
But ultimately, we really saw enough positive experience and response during that time that we felt like it was okay to actually grow during a pandemic, which felt weird. I think during the pandemic, a lot of people started to realize how important small business communities are, and they want to keep them alive. And there's been a lot of support from that. So we've been grateful and helped us grow, actually, a little bit. "
How Dry Goods Refillery Actually Works
At Dry Goods Refillery, Rachel and the team try and make it as easy as possible. Most people who come into the store off the street are either just kind of not aware of what they're doing or just kind of checking it out for the first time and all that's fine! So if you are visiting them for the first time, don't worry! They have complimentary paper bags around the store for all of those items. They also do some things in our store, whether it's tofu or frozen products or some of their jams and jellies, for example, that are all returnable glass. So customers don't need to have anything prepared. They just borrow the jar, pay a small deposit, and bring it back to exchange the next time they get milk or something like that. And then, of course, if you bring your own container or you have one, the process is really easy.
"There's a simple weighing system in the front that takes your tear weight, which is your initial weight. It's digitized and very simple. You basically tap the screen with a little tag. It records the weight you fillup just like any other store .But you take what you want and then we tap it out at the end so you're only paying for what you have. So we try to make it easy and unintimidating because we don't want it to be something that's fancy or for only a small subset of people. We want it to feel really approachable."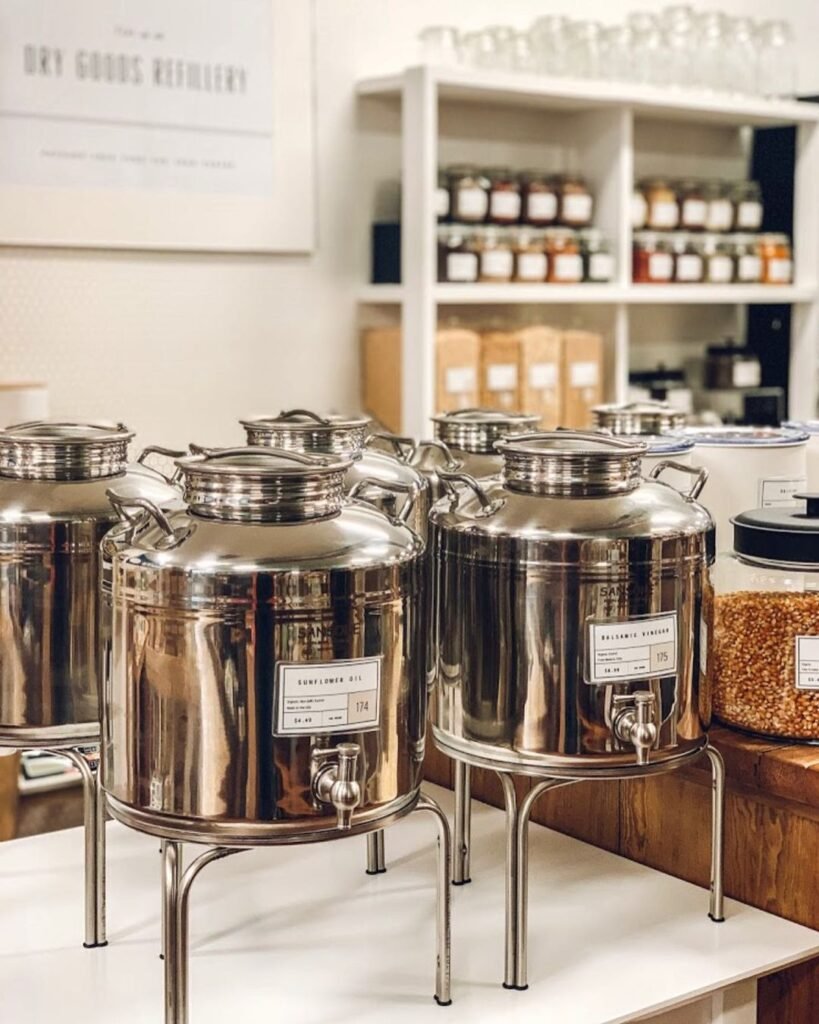 Locally Sources and Carbon Neutral Doesn't Necessarily Mean Costly
So the pricig varies depending on the product. They work with a lot of local suppliers and also with a lot of carbon neutral and distribution kind of food, restaurant quality, supply chains, but a lot of individual vendors as well. They try to stay in line with any grocery store, or less, frankly, depending on how much you take for all of the main staples. People are generally not used to seeing it that way because most grocery stores don't advertise the pound price brightly in front of your face. It's how much the package is worth. But if you actually look below it, you'll see a pound price. They're very in line with what that is.
However, this is not the case with all products. Rachel explains, 'but there's some stuff that we can't always match everybody. We try and be honest. So whether that's something like maple syrup, for example. If you're used to buying a pancake syrup that's made with corn syrup, it's going to be quite different than a maple syrup that's organic from a small farm in upstate New York. But we try and give our customers a heads up because also when it comes to things like cleaning supplies, the concentration is significantly different. Our shampoo bars and conditioner bars, for example, there's no not a lot of water. Our soap bars are the same thing."
"The goal is to not have you buy more. And I think it's just a total mindset shift. So where we can we try and stay in line? Absolutely. As a small business, it's not always possible, but we always give you a heads up when it's not okay."
Rachel is truly an advocate for sustainable methods and a plastic-free environment. "Plastic has reached every single corner of this planet, both as a planet and also the products that we wear, we eat, we everything. And it's impossible to negate everything completely. But I do feel like what I hope our store is doing is actually shifting people's approach and mindset. "
Follow them on socials here – @drygoodsrefillery