The day of love is just around the corner! There is no better way to express your love to your special one than showing it on Valentine's Day. No matter whether you are looking for a gift, or looking to plan a romantic night – here is a roundup of everything going on this Valentine's Week and Day in and around Dubai.
1. UNLOCK THE MAGIC OF LOVE AT THE BÜRGENSTOCK Hotels & RESORT
The "Bespoke Romance" package is available from 10th to 19th of February 2023 and offers a variety of romantic experiences that are sure to delight and spoil couples. The package includes a special 3-course menu at either Spices Kitchen & Terrace or Oak Grill, both of which offer delicious and expertly prepared options that will tantalize the taste buds.
For a movie night, couples can enjoy a private cinema showing a classy romance movie, with a glass of bubbles and sweet treats. The evening will be complete with a special surprise for the couple, an embroidery bear, as a keepsake to remember the special day.
For an afternoon tea, the "Valentine's Afternoon Tea" package is available in the Lakeview Bar & Lounge. Couples can enjoy a selection of special Valentine's Day pastries and a glass of bubbles while taking in the beautiful view. This package is available from 10th to 19th of February 2023, and it's priced at CHF 112.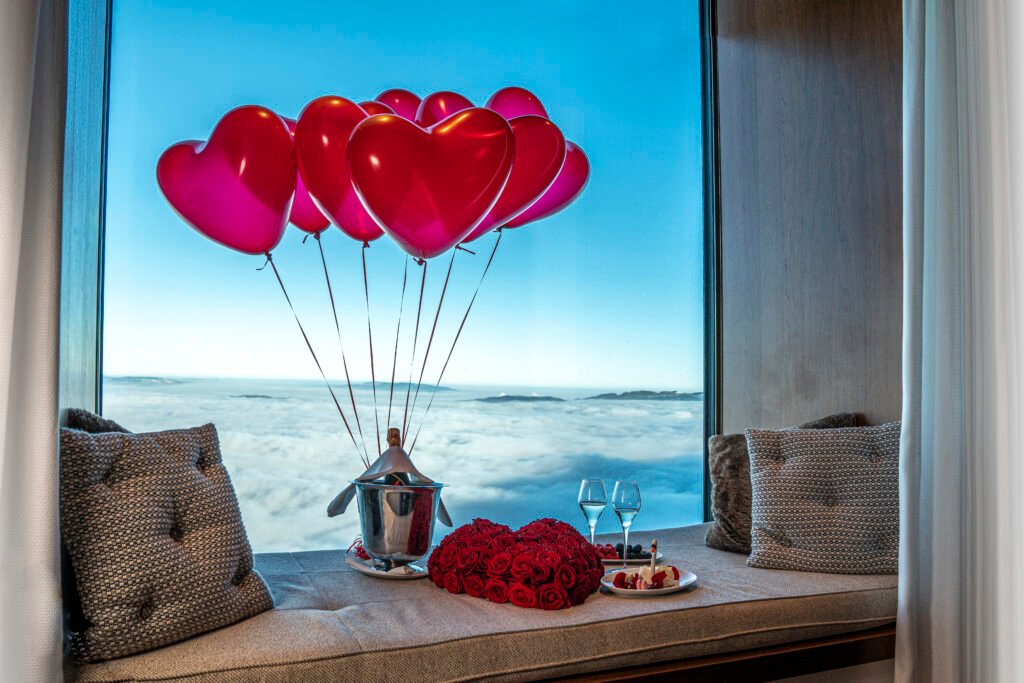 Food lovers can indulge in a 4-course Pan-Asian sharing menu at Spices Kitchen & Terrace, or a 4-course sharing menu with specialities from the grill at Oak Grill. Both menus are available from 10th to 19th of February 2023 for CHF 169. It's an excellent opportunity to indulge in a delicious and romantic dinner, and try some new dishes together.
After the romantic dinner, couples can relax and unwind with the "Spa Time for Two" package, which includes the Swissline le Grand Soin au Collagène Pur treatment. This 90-minute treatment uses pure collagen, peptide technology, pure silk, and plant-based growth factors to rejuvenate stressed, dull, or aged skin. It increases the skin's own collagen, deeply re-hydrates and replenishes the skin, smooths lines and wrinkles instantly and promotes the skin's natural self-repair. This package is priced at CHF 350.
* the Diamond and Romance package is priced starting from CHF 11,000 at Bürgenstock Hotel & Alpine Spa and CHF 10,400 at The Palace Hote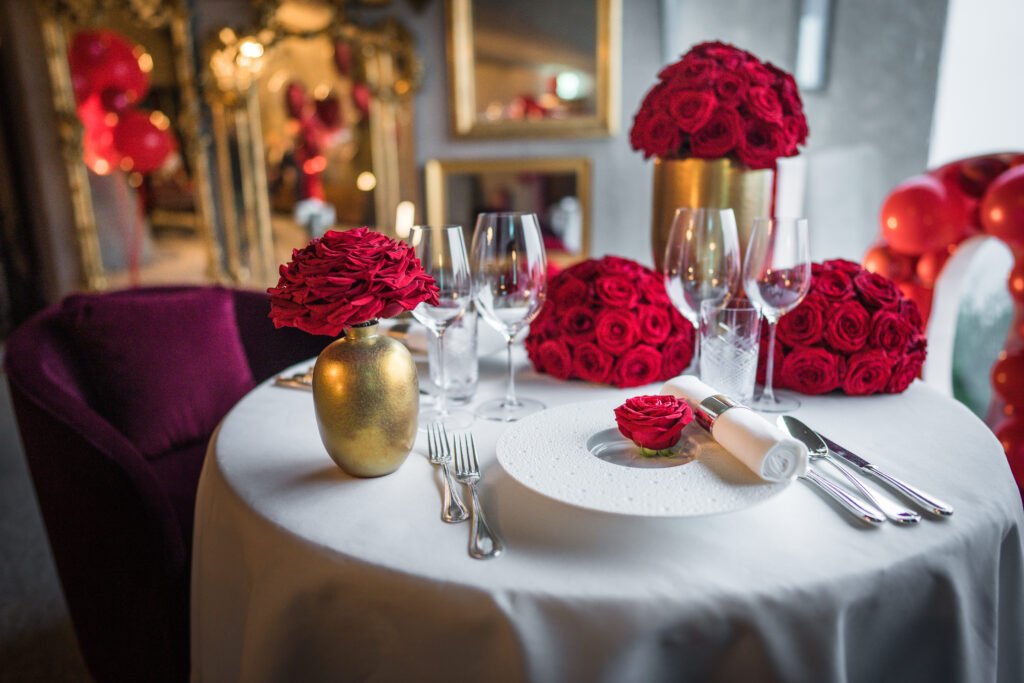 2. Amaze Him and Amaze Her – Scents to gift this Valentine's Day
Amaze Him for Men
AED 131.25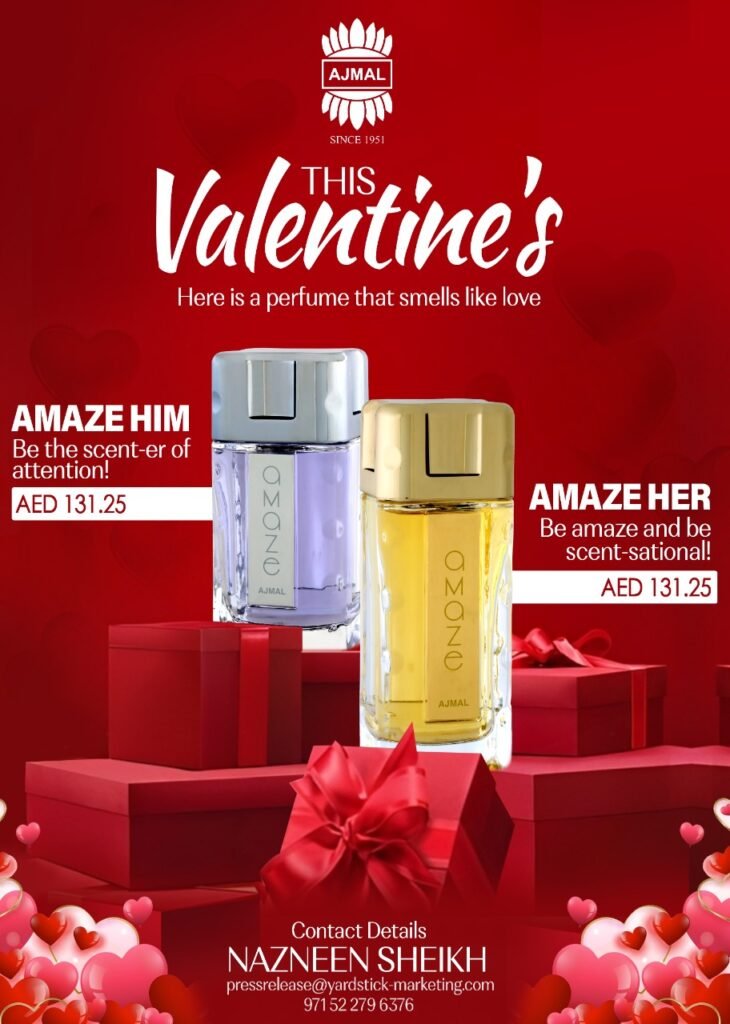 This fragrance created with the most alluring scents will build your confidence and personality. If you are searching for the best men's perfume, this product is long-lasting, unique, and plain irresistible. With notes of leather, wood, and musk, this fragrance is sure to put you in a love affair with nature.
Amaze Her for Women
AED 131.25
A perfume that gives you freshness all day long, Amaze Her enhances your personality. Because of the elegant appeal of the fragrance, it is great for everyday use. Looking for a scent that is sensual, sultry, and sophisticated? Look no more.
3. Indulge in Romance at The Japanese and Portuguese Fusion Hotspot
Whisk away your loved one for a fine dining extravaganza like no other this Valentine's Day. Boasting a set menu absolutely bursting with flavour, diners can look forward to such wonderous creations as Lamb Katsu, Polvo À Lagareiro, and Mushroom Risotto, making this Valentine's feast an epicure's dream. Available for AED350 per person including soft drinks or AED470 per person including house beverages, guests can enjoy a choice of starter, main course, and tasty dessert that will all perfectly complement the romance of the occasion.
The intimate nature of this superb eatery should make it your only choice for Valentine's Day celebrations, and it is the perfect setting to surprise your loved one and maybe even pop the big question. Love will fill every corner of OAnjo, so make sure you don't miss out by booking your table today.
Valentine's Day Set Dinner Menu
When: February 14th from 9pm to 2am
Offer: 3-course set menu including starter, main course, and dessert
Price: Soft beverage package AED350 per person; House beverage package AED470 per person
*For reservations: https://www.sevenrooms.com/reservations/oanjodubai/ OR
Call +971 4 377 2007
4. Special Valentine's Day offer awaits at Black Tap
This Valentine's Day, a special offer awaits at Black Tap. Diners can experience the new limited-edition Valentine CrazyShake® along with the legendary Truffle Steak Burger.
What: Valentine CrazyShake® and The Truffle Steak Burger
When: 10th February – 16th February
Price:
AED 69 – Valentine CrazyShake®
AED 120 – The Truffle Steak Burger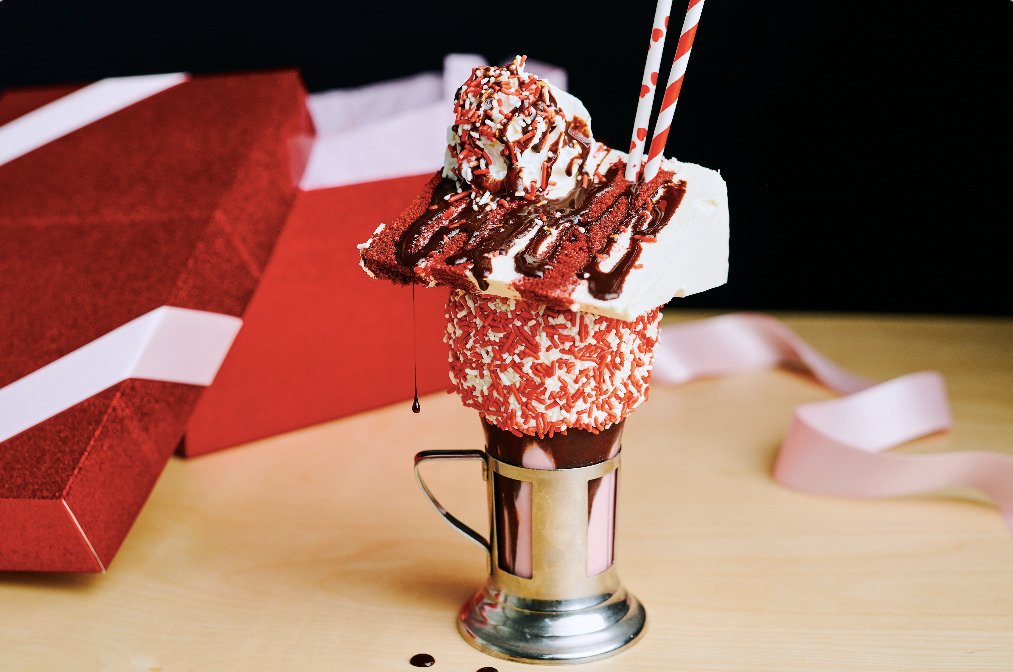 5. Bombay Borough unveils Special Valentine's Day Menu
All-day Indian bar and eatery Bombay Borough in DIFC has crafted a special six-course set menu to celebrate Valentine's Day and promises an exciting culinary journey that combines unique flavours from all over India with a fresh twist. The exclusive menu will be available all day from 14th to 19th February 2023 and is priced at AED 650 per couple.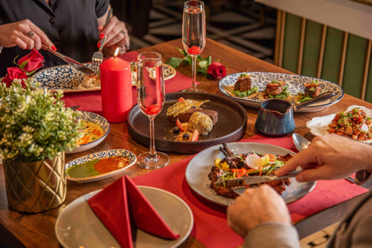 Guests can either walk in or make a reservation by contacting (+971) 54 995 8296, reservations@bombayborough.ae or by visiting https://linktr.ee/bombayborough_uae .
●      What: Valentine's Day Set Menu
●      Dates: 14th – 19h Feb 2023
●      Timing : All Day
●      Price/Offer: AED 650 per couple
6. VALENTINE'S DAY WITH A ROMANTIC ROOM OFFER
Overlooking the spectacular views of the Dubai Marina through the exquisite balcony suite at Crowne Plaza Dubai Marina, create special memories during the most romantic time of the year with a dreamy getaway.
With a one-night stay at the hotel, guests will be provided enhanced dining experiences including an AED 500 dining voucher which can be availed at Lo+Cale and the hotel's authentic, signature Thai hotspot Charm Thai. Along with the irresistible dining deals, diners can wake up to a served breakfast right on the balcony all while grasping the beautiful landscapes of Marina! 
Offer valid from 12th February to 19th February 2023
Offer includes:

A one-night stay for two
AED 500 dining voucher applicable in Lo+Cale or Charm Thai
In-room breakfast for two

Priced: AED 1399, including taxes and applicable fees
T&C's apply, subject to availability
For bookings, please call +971 (0) 4 378 0000 or email: reservations@cpdubaimarina.ihg.com
7. Valentine's Day Menu PHO two or PHO one!
Vietnamese food in Dubai is celebrating Love's Holiday with a special four-course menu priced at just 169 Dhs for two or 85 Dhs for one. Lovingly designed and filled with hearty, healthy and delicious dishes, the menu is ideal to celebrate love between sweethearts, friends, or family, or self-love. The special menu is available  for one day only, Tuesday, 14th February for dine-in lunch or dinner at four of the home-grown restaurant's five locations: Jumeirah Lake Towers, Downtown Dubai (Burj Visa), Nakheel Mall and Dubai Hills Mall.  
For couples, friends, and families not waiting to avail of the special offer, the regular menu is still available featuring the same fresh and flavorful dishes Vietnamese Foodies is known for. Walk-ins are welcome on Tuesday, 14 February 2023. 
8. Katsuya's Exclusive Valentine's Day Menu
A disciple of both Japanese culinary masters, Katsuya Uechi, and the legendary Nobu Matsuhisa, Chef Pavel will venture into offering a one-of-a-kind night to all those who dines at the restaurant. To add some more flavor and season the delicacies with love, Katsuya has come forth with an exclusive Valentine's Day Menu, ranging from Jidori Chicken Salad all the way up to Dragon Eggs.
What's more? Get entertained by Katsuya's very own resident DJ and violinist. That's also not all! Free roses with box of chocolates to all the ladies who dine at the restaurant.
*What: Exclusive Valentine's Day Menu
*Where: Katsuya Hyde Dubai
*Date: 13th-14th February
*Timings: Between 7-10pm
*Price: AED995 per couple
*For booking, call: +971 4 871 1111 
*Get social: https://www.instagram.com/katsuyahydedubai/
9. Enjoy a meal with views at Issei, Radisson Hotel DAMAC Hills
Chef Luisa and team are preparing a special 3 course meal for 2 people including a bottle of wine for AED699. This outdoor rooftop venue on the 27th floor will be a special place to spend a special evening with a loved one. Majestic views overlooking the golfing greens and lagoons await whilst enjoying the most in trend cuisine, Nikkei which is a fusion of Peruvian and Japanese.
*What: 3 course meal for 2 people including a bottle of wine
*Where: Issei, Radisson Hotel DAMAC Hills, Dubai 
*Date: 14th February
*Price: AED699 per couple
*Timings:  From 7pm – 10pm  
*For booking, call: +971 4 879 1111 
*Get social: https://www.instagram.com/isseidubai/ 
10. HUDSON TAVERN, Hyde Hotel Dubai  
Wave goodbye to Dry January and welcome Valentine's Day with a night filled with music, laughter, and special drinks. Enjoy a day of dedicated to love with your significant other with an exclusive Valentine's Day house drinks and cocktails in the place known to be the 'IT' spot for all the lovebirds — Hudson Tavern.
*What: Exclusive Valentine's Day house drinks and special cocktails
*Where: Hudson Tavern at the Hyde Hotel Dubai in Business Bay 
*Date: 14th February
*Price: AED499 per couple
*Timings:  From 7pm – 10pm  
*For booking, call: +971 4 871 1016 
*Get social: https://www.instagram.com/hudsontaverndubai/  
11. FIRELAKE GRILL HOUSE, Radisson Hotel DAMAC Hills
Chef Jovian & team are set to make another classic 3 course menu at FireLake. After providing guests with a meal to remember last year guests can look forward to a 3 course menu on the terrace or indoors at AED450 including a bottle of wine. With the restaurant being a big hit last year get your booking made early to avoid disappointment.
*What: 3 course meal for 2 people including a bottle of wine
*Where: Firelake Grill House, Radisson Hotel DAMAC Hills, Dubai 
*Date: 14th February
*Price: 450 AED (for two people)
*Timings:  From 7pm – 10pm  
*For booking, call: +971 4 879 1111 or email firelake.damachills@radisson.com
*Get social: https://www.instagram.com/firelake_dubai/ 
12. Every Pickl Customer Goes Home With Jeff This Valentine's Day
Calling all spice lovers! This Valentine's Day, the UAE's favourite award-winning burger joint, Pickl is turning the heat up and giving away a complimentary bag of "Jeff It Up" spice to customers with every dine-in or delivery order – no matter the relationship status!
A popular side item on the menu, the "Jeff It Up" spice is equivalent to Pickl's Feel The Heat spice level and served in a compact bag, with just the right blend of flavours to elevate your favourite Pickl burger, chicken sando, or fries. Whether you're opting for a casual date night, celebrating with friends, or just planning to treat your awesome self, be sure to come down to Pickl and enjoy a delicious meal with Jeff.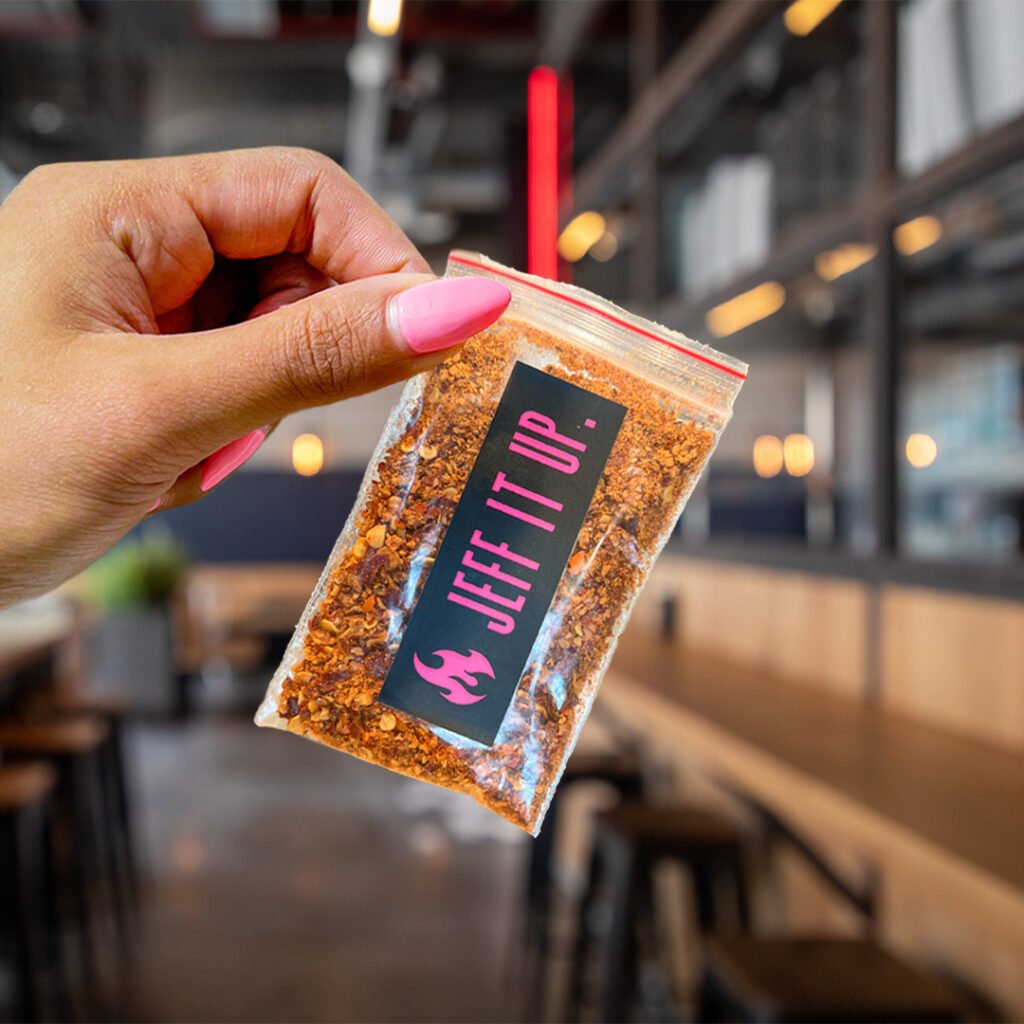 The complimentary spice bag offer is available only on Tuesday, 14th of February for all dine-in, takeaway, and delivery orders across the UAE. The legendary, home-grown burger restaurant continues to prove its mantra; "Fresh. Fast. Food." by always freshly preparing its food in-house every day.
13. Dining, fame-filled fun and couples wax hand casting
Treat that special someone to a sparkling Valentine's celebration with either an exclusive VIP Tour of Madame Tussauds Dubai or entry to Madame Tussauds Dubai plus Wax Hands Experience. Take a 90 minute guided VIP Tour of Madame Tussauds including a dedicated photographer to capture unlimited memorable moments followed by a talk from studio artists. Opt for the Wax Hand Experience and seal the deal by casting your very own couples wax hands – the perfect souvenir to treasure forever.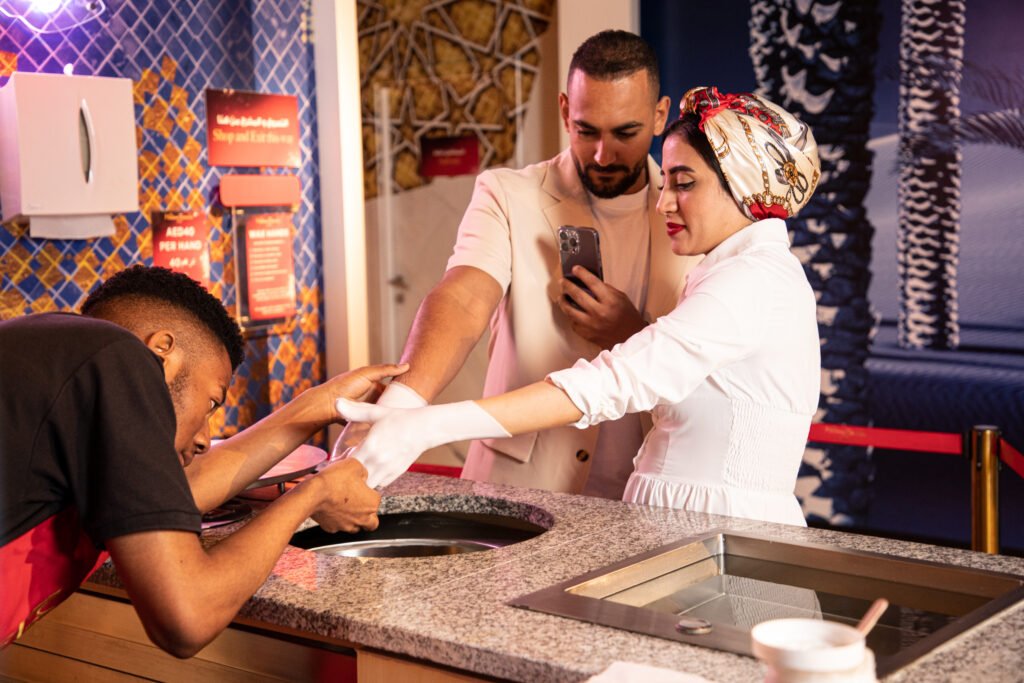 Packages:
Valentine's Day Combo: Three course meal and VIP Tour – AED1,309 per couple:
●      A VIP Tour of Madame Tussauds Dubai
●      A dedicated photographer and unlimited digital photos
●      A chance to cast your couple's hand in wax!
●      Three-course menu at The London Project
●      Bottle of Prosecco
For more info or to book visit: Combination Tickets | Madame Tussauds Dubai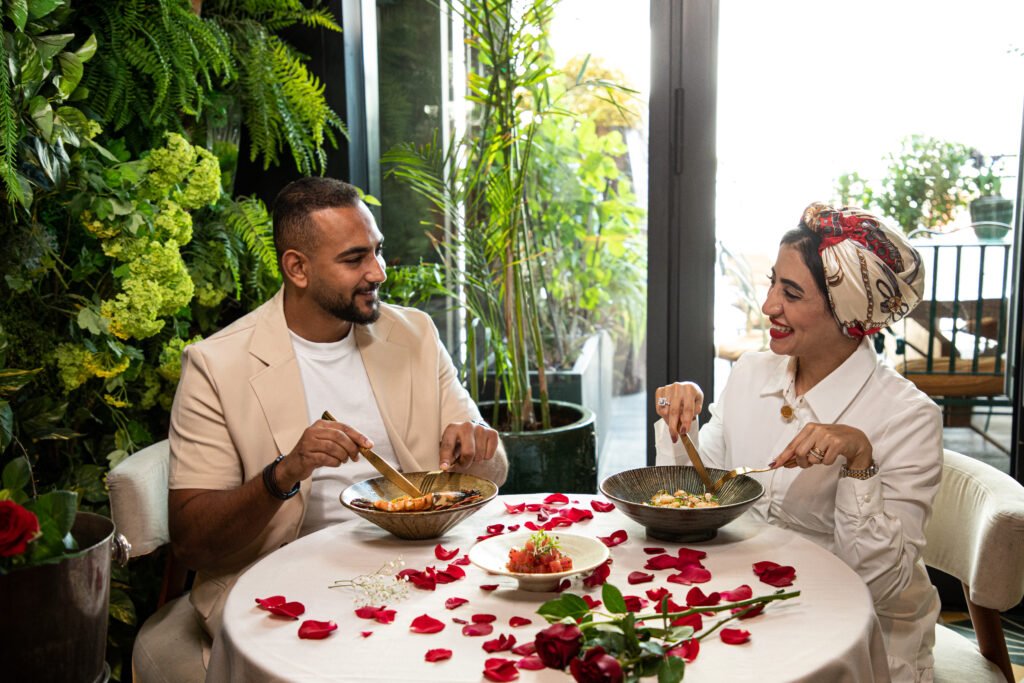 Valentine's Day Combo: Three course meal, Standard Admission and Wax Hands – AED1,059 per couple:
●      Entry to Madame Tussauds Dubai
●      Unlimited digital photos
●      A chance to cast your couple's hand in wax!
●      Three-course menu at The London Project
●      Bottle of Prosecco
For more info or to book visit: Combination Tickets | Madame Tussauds Dubai. For more information on The London Project, call +971 54 306 1822, e-mail info@thelondonproject.com, visit www.thelondonproject.com or follow @thelondonprojectdubai on social media.
14. Enter a World of Relaxation at Centara Mirage Dubai
Enter a world of wonder and awe as you let your imagination run wild at Centara Mirage Beach Resort Dubai this Valentine's. Located on a prime stretch of the Deira Islands waterfront, this unique resort inspired by mythical Thai and Arabian adventures has lots of fun to keep guests entertained, refreshed, rejuvenated, and relaxed.
Mum & Daughter Love  
Calling all mothers and daughters! This is your chance to spend some quality time together and pamper yourself in the process. Create memories and enjoy unforgettable mother & daughter moments while experiencing a rejuvenating facial, Siamese herbal body scrub, and foot massage. This 60-minute treatment for two also includes complimentary access to the beach, swimming pool, and wet facilities, so guests can make a real day of it. Available for AED625 for two, this is your perfect chance to strengthen that family bond while experiencing true bliss in the process.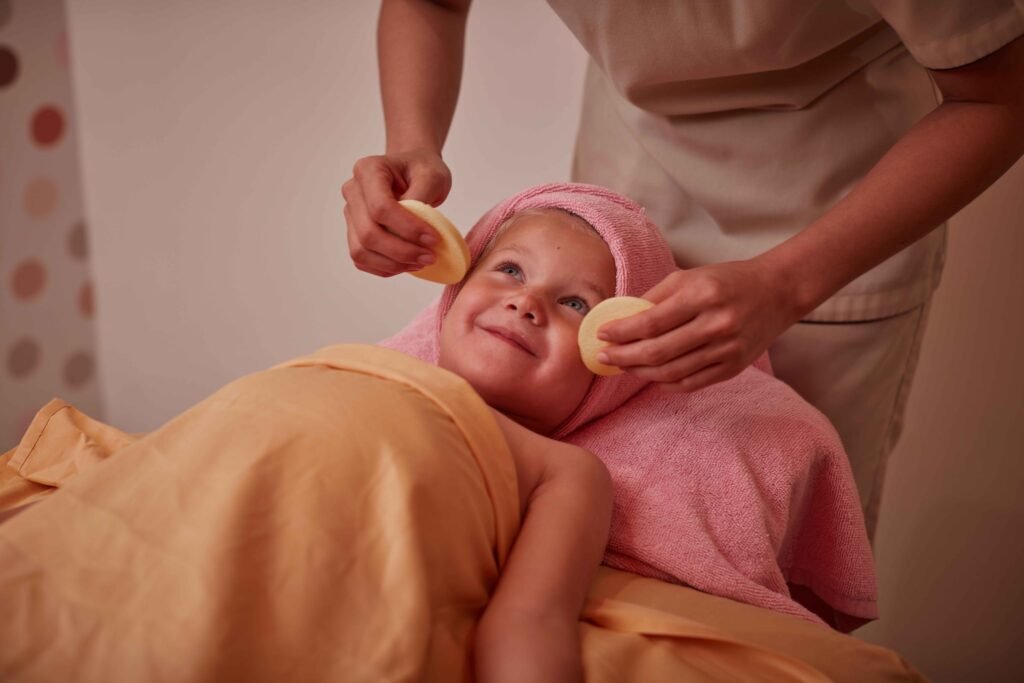 When: Available Throughout February  
Where: SPA Cenvaree & Candy Spa at Centara Mirage Beach Resort Dubai 
Offer: Enjoy a rejuvenating facial, Siamese herbal body scrub, and foot massage, plus access to the beach, swimming pool, and wet facilities  
Price: AED550 for two  
Be My Valentine  
This Valentine's is the perfect time to relax and unwind with that special someone, and what better way than with your choice of an Aromatherapy or Swedish couple's massage. Exquisitely performed by one of the Spa Cenvaree's massage professionals, these massage treatments are perfectly designed to relieve you of your stiff neck, frozen shoulder, headache, and muscle pain. Reach a new level of connectivity as you feel your worries drift away during this invigorating 60-minute treatment. To top off the experience, guests will also receive complimentary access to the beach, swimming pool, gym, and wet facilities to make for a truly special day.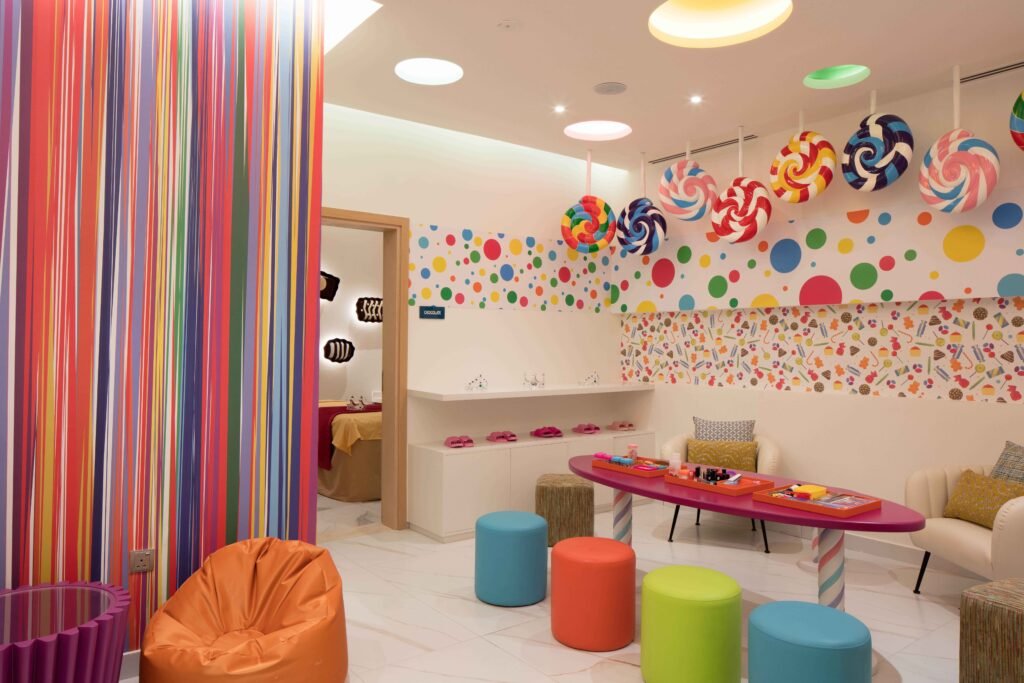 When: Available Throughout February 
Where: SPA Cenvaree at Centara Mirage Beach Resort Dubai 
Offer: Choose from a 60-minute Aromatherapy or Swedish massage plus avail of complimentary access to the beach, swimming pool, gym, and wet facilities  
Price: AED575 for two; Upgrade to a 90-minute treatment for AED750 for two  
For more information and reservations, please call +971 4 522 9999 or visit www.centarahotelsresorts.com/centara/cdd. 
15. Make Memories to Cherish this Valentine's Day at Address Downtown
The Restaurant at Address Downtown sets the stage for an intimate Valentine's evening for you and your loved one. Indulge in a constructed 6-course menu starring such culinary delights as Gillardeau Oysters, Tarter, Atlantic Lobster Tail Ravioli, Berry Sorbet and Tahitian Vanilla Whipped Ganache. Surrender to the sweet music of a live violinist while you enjoy a lovely evening with the most breath-taking views of the glittering Burj Khalifa. To add to the wonder of the occasion, guests will also get to enjoy the finest bubbles to wash down all the delicious creations that will be served up. With indoor and outdoor seating available along with plenty of vegetarian options, guests will be spoiled for choice during this most romantic night of the year.
A Cherished Valentine's Dinner
When: 14th February 2023
Offer: 6-course dinner and bubbles
Price: AED1,500 for two
*Indoor and outdoor seating available
*Vegetarian menu available
*To book contact +971 4 436 8888 or email dineatdowntown@addresshotels.com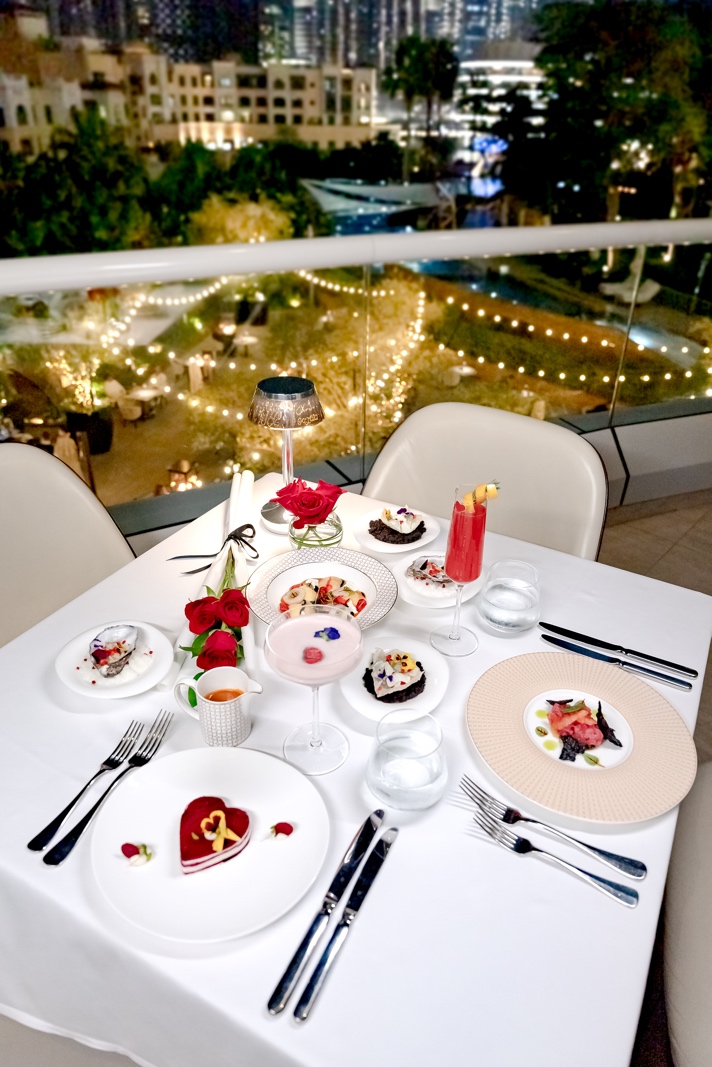 16. Savour The Moment With Delili's Charcuterie Platters
Delili, Dubai's latest homegrown online grocery platform with a focus on local and gourmet brands, has curated two delectable, ready–to–eat charcuterie platters available in two options; a vegetarian and non-vegetarian. A perfect addition to a Valentine's Day spread for the ultimate date night indulgence, or a friends and family gathering, these artful, delicious spreads are sure to impress. 
The charcuterie grazing platters come complete with an array of high-quality ingredients from local and international producers including a variety of savoury, artisan cheeses including Camembert, Soignon, black olive cheese, fruit and nut cheese, and green Gouda. Complementing the cheeses are crackers, abuelo bread, and quinoa sticks, and an assortment of dried and fresh fruits, goji berries, nuts, olives and jams. Indulge in a selection of cured meats from beef pastrami, to beef hungarian salami, and dried lamb chorizo in the non-vegetarian option (AED 180). Alternatively, the vegetarian option (AED 150) features fresh vegetables in lieu of meat, serving up something for everyone.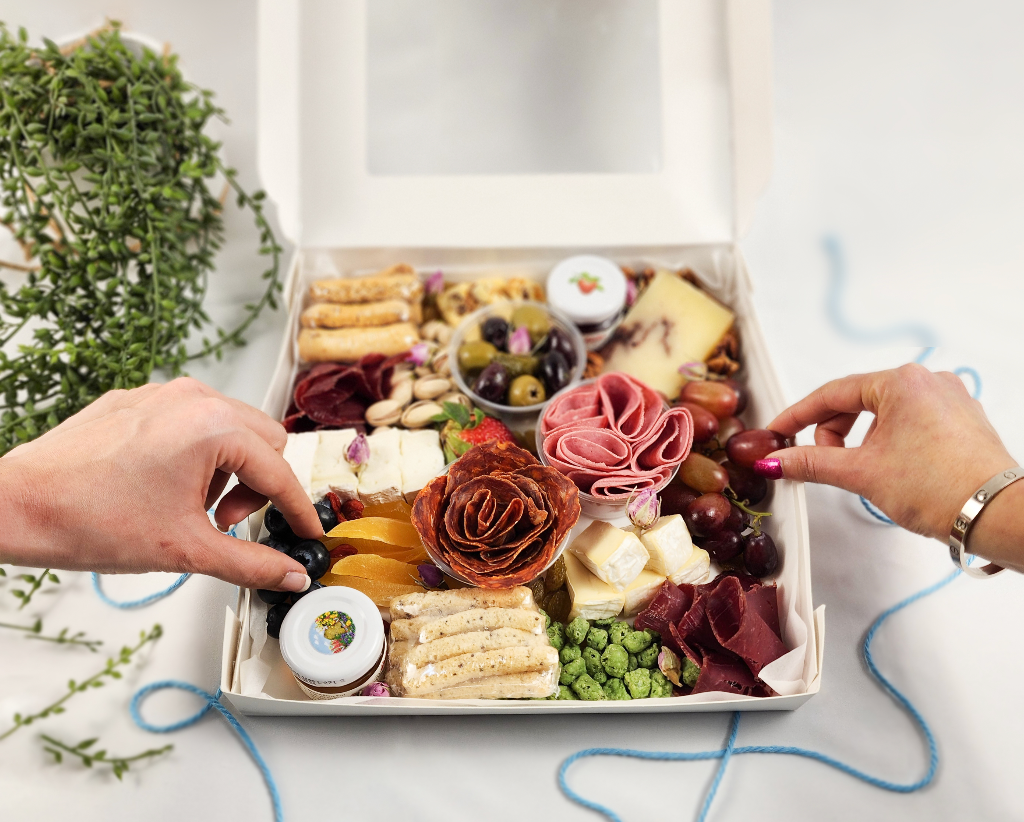 17. Valentine's Weekend Experience at Lapita Dubai Parks & Resorts
The most romantic day of the year is fast approaching, and Lapita Dubai Parks and Resorts promises a super-relaxed Valentine's experience that couples, and families alike can enjoy. With plenty of kid's activities included, the adults can rest assured they'll savor some alone time.
Taking place on 18th February, from 6PM – 10PM in the lush and tranquil setting of Kalea Terrace & Garden, the Valentine's Weekend picnic is perfect for those couples who are looking for a lovely, laid-back experience. They will be invited to get comfortable on cushions and let their feet sink into the grass, allowing themselves to be transported to a Polynesian paradise with the dulcet tunes of live music.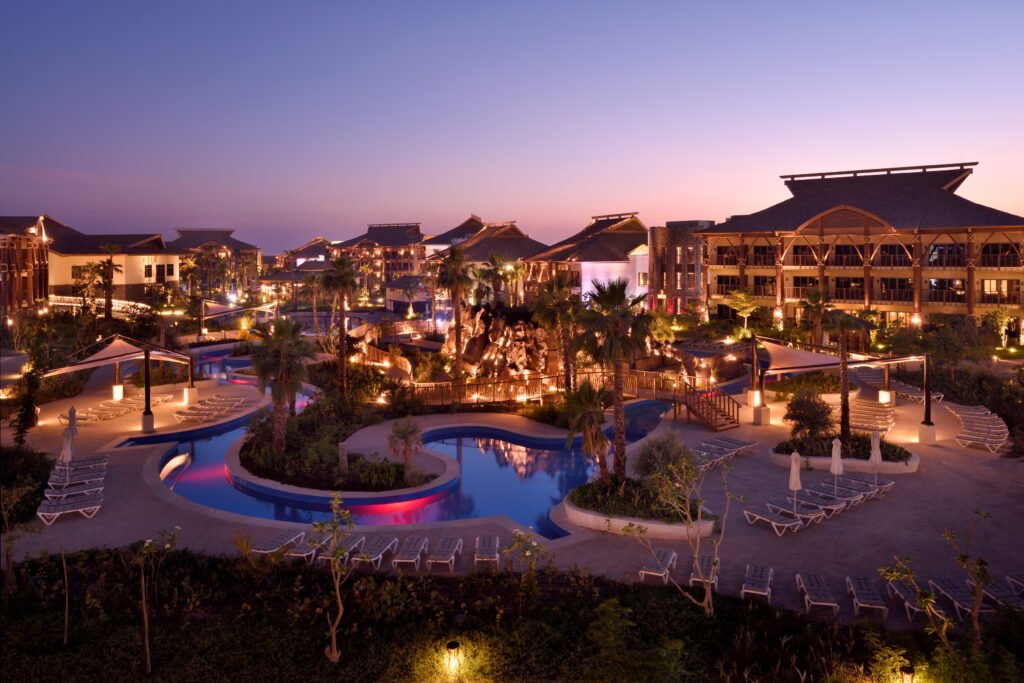 The Valentine's Weekend Picnic also boasts a treasure hunt dedicated to mothers and their little ones. The children will get a chance to search for two exquisitely designed Polynesian rings – stunning diamond rings with a Polynesian pearl – that they can then gift to their mothers once the hunt is over. There is also a wide variety of other kids' activities to ensure that the parents get some alone time while the little ones are engaged. While the kids are off hunting, there will be a screening of a romantic movie and a performance from a live musician to further enhance the romance. 
Couples can also experience an idyllic weekend escape with a Polynesian Valentine's Weekend staycation at Lapita Hotel, Dubai Parks and Resorts, starting at AED 1250 per night for two adults. Embrace the perfect mix of romance and excitement with the Valentine Room Package, available from 18th to 19th February, that includes a lovely breakfast, couple's massage at Ola Spa to unwind, gorgeous and romantic room décor along with a picnic style dinner at Kalea Terrace & Garden. Spend the weekend with your significant other in a serene environment and surrounded by beautiful nature.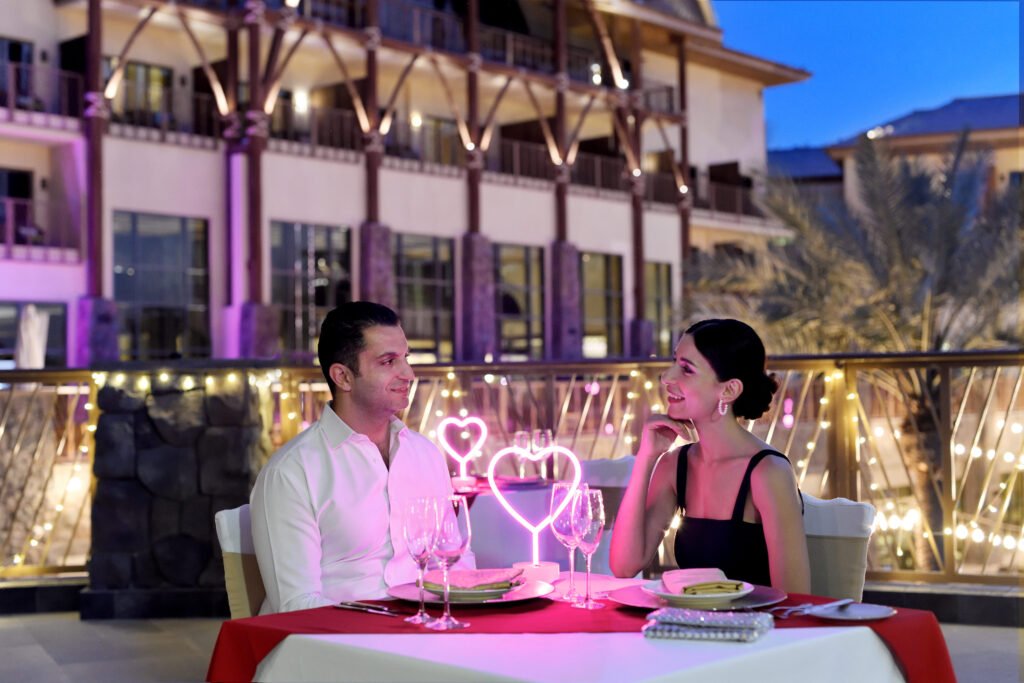 With prices starting at AED 175 per adult, the culinary offering boasts a plentiful array of delicious BBQ dishes including grilled meats, sides, salads, desserts and mocktails. For AED 275 house beverages are also offered, with kids between 6-12 eating for just AED 75. 
18. HOUSE OF POPS DELIVERS UNIQUE BITE-SIZED LOVE TREATS
Just in time for Valentine's Day, House of Pops – everyone's favourite healthy treat on a stick – is launching a special limited edition Valentine's Gift Box. In the first departure from its traditional treats on a stick, the sustainable company has created bite-sized ice creams in four delicious flavours.
Each box contains 36 choco-dipped ice cream-filled hearts and cubes, in natural coconut, chocolate, strawberry and passion fruit flavours. Your loved one will receive four layers of indulgent snacks, comprising nine choco-dipped ice cream treats in each flavour.The plant-based gift boxes contain no preservatives, are 100% natural and allergen free.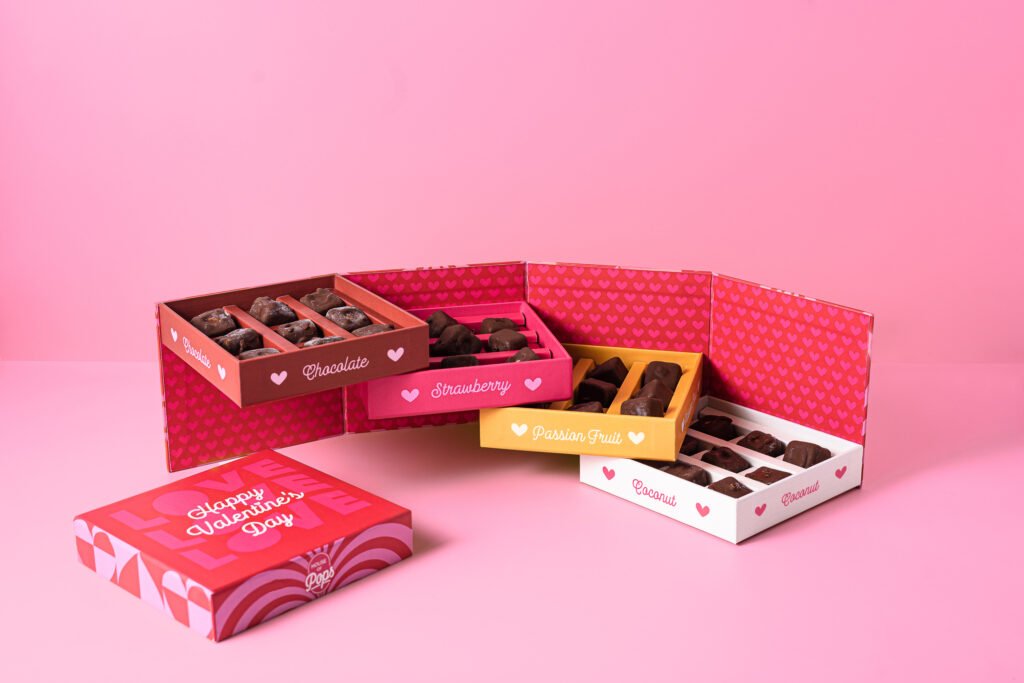 The bespoke red gift box is emblazoned with a heart design, and each gift includes a personalised Valentine's Day card. Available across the UAE and online via Houseofpops.ae and food delivery apps Deliveroo and Talabat, from February 7, 2023.
19. Yamanote Atelier Launches Valentine's Menu
As the month of love is quickly approaching, Yamanote Atelier wants you to gastronomically celebrate with a handful of red desserts that are sure to get you in a lovey-dovey mood. Treat your loved ones to Yamanote's Valentine-themed bakeries, cakes, and drinks filled with mouth-melting tastesand lip-smacking flavours!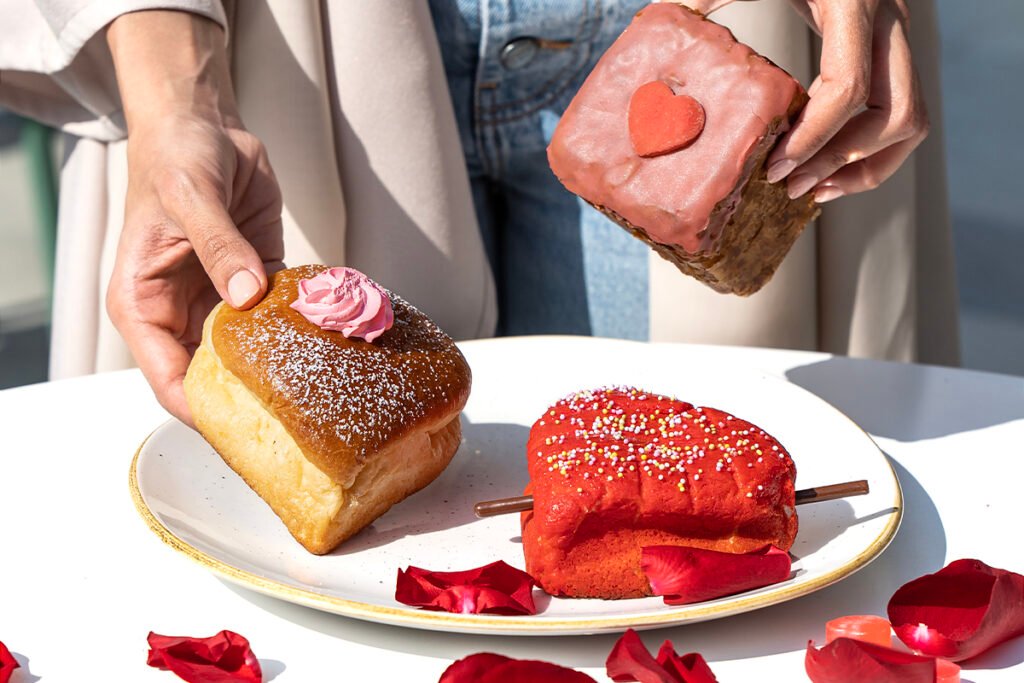 Yamanote's Valentine's menu includes 5 different items, filled with creamy textures and lovingly adorned to put a smile on anyone's face on this red month. The items include:
Valentino Cake – AED 58
Heart Brioche – AED 20 
Red Love Bun – AED 20
Love Cube Croissant – AED 20 
Red Valentine's Saffron – AED 25 
20. jones the grocer invites couples for a cooking classes
This Valentine's Day, Jones the Grocer, the UAE's favourite café and gourmet grocer invites couples (or friends, for that matter of fact) to mark this romantic day with a couples cooking class. From 12th-14th February, master the art of creating a delicious and memorable meal with your partner at AED 449 per couple. The cooking classes will be at select Jones the Grocer stores across Dubai and Abu Dhabi.
Enjoy the evening working together preparing Butternut Sage Tortellini and a Crème Brulée with Mixed Berries alongside Jones the Grocer's expert chefs. Over two hours, you will learn new cooking techniques as well as discover one another, followed by a romantic dinner together.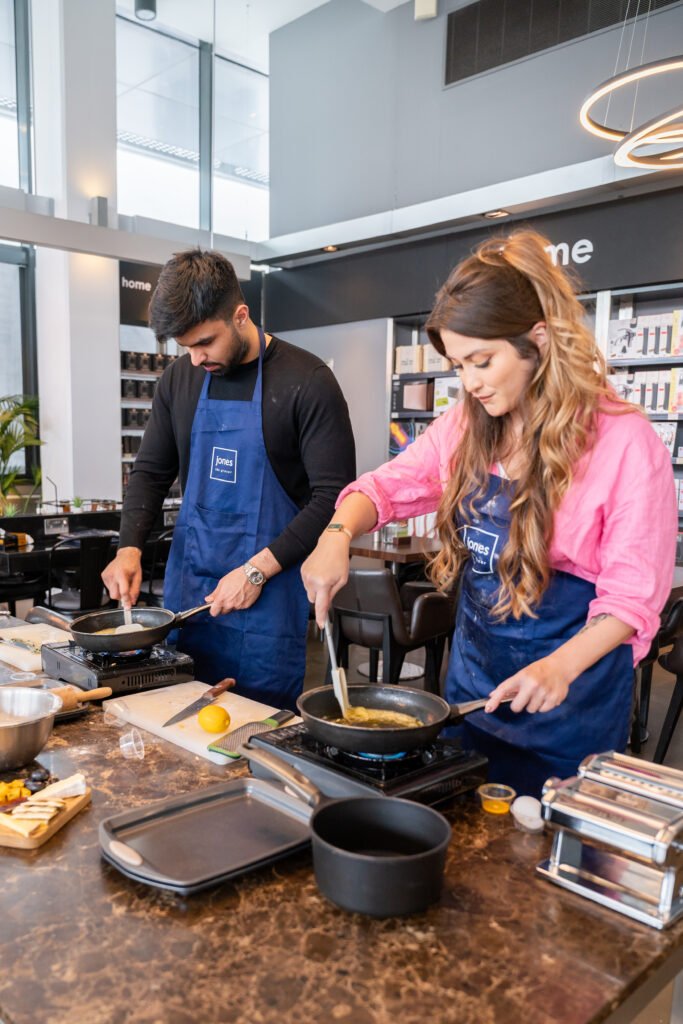 Where & When
Jones the Grocer, Abu Dhabi
12th February – Al Mamoura – 4-6pm
14th February – Al Muneera – 7-9pm
Jones the Grocer, Dubai
10th & 14th February – Radisson Red DSO – 5-7pm
12th & 14th February – Al Manara – 5.30-7:30pm
14th February – Mall of the Emirates – 4-6pm
14th February – Emirates Golf Club – 3-5pm
Cost & Inclusions
AED449 per couple to include all ingredients, individual cooking stations, refreshments, a Jones apron, and a participation certificate.
Online reservations on www.jonesthegrocer.com
21. Meraki Introduces a Romantic Dinner Experience
Meraki, the one and only contemporary Greek concept offering the finest Mediterranean experience in a stylish and authentic setting in Riyadh, is proud to announce a special romantic dinner experience on Tuesday 14th February, in celebration of Valentine's Day. The dinner is inspired by the love story of Penelope and Odysseus from the heart of Santorini.
The menu, designed to share and awaken the senses, features a signature welcome drink and a range of tantalizing dishes that celebrate the warm and generous hospitality of Greece, in Riyadh. With a focus on fresh, seasonal ingredients, Chef Sanjay Dwivedi has crafted a menu that will impress even the most discerning of diners. For reservation or more information, please visit: www.meraki-restaurant.com, call 920001050, or send an email to receptionriyadh@meraki-restaurant.com.
22. NTERSECT BY LEXUS Offers 'A Taste of Romance'
Taking place from 7pm 'till late on Tuesday, 14th February 2023, the Valentine's Day Dinner at INTERSECT BY LEXUS will feature a delicious menu of unlimited Sushi, which can be complemented by an add-on beverage package with a selection including exotic mixology, house beverages, creative mocktails, the finest Japanese Sencha green tea and crafted coffee. The ladies will receive a complimentary rose upon arrival, whilst the gents will receive a box of macarons to sweeten the occasion.
The Valentine's Day Dinner is the latest experience from INTERSECT BY LEXUS offering guests a personalised taste of exquisite modern Asian fusion dishes along with the renowned Japanese Omotenashi hospitality and the creative confluence of art, design, and technology.
Valentine's Day at INTERSECT BY LEXUS is available for guests with a Couple's package (AED 260 per couple) and a beverage add-on package including two drinks (AED 75 person). Call +971 4 3559524, email reservations@intersectbylexus.ae, or visit www.intersectbylexus.ae for bookings.
23. Valentines Package at just AED 249 at The Cutting Edge Salon
This month of love, whether you are planning on celebrating Valentine's with your other half or pampering your girlfriends on Galentine's, here's a great way to celebrate. Head over to Cutting Edge Beauty Salon with multiple outlets in JLT, Marina Plaza, IBN Battuta and DSO, for amazing deals available throughout February. 
Looking for a change? Give yourself a makeover with their Ultimate Hair Transformation Package offering hair colour, treatment, trim and a blow-dry at AED 399 only! Get ready for your date night with their Valentines' Package, which offers a classic Manicure and Pedicure, Full arms and half legs waxing, Eyebrow Threading, and Hair Spa followed by Blow-dry for the complete look, all at just AED 249. Impress your Valentines with the best version of yourself.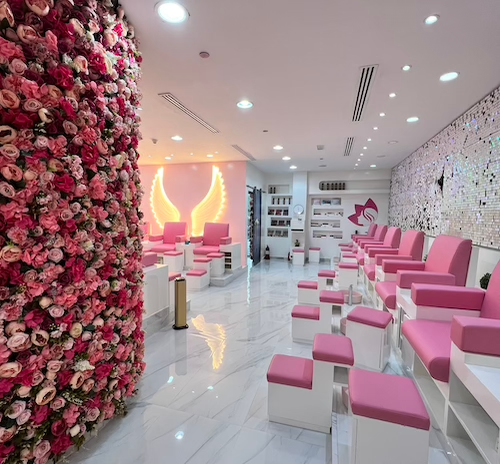 24. Premier Inn's Valentine's offers to fall in love with
Be My Valentoad with Premier Inn this February! Enjoy high quality, great value dinners and drinks at Mr Toad's from 10 to 19 February, with prices from just AED99 per person. Pair up with a pizza, tuck into a hearty meal and toast your loved one with grape or bubbly with a range of options at Mr Toad's outlets at Premier Inn hotels across Dubai.
| | | | |
| --- | --- | --- | --- |
| HOTEL | BE MY VALENTOAD OFFER | DATES / TIMES | PRICE |
| Premier Inn Al Jaddaf, Dubai Airport, Silicon Oasis, Dubai Investment Park | All you can eat pizza and free-flowing house grape | 14 February 8pm to 11pm | AED99 per person |
| Premier Inn Barsha Heights | Succulent meat and seafood platter; unlimited sides, dessert, bottle of grape or sparking rose | 10 to 19 February 5pm to 1am | AED270 per couple |
| Premier Inn Ibn Battuta Mall | Three-course set menu with two glasses of bubbly | 13 to 19 February 5pm to 1am | AED299 per couple |
To find out more or make a booking, follow @mrtoadsme on social or call:  Premier Inn Al Jaddaf (04 521 9020); Dubai Airport (04 260 4011); Dubai Silicon Oasis (04 382 1675); Dubai Investment Park (04 811 2843); Ibn Battuta Mall (04 278 2256); Barsha Heights (04 278 6600).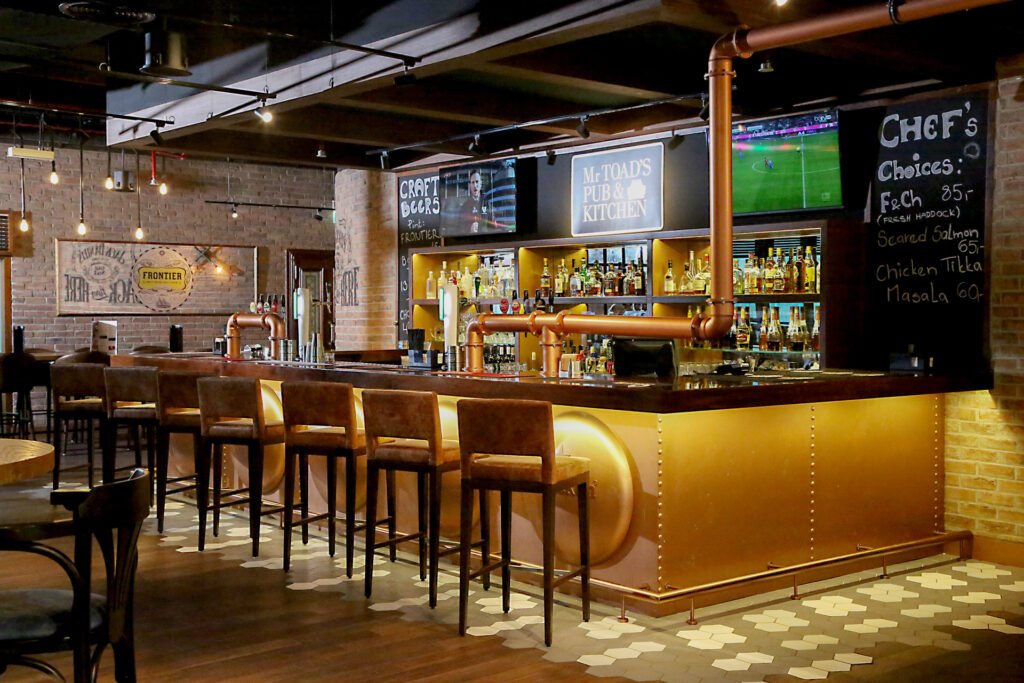 25. Nail the perfect Valentine's look with these options at Coya Spa & Salon 
If you're looking for ways to add a little extra romance to your overall look for Valentine's Day, consider upgrading your nail game. From the classic red manicure and numerous pink shades to more unique nail art designs, there are plenty of options to choose from at Coya Spa & Salon.
Captivating Red
It goes without saying that one popular trend for Valentine's Day is the classic red manicure. Red is the traditional colour of love, and it's a great way to add that oomph to your overall look and the romantic mood. Whether you choose a glossy finish or a matte finish, a red manicure is sure to make a statement.
French Nails
Another classic that has been consistent in popularity over the years is a beautiful French manicure. This look combines a pale pink base with white tips, creating a delicate and romantic look. This is a perfect option for those who want to add a touch of Valentine's Day spirit to their nails without going too bold.
Wear Your Heart on Your Nails
If you're looking for something a little more unique, consider adding some heart-shaped designs or love-themed embellishments to your nails. This can be as simple as painting a small heart on one accent nail or as elaborate as creating an entire heart-themed manicure.
Whatever your personal style, there's a Valentine's Day nail trend that's perfect for you. Visit Coya Spa & Salon this February and enjoy beautiful nails starting at AED 200 with classic colour, and AED 280 with gel colour. Follow Coya Spa & Salon on social media to stay updated with all the latest offers at www.instagram.com/coyaspadxb or call +971 4 6015555. www.coyaspa.com