When it comes to elevating Dubai's nightlife, there's one name that stands out above the rest: Ace Events. This premier event organizer is reshaping the city's party scene with international acts, immersive themes, and cutting-edge entertainment that will leave you breathless.
Ace Events has always been synonymous with luxury and extravagance, and their latest expansion into prestigious venues takes it to a whole new level. With more space, exclusive VIP experiences, and themed extravaganzas, Ace Events is turning the ordinary into the extraordinary.
But what truly sets Ace Events apart is its commitment to pushing the boundaries of entertainment. Imagine opulent nights filled with celebrity encounters, state-of-the-art technology, and themes that transport you to another world. That's what Ace Events promises to deliver.
One of the highlights of Ace Events' recent endeavors is the introduction of international acts. Artists like Akhil and MKSHFT have graced Dubai's party scene, bringing a global flavor to the city's nightlife.
But it's not just about the star-studded performances. Ace Events is all about the experience. Take "Opus Thursdays," for example, where theme nights come to life in the chicest way possible. Or "Elite Saturdays" at KQ Club, featuring performances from some of the biggest stars in the industry. And don't miss "Mantis Sundays," a collaboration with Team Innovation that promises to enchant and mesmerize.
Ace Events doesn't stop there. They recently hosted two months of Y2K Commercial Nights, catering specifically to the Indian crowd and offering a unique experience that can't be found anywhere else in the region. Plus, their collaboration with Sanjay Harris of Bling Events and currently, Infinite Events, has given birth to iconic nights like Armani Nights, which are now legendary in Dubai's nightlife.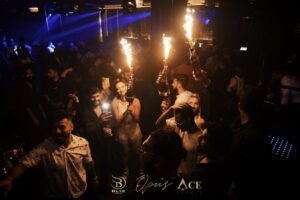 Of course, no great party is complete without music, and Ace Events knows this well. With exceptional DJs like DJ Zaan, DJ Ricky, DJ Mox, DJ Lathish, DJ Sohail, and DJ Tronik on their roster, you can expect each event to be a spectacular audiovisual delight.
With an expected turnout of over 300 guests per night, Ace Events has extended its schedule to ensure there's never a dull moment. This Saturday, on September 16th, they're bringing back Arjun all the way from the UK for an electrifying performance at Dubai's hottest new venue, KQ Club in Wafi City Mall.
So, if you're looking for unforgettable nights filled with glamour, music, and surprises, Ace Events is the name to watch. Dubai's nightlife will never be the same again, thanks to their dedication to delivering visually stunning and engaging experiences that exceed expectations. Get ready to dance the night away with Ace Events!
Instagram: @aceeventsdubai
Visit the Website for more details.