Step right up, book lovers, and carnival enthusiasts! Get ready to embark on a literary adventure like no other, because Dubai's beloved pre-loved bookstore, Bookends, is rolling out the red carpet for a one-of-a-kind celebration of books. And the best part? It only costs AED 1 to join in on the excitement!
On Saturday, September 23rd, from 6 to 8 pm, Bookends, located in Dubai Digital Park, DSO, Dubai, will transform into a whimsical carnival wonderland. It's not just about books; it's about a carnival of the mind and spirit. This event promises to bring together book aficionados, game enthusiasts, and anyone looking to infuse their weekend with a dose of fun and competition.
At the Bookish Carnival, the dress code is simple: go all out with your carnival-style attire. Think vibrant colors, quirky wigs, and perhaps even a clown nose! The more you stand out, the better. It's a chance to embrace your inner circus performer while celebrating the joy of reading.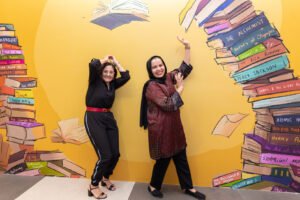 Now, here's where the thrill truly begins. There are fabulous prizes up for grabs, including Dh500 vouchers from the carnival's prize partner, babyshop. Bookends is also giving away vouchers for you to splurge on your favorite reads from their store. It's a win-win for bookworms and game enthusiasts alike.
Dubai-based author Purva Grover, the Brand Ambassador for Bookends, will be your charming host for the evening. She'll be joined by Grace Karim and Somia Anwar, the creative minds behind Bookends, who are the heart and soul of this literary extravaganza.
Prepare to be immersed in a world of bookish games that will test your literary prowess and creativity. From Bookish Ball Toss to Jigsaw Puzzle Race, Guess the Book Cover to Match the Characters, and even Book Bean Bag Toss and Book Colour Wheel, the carnival offers a plethora of challenges to conquer. Whether you're a solo player or part of a team, there's something for everyone.
Joining the Bookish Carnival is as easy as pie. Just walk into the store, bring along your AED 1 coin, and get ready to play two hours of non-stop bookish games. It's an opportunity to celebrate your favorite fictional characters, guess the covers of lesser-known titles, and showcase your puzzle-solving skills.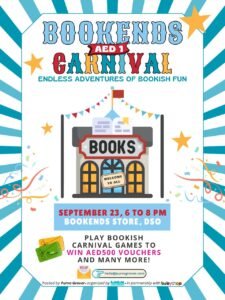 The carnival aspires to be an inclusive celebration for all age groups. Families, friends, siblings, colleagues, and children – everyone is welcome to this literary fiesta. So gather your loved ones, form teams, or come solo; everyone is a winner at this carnival!
In the words of Somia Anwar and Grace Karim, the passionate owners of Bookends, "This is our chance to celebrate the intriguing characters from fiction titles we love, to guess the book covers of the lesser-known titles, or see how fast we can put together a book-inspired jigsaw puzzle and more."
So mark your calendars for September 23rd and get ready to indulge in a carnival of words and wonders. It's a day where literature meets laughter, and where the joy of reading takes center stage. We can't wait to see you there! For more information or media assets, feel free to reach out to us. Your literary adventure awaits!
Walk-ins are welcome, and RSVPs (hello@purvagrover.com) are encouraged.
Visit the Website for more details.