Ladies and gentlemen, fragrance aficionados, and lovers of all things luxurious, there's something exceptional happening at Armani Hotel Dubai. It's a celebration of the intoxicating allure of Armani Sì, the iconic perfume by Giorgio Armani. Prepare to be immersed in a world where fragrance meets flavor, and where spa journeys are infused with elegance. Armani Hotel Dubai is your gateway to "Feel the Power of Sì" in the most unforgettable way. This fragrance, known for its seductive blend of blackcurrant, rose, vanilla, and black tea, comes alive in a series of exclusive offerings that redefine the art of indulgence.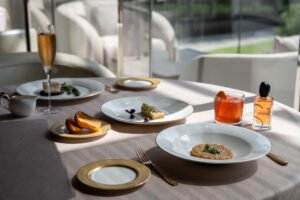 At Armani/Ristorante, prepare for a culinary adventure that mirrors the essence of Armani Sì. Priced at AED525 per person, the degustation menu promises an experience that's intense, sophisticated, and utterly delectable. It includes delights like Foie Gras Terrine with blackcurrant marmalade, Black Tea Risotto with Parmigiano Reggiano Cheese, and poached wild seabass with vanilla butter sauce. For dessert, savor the Pink Sphere, a sugar sphere filled with vanilla mousse, forest berries, and rose ice cream. And here's the bonus: if you book this dining experience in October, you'll receive an exclusive Armani Sì surprise.
Armani/Lounge is your destination for a memorable afternoon tea that's inspired by the enchanting fragrances of Armani Sì. Priced at AED199 for one or AED359 for two, this sensory journey (available from October 5th to 31st) invites you to indulge in a delightful selection of savory and sweet treats. Picture Atlantic Royal Smoked Salmon, Vanilla Blackcurrant Macarons, and Rose White Chocolate Cheesecake. Pair them with freshly baked scones served with lemon curd, raspberry preserve, clotted cream, and Nutella. What makes it truly special? The entire venue is infused with the fruity and floral notes of Armani Sì, creating a complete sensory experience.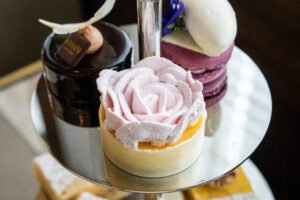 Throughout October, Armani/Spa opens its doors to a spa experience that's inspired by the magic of Armani Sì. This 90-minute journey, priced at AED1,000 per person, promises pure serenity. It begins with a rose petals foot soak infused with vanilla essence to soothe tired feet. Then, enjoy an aromatherapy Patchouli body exfoliation and a full-body massage using rose cream or davana oil, all designed to transport you to a state of complete relaxation. Plus, you'll have complimentary access to the hotel's pool and fitness facilities, so you can make it a day of rejuvenation and renewal.
Armani Hotel Dubai's Armani Sì-inspired offerings invite you to experience a world where fragrance becomes a sensory symphony. Whether you're savoring a fragrant degustation menu, indulging in Sì-inspired afternoon tea, or embarking on a spa journey, you're in for an exquisite treat that captures the essence of Armani Sì. Don't miss this opportunity to immerse yourself in a realm where fragrance, flavor, and relaxation unite, creating moments of pure beauty and sophistication!
Contact Details: Call +971 4 888 3666 or Email Restaurant.Reservations@Armanihotels.com
Visit the Website for more details.