In an alliance that marries luxury, performance, and sustainability, BMW and AGMC, the official BMW Group importer for Dubai, Sharjah, and the Northern Emirates, proudly announce their partnership with the Legends Football League, marking a prestigious venture as the exclusive VIP Player Transport Partner.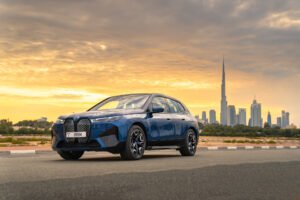 AGMC, taking center stage in this esteemed football event, will introduce an all-electric fleet comprising 10 BMW iX cars, aligning seamlessly with the event's profound dedication to sustainability. This move solidifies BMW's role as an e-mobility leader, having already delivered over 1.5 million electrified vehicles worldwide, emphasizing its commitment to sustainable transport solutions.
The BMW iX showcases several eco-conscious practices within its production cycle. Reducing CO2 emissions by 17% in its supply chain, this groundbreaking vehicle relies on renewable green power to craft its battery cells, integrating up to 50% recycled nickel – a significant leap in eco-friendly automotive manufacturing.
Kicking off with a grandeur ceremony at Al Maktoum Stadium, home to Al Nasr Club, the Legends League promises an unparalleled display of football prowess. It's set to unite football icons, including World Cup champions and Ballon d'Or winners, for a historic game that will linger in the annals of sports history.
Ayhan Olcer, CEO of AGMC, expresses enthusiasm, affirming the company's joy in supporting a landmark event with sustainable contributions. The transport of players in the BMW iX aligns with the event's green aspirations, symbolizing AGMC's dedication to sustainability without compromising luxury or performance.
BMW's vision aligns seamlessly with establishing electromobility as a cornerstone of sustainable individual mobility. By intertwining high-performance electric vehicles with esteemed sporting events, BMW champions the harmonious coexistence of sustainability and luxury, promising an unforgettable football experience.
Visit the Website for more details.